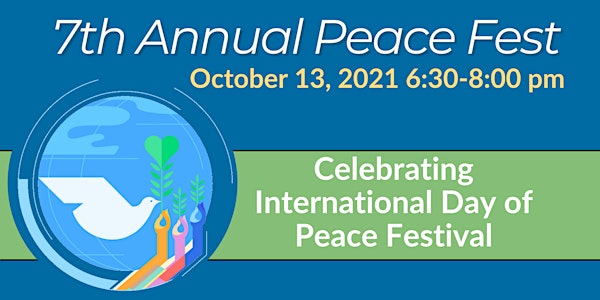 7th Annual Peace Fest: Moving Forward Together!
Moving forward together! Celebrate this year's International Day of Peace with us by creatively considering a more healthy, peaceful world!
About this event
This year's month of events celebrating the International Day of Annual Peace Festival will culminate with a free virtual event on Wednesday, October 13th from 6:30 pm to 8:00 pm on Zoom. This event will feature a diverse panel leading an interactive discussion, we will share a short film about the creation of the Greenstitch Climate Action Mural, and we will consider going forward beyond the pandemic, and what the idea of PEACE means for us personally, in our community, and as global residents. Please join us. Enroll here and we will send you the ZOOM login before the event. Looking forward to celebrating peace with everyone!
Speakers:
Ted Wright, Peace Activist and Founder of the San Geronimo Valley Peace Fest
Ted Wright is a Marin peace activist who, with the enthusiasm and support of the San Geronimo Valley Community Center, inspired the community center's participation in the annual celebration of the International Day of Peace, held each Sept 21st around the world. He is a musician focusing on writing and producing songs of peace and humanity.
A practitioner of inner peace for 48 years, Ted Is currently making efforts with local officials to introduce the benefits of peace education into school curriculums.
Bill McCarthy, Founder and President of the Unity Foundation
Bill McCarthy is the founder and president of Unity Foundation, an organization with a 45 year history of promoting peace, cooperation and unity throughout the world. He has been a live event producer for 50 years, producing and managing major events in San Francisco, Los Angeles and New York City, including more than three decades of producing special events promoting the United Nations. These events have featured many of the most prominent people in the music, television, movie and television industries. Bill is the producer and host of the Positive Spin television program which presents positive, innovative and solution oriented news from around the world. He is also the initiator and co-producer of the annual Peace Day Global Broadcast Celebrating the UN International Day of Peace; and the co-executive producer of the Peace Channel, which produces 6 annual global Internet broadcasts for - International Women's Day, Earth Day, World Refugee Day, Peace Day, the Day of the Girl, and Human Rights Day. All the global broadcasts give special focus to promoting the UN Sustainable Development Goals.
Bill McCarthy is the recipient of the Lifetime Achievement Award from President Obama.
Joanie Ciardelli,Co-Founder of Pathways to Peace
Joanie Ciardelli is a Co-founder of Pathways To Peace (PTP) in 1983 and was a Director of the organization until 2002. She continues to be an Advisor, and represents PTP on the Steering Committee of the United Nations Association of Marin. For many years she represented PTP on the Board of the Citizens for a UN People's Assembly; and has served on several committees of the Threshold Foundation: Peace, Democracy and Justice, Environment, and now Mideast Peace. Joanie is also involved in socially responsible investing, having spent many years in the corporate world of business. Over the years she has published articles on "Marketing Peace" and participated on panels related to building Cultures of Peace. She and Pathways To Peace Co-founder and deep sister, Avon Mattison, are about to publish a memoir about their almost 40 years' history in this important Peacebuilding work.
Samantha Podoll, NextGen Climate Action Intern
Samantha Podoll is a San Geronimo Valley Community Center NextGen Climate Action Intern. She was a collaborative artist on the Greenstitch Climate Action Mural on display at the Community Center. Samantha is also a co-leader of the Eco-Action Club, which helps make the campus more environmentally friendly by taking care of the garden, facilitating walk and bike to school days, and creating a system for composting at school. She is a junior at Archie Williams High School.
Socorro Romo, West Marin Community Services, Executive Director
Socorro Romo was born and raised in a small town in Jalisco, Mexico, immigrated to the US in 1980, moved to Point Reyes at the beginning of 1981, married, and raised her children in West Marin. In 2003, she moved to Petaluma, persuing higher education.
Earlier in the '90s, after noticing the growth of the Latino population in the area and the need to raise Latino voices to bring equity, she changed her housekeeping carrier and began working in social justice. She accumulates ten years of experience in advocacy in the schools' system and fifteen years in the non-profit sector. In serving families and individuals who face social disadvantage, she recognizes the value of Equity and Social Justice in building an inclusive community that values the needs, priorities, and contributions of minority groups.
Moderated by Alexa Davidson, San Geronimo Valley Community Center