Perseverance through Racism, Inequality & Healthcare Inequity
About this event
The 6th Annual Mid County Martin Luther King Jr Celebration presented by the cities of Wellston, Pine Lawn and community stakeholders will take place on Monday January 17, 2022, at Barack Obama Elementary School 3883 Jennings Station Road St. Louis, MO 63121. Our planned parade will begin in Wellston and proceed to Pine Lawn for the program (See parade registration for details).
This year's theme is Perseverance through Racism, Inequality & Healthcare Inequity. This year's celebration and theme is critical because our communities are still recovering through COVID-19 pandemic, political uncertainty, and discriminate injustices against black communities.
To deliver our message and call to action, we have Congresswoman Cori Bush of Missouri's 1st Congressional District and Na'Nette Ashford of Washington University. We have powerful keynote speakers to provide unique perspective to overcoming our current challenges while embracing the teachings and aspirations of our civil right hero.
WATCH LIVE AT https://www.facebook.com/YoungVoiceswithActionInc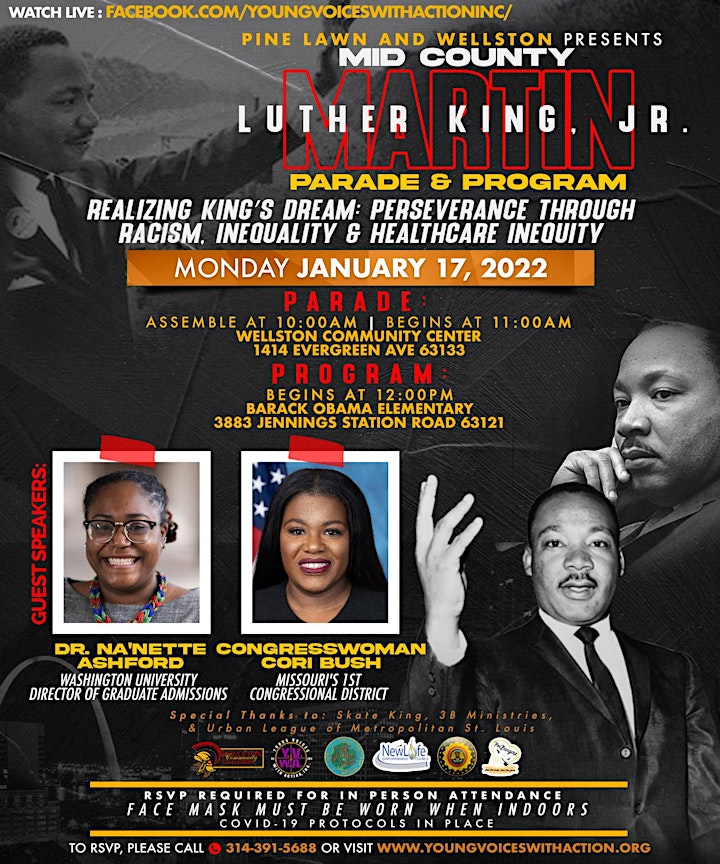 Organizer of 7th Annual MidCounty Martin Luther King Jr Celebration