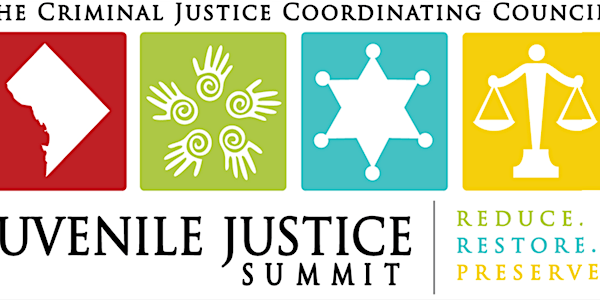 7th Annual Juvenile Justice Summit
When and where
Location
Washington Marriott Wardman Park 2660 Woodley Road, NW Washington, DC 20008
Description
The Juvenile Justice Summit is an annual gathering of District of Columbia juvenile justice social workers, case managers, lawyers, judges, law enforcement representatives, and other juvenile justice stakeholders who work with system-involved youth and families. The theme for this year's Summit is: Restorative Justice.
The goals of the Summit are to:
Reduce the incidence of juvenile delinquency and recidivism

Restore youth, families and communities impacted by crime

Preserve the effective administration of justice through information sharing, evidence-based

training, and collaboration.
Summit attendees will have the opportunity to address pressing policy issues relating to returning youth and network with peer professionals from various District and federal criminal justice agencies including the:
Child and Family Services Agency (CFSA)

Court Services and Offender Supervision Agency (CSOSA)

Court Social Services Division (CSSD)

Council of the District of Columbia

DC Department of Corrections (DOC)

Criminal Justice Coordinating Council (CJCC)

District of Columbia Public Charter Schools (PCS)

District of Columbia Public Schools (DCPS)

District of Columbia Superior Court (DCSC)

District of Columbia Superior Court, Family Court (DCSC-FC)

Department of Behavioral Health (DBH)

Department of Youth Rehabilitation Services (DYRS)

Executive Office of the Mayor (EOM)

Office of the Deputy Major for Education (DME)

Office of the Deputy Major for Health & Human Services (DMHHS)

Office of the Deputy Mayor for Public Safety & Justice (DMPSJ)

Department of Employment Services (DOES)

Metropolitan Police Department (MPD)

Office of Juvenile Justice & Delinquency Prevention (OJJDP)

Office of the Attorney General (OAG)

Office of the State Superintendent of Education (OSSE)

Pretrial Services Agency (PSA)

Public Defender Service for the District of Columbia (PDS)

Office of Victim Services and Justice Grants (OVSJG)

United States Attorney's Office (USAO)

Community Stakeholders

Youth