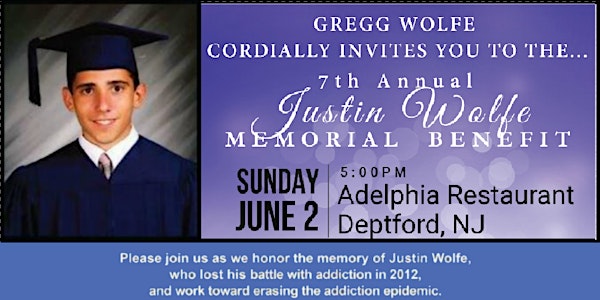 7th Annual Justin Wolfe Memorial Benefit
7th Annual Justin Wolfe Memorial Benefit
When and where
Location
Adelphia Restaurant & Lounge 1750 Clements Bridge Road Deptford Township, NJ 08096
About this event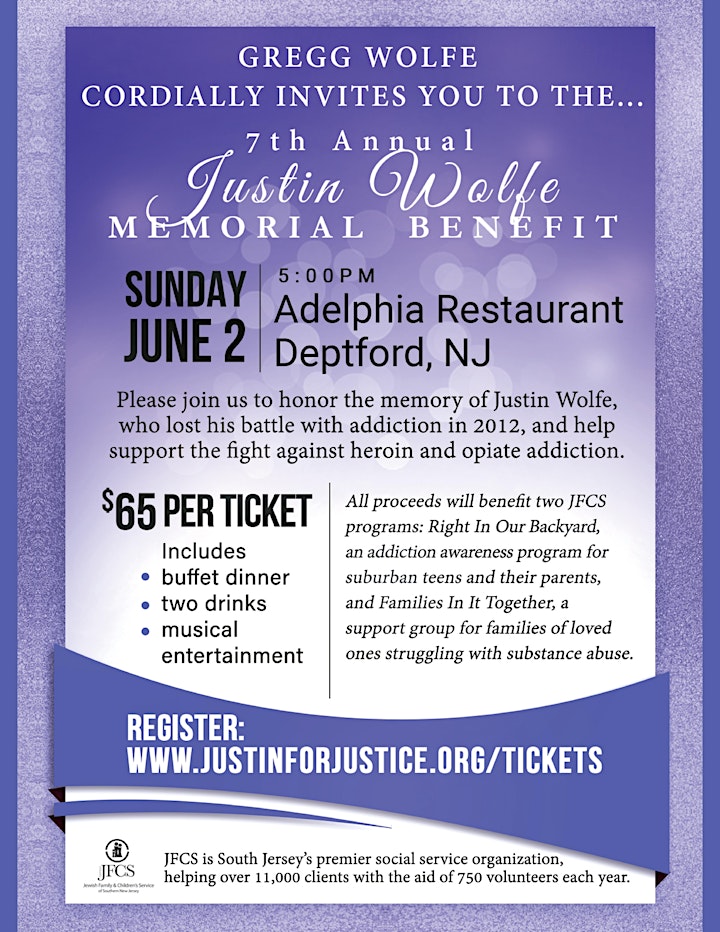 Please join us to honor the memory of Justin Wolfe, who lost his battle with addiction in 2012, and support the fight against heroin and opiate addiction.
TICKETS:
$65 Per Ticket - Includes 2 drinks, buffet dinner and musical entertainment.
***Special pricing for young adults, ages 13-17 - $25
ALL PROCEEDS WILL GO TO JFCS FOR RIGHT IN OUR BACKYARD PROGRAM
***Please RSVP By May 31st, 2019***
Our son, Justin Matthew Wolfe would have been turning 28 years old on June 11th of this year. His life, however, was cut short at the age of 21 from a heroin overdose on December 19, 2012.
Over the past several years, I have worked with Jewish Family & Children's Services of Southern New Jersey (JFCS) to organize Right In Our Backyard, a program developed to increase awareness in the South Jersey community, prevent addiction and addiction-related deaths, and keep our youth healthy and armed with the knowledge to make informed decisions. Through a panel presentation highlighting the signs and effects of addiction, ways to seek help, tools to escape an uncomfortable situation, disposal methods of prescription narcotics, and how to begin the discussion if they or someone they know is suspected of taking drugs, we have taught over 3,000 teens and their parents at churches, synagogues and schools.
We have also partnered with Camden County for expanded outreach, and have traveled from the Jersey shore to Baltimore in furtherance of our goal of saving lives. Tragically, the number of overdose deaths in New Jersey is more than triple the national rate, and "now [heroin overdose] eclipses homicide, suicide, car accidents and AIDS as a cause of death in the state."
Please join me for Justin's birthday benefit on Sunday, June 2nd, at the Adelphia Restaurant in Deptford, at 5pm.
ALL PROCEEDS WILL BENEFIT TWO JFCS PROGRAMS:
Right In Our Backyard, an addiction awareness program for suburban teens and their parents, and Families In It Together, a support group for families of loved ones struggling with substance abuse.
I look forward to seeing you, and thank you for your commitment.
Sincerely,
Gregg Wolfe