Description
Come share, listen, collaborate, and discuss research being conducted by TeachLivE and Mursion partners from around the world!
A variety of sessions such as interactive papers, workshops, and poster presentations will promote growth in knowledge of TeachLivE and Mursion usage, research, and simulate your brain on other potential areas of use.
Call for Proposals has been released! Email Proposals to TeachLivEconference@gmail.com
Send us a general description of your proposed session by January 15, 2019. Is it a research paper, new use of TeachLivE, Results from grant research, etc.? TeachLivEconference@gmail.com
Send us an abstract for your session that could be used in the program (250 words or less) by March 1, 2019. All abstracts will appear in the conference proceedings. TeachLivEconference@gmail.com
It's still not too late to propose a session!
Proposal Deadline: March 31, 2019 TeachLivEconference@gmail.com
Proposals should include the following:
Title:

Lead Presenter and affiliation:

Additional Presenters and affiliations::

Email Address of contact person:

Session Description (250 words or less)
Research papers for the conference proceedings should be available at the conference and will be accepted no later than 30 days after the conference.
All accepted Proposals are required to send by May 1, 2019 a single Ppt slide of a poster to accompany the proposed session. Posters will be displayed throughout the conference and be included in the conference proceedings.
More information to come. So stay tuned!
Please contact Angelica Fulchini Scruggs @ TeachLivEconference@gmail.com with any questions!
---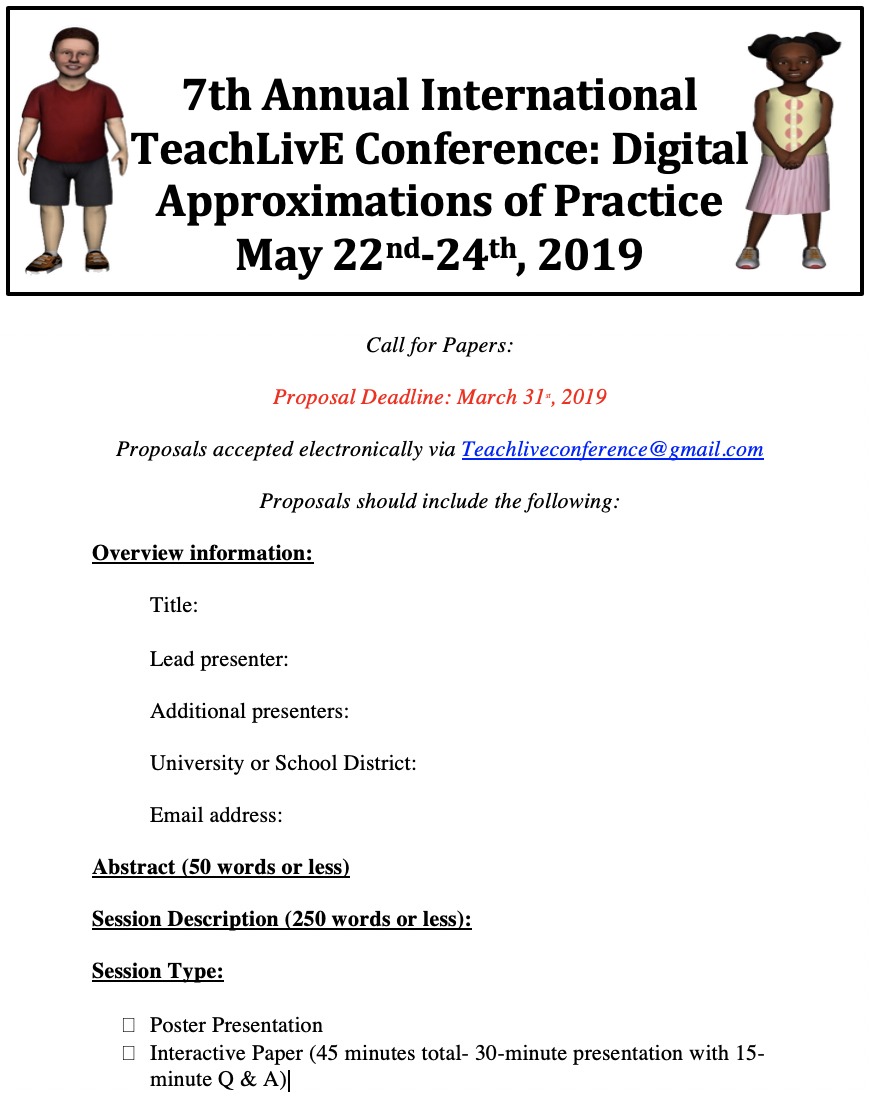 ---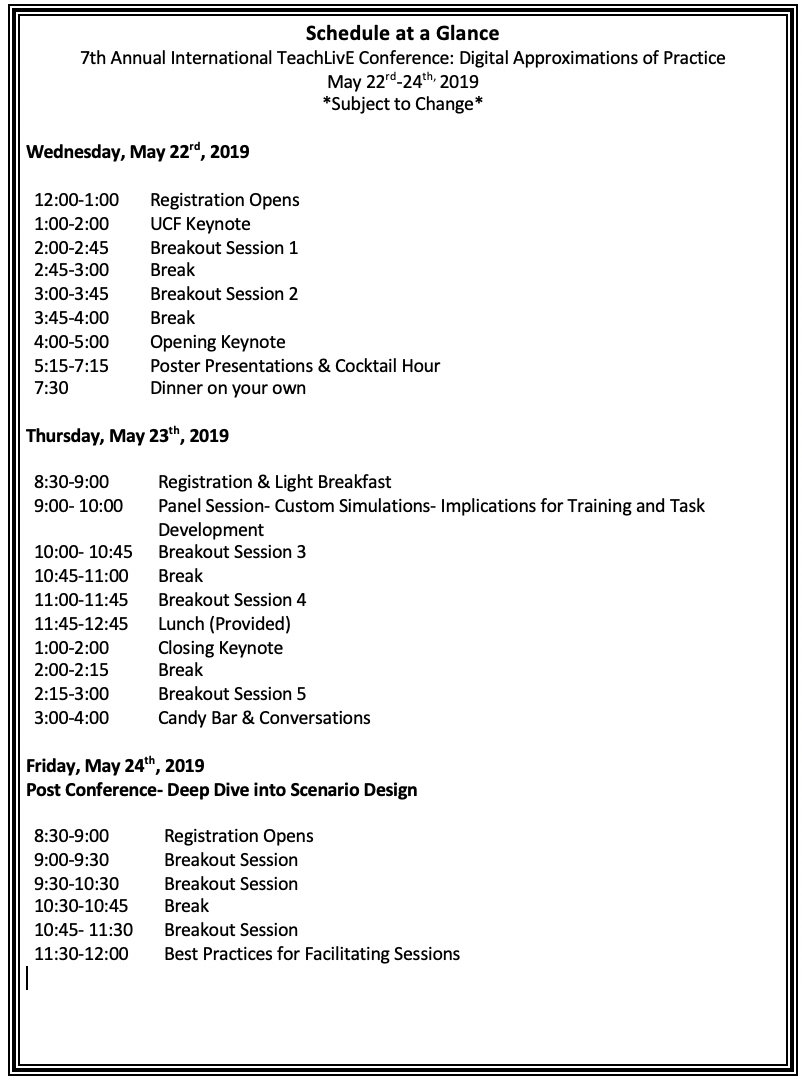 ---
Hotel Accommodations:
Homewood Suites by Hilton Orlando-UCF Area
3028 N. Alafaya Trail
Orlando, Florida, 32826
Phone: 1-407-282-0067
Booking Link: https://secure3.hilton.com/en_US/hw/reservation/book.htm?inputModule=HOTEL&ctyhocn=MCOAFHW&spec_plan=CHWTLV&arrival=20190521&departure=20190525&cid=OM,WW,HILTONLINK,EN,DirectLink&fromId=HILTONLINKDIRECT

Hotel: Homewood Suites by Hilton« Orlando-UCF Area, FL

Group Name: TeachLive Conference


Hampton Inn & Suites Orlando/East UCF Area
3450 Quadrangle Boulevard
Orlando, Florida, 32817, USA
Phone: 1-407-282-0029
*No Group code
---
Transportation:
There are many options for transportation from the airport to the University of Central Florida.**Unfortunately there is not a shuttle from the airport to either hotels or the University.**
*Taxis are estimated at $55.00 one way. You can click on this link for additional fare estimates
*Uber transportation with estimates cost around $51 from the airport and $20-$35 (depending on size of car) to the airport. Click this link for updated prices and additional estimates.
*Car Rental: Car rentals can range anywhere from $22-$66 a day, depending on your choice of company.
---
I understand and agree that UCF will be using a 3rd party vendor for event registration and planning purposes, which will collect personal information (e.g., name, title, address, phone, email, etc.) on behalf of UCF. I also understand that the UCF vendor is obligated to protect my personal information and not share, sell, or trade with other parties. UCF will have sole access to your information for the purposes of event planning. Information you provide to the vendor will be used for registration and TeachLivE Conference event purposes only.