Description
The seminar is designed to discuss the advantages of high performing buildings and address what really works when tackling major improvements in energy efficiency and operating practices in buildings. The seminar will offer attendees a personal exchange of high performance buildings and energy best practices.
MORNING KEYNOTE
Edward Mazria, Internationally Recognized Architect, Author, Educator & Visionary
Found & CEO of Architecture 2030
SESSION 1 • 9:15am-10:15am
BREAKOUT 1A: Power and Our Future
Speaker: Mr. Jeff Biggs, Flexential
BREAKOUT 1B: You May Already Own the Last Roofing & Building Envelope Systems You Will Ever Need
Speaker: Mr. David Hart, Tremco Roofing & Building - Maintenance Division
BREAKOUT 1C: Modern Metropolis: Demystifying Sustainability Through the Lens of Mass Media and Story Telling
Speakers: Mr. Joey Maiocco, Newsy & Mr. Andy Brownell, Newsy
BREAKOUT 1D: Building Energy Data Analytics - Current Status and Future Directions
Speaker: Mr. Brock Glasgo, Carnegie Mellon University, Department of Engineering & Public Policy
SESSION 2 • 10:45am-11:45am
BREAKOUT 2A: How Fifth Third Bank Became First Publicly Traded Company to Contract for 100% Solar Power
Speakers: Mr. Scott Hassell, Fifth Third Bank & Mr. Jeremy Faust, Fifth Third Bank
BREAKOUT 2B: Geothermal HVAC - Making Net-Zero Energy Building Cost Effective
Speaker: Mr. Seth Parker, Melink Solar & Geo
BREAKOUT 2C: How to Reduce Energy Usage in Your Labs by 50%
Speaker: Mr. Dan Doyle, Grumman/Butkus Associates
BREAKOUT 2D: Innovation & Biomimicry
Speaker: Mr. Doug Studer, BluEarth
LUNCH KEYNOTE ROUNDTABLE:
Connie Lilley, Director Detroit 2030 District
Cynthia Cicigoi, Executive Director Cleveland 2030 District
Angelica Ciranni, Senior Director Pittsburgh 2030 District
SESSION 3 • 1:45pm-2:45pm
BREAKOUT 3A: Sustainability and Resiliency in the Energy Space
Speakers: Mr. Michael Pahutski, Duke Energy & Ms. Heather Quinley, Duke Energy
BREAKOUT 3B: Implementing a Portfolio Lighting Strategy
Speaker: Mr. Tim Hertel, JLL
BREAKOUT 3C: Building Engagement and Buy-in for Energy and Sustainability Initiatives
Speaker: Ms. Beth Robeson, Robeson Marketing & Design
BREAKOUT 3D: AeroHUB - Educating & Up-skilling Ohio's Economy
Speakers: Mr. Chad Edwards, emerson DESIGN & Mr. Tom Shanks, PEDCO
AFTERNOON KEYNOTE:
Robert Watson, LEED Fellow
CEO & Chief Scientist, ECON Group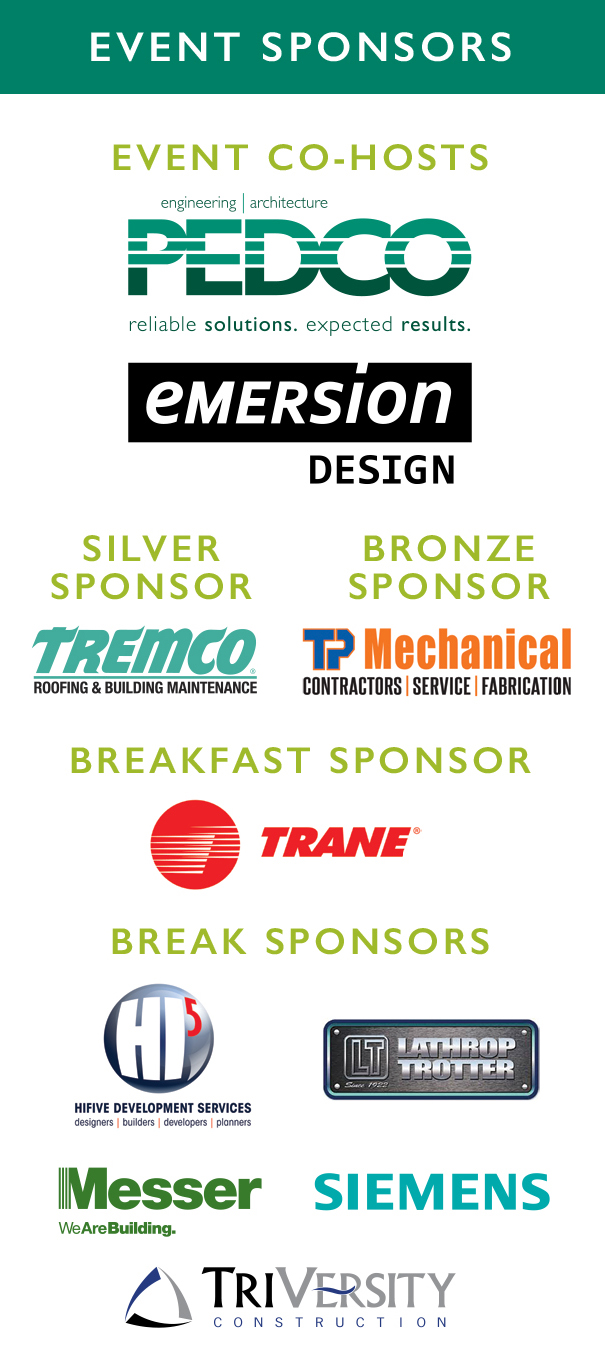 Booth Sponsors:
BELIMO Americas, Blackmore and Glunt, BWA/ZurnElkay,Climate Conditioning Company, EAP, Inc., emerson DESIGN, King Lighting, Lathrop Trotter, Leesman Lighting, LSI Industries/Riffle Liighting & Controls, Lutron/Riffle Lighting & Controls, Melink, Messer Construction, PEDCO, Shaffner Heaney Associates, Stoemer Anderson, Trane, Tremco, TP Mechanical, TriVersity Construction, Vacuubrand, Inc.