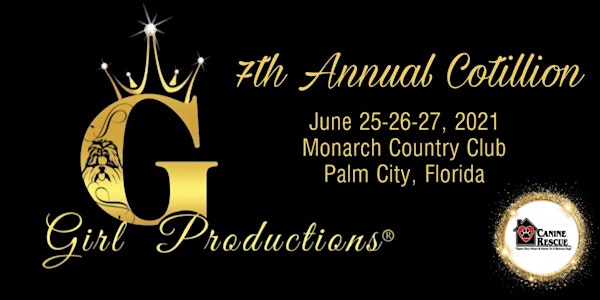 7th Annual G Girl Productions Cotillion
THE G GIRL MAGIC IS BACK!!!
When and where
Location
Monarch Country Club 1801 Southwest Monarch Club Drive Palm City, FL 34990
About this event
Cotillion 2021 Events
Join us for a three day weekend of magic and fun benefitting Canine Rescue! Enter your furbaby in professionally judged pet fashion runway events including International Night with country specific costumes and the Saturday night Cotillion competition complete with pet evening gowns and tuxes or suits. Trophies will be awarded to winners. There will be a live auction, raffles, silent auction, and 50/50 raffle along with music by DJ Bumi Benjamin. Friday, Saturday, and Sunday events will be held at the Monarch Country Club a short distance from the event hotel which is the Courtyard by Marriott in Stuart, Florida.
FURBABY DRESS FOR THE EVENTS:
Friday Night, International Competition. Costume may be any country, any era. Furbaby moms and dads may dress in cocktail attire or matching costume.
Saturday Night Main Event, Cotillion Competition. Furbaby attire: evening gowns for girl, suits or tuxedo for boys. Moms and dads of competing furbabies are asked to wear navy or black cocktail attire.
Sunday Brunch
Pajama party theme. Be creative and have fun. Skits are welcome.
Competition Prejudging Schedule:
There will be two days of prejudging. Friday judging will be for the International Competition and Saturday for the Cotillion Competition. Prejudging will be at the event hotel, Courtyard by Marriott by appointment from 11:00 AM to 2:00 PM on each day. Judging times will be given by the time and date of purchase of tickets, first come first serve.
Hotel Information
Courtyard by Marriott
7615 Southwest Lost River Road
Stuart, Florida 34997
772-781-3344
Please make your reservations by copy and pasting this link:
https://www.marriott.com/event-reservations/reservation-link.mi?id=1612543558204&key=GRP&app=resvlink&fbclid=IwAR08h6zEHkrtFJM-dQ8TLGexwUV_EhiDBvVBRxqlVA9oPWG1hy-2XMIjBj4
Room rate $89/night. $50 pet fee. Ask for the G Girl Cotillion block to get the group rate.
Trophies will be presented to the following categories:
INTERNATIONAL COMPETITION
Mr. and Miss International
First Runner Up Furboy and Furgirl
Best International Costume, Furboy and Furgirl
Best International Costume Designer, Furboy and Furgirl
COTILLION COMPETITION
Mr. and Miss Cotillion
Mr. Gentle Furboy
Miss Congeniality
Mr. and Miss Ambassador
Best Evening Gown and Best Tux, Furgirl, Furboy
Best Evening Gown Designer, Best Tux/ Suit Designer
SUNDAY BRUNCH
Sunday brunch will not be judged by costume but for creativity and fun! Skits welcome.
The following categories will be judged at the brunch event:
Just Rolled Out of Bed
Hugh Heffner Look
Victoria's Secret Sexy Lingerie Look
Grandpa Pajama Look
Granny Nightgown Look
Best Themed PJ Group (1 trophy)
Best Mom and Furbaby (boys and girls) Pajama Look
Overall Best Skit
DESIGNER APPRECIATION FASHION SHOW
During brunch we will enjoy the Designer Appreciation Fashion Show. Designers participating in the Cotillion event may showcase up to 5 designs of any style which will be modeled by the designer's choice of any furbaby models in attendance. This is your opportunity to meet couture pet fashion designers in person and enjoy the creative styles of each.
MOST PHOTOGENIC FURBABY CONTEST (Online Submission)
Enter your furbaby in the Most Photogenic furboy and furgirl contest by purchasing a ticket in the ticket section and submit furbaby photo to lauragianna@att.net. Furbaby must be dressed. Winners will be announced at the Cotillion. Trophies will be presented to each winner.
SUNDAY BRUNCH VENDOR TABLES
Vendors may reserve a complimentary vendor table with purchase of a 3 day ticket. 20% of all vendor table sales will be donated to Canine Rescue.
TICKET PRICES
Tickets may be purchased on this Eventbrite site with several options available. We have changed the payment processor for these events to PayPal which may offer attendees the ability to pay for tickets in intervals or to pay later. Tickets are available for this Cotillion weekend event only or for the entire season of G Girl Production events. If you would like to purchase for the entire season PayPal options may help you to do that. Those options usually pop up at check out. Dates for 2021-2022 are as follows:
June 25, 26, 27, 2021: 7th Annual Cotillion Ball
November 20-21, 2021: 10th Annual Homecoming Dance (Details to be posted after Cotillion)
February 5-6, 2022: King and Queen of Hearts Ball
May 13-15, 2022: 8th Annual Cotillion Ball
All events will be held at the Monarch Country Club and the event hotel will be Courtyard by Marriott in Stuart, Florida.
See the ticket section for pricing. Discounted pricing is available for season package purchases. If you choose to purchase a season ticket package you will be contacted for Cotillion meal preferences. If you choose 2021 Cotillion tickets only select the Saturday meal choice for your ticket type.
NOTICE: CDC occupancy rates for the state of Florida are limiting the number of people who may occupy a meeting room during the Covid outbreak. This includes all service people in addition to attendees. Tickets will sell out very quickly. Do not delay purchase of your tickets. Once tickets are sold out there will be no additional admissions. In the event of COVID 19 disruptions events will be rescheduled and tickets applied to a new event. Each event is observing proper COVID requirements for the protection of attendees.