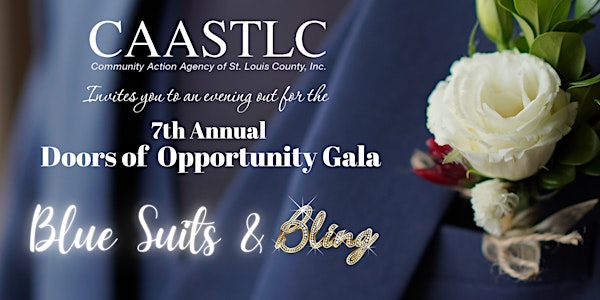 7th Annual Doors of Opportunity Gala
Step out with friends of CAASTLC to celebrate the 7th Annual Doors of Opportunity Gala.
When and where
Location
Orlando's Events Centers, Catering & Special Event Design 2050 Dorsett Village Maryland Heights, MO 63043
About this event
For the past 7 years, Doors of Opportunity has been working to bring a renewed awareness to the poverty related concerns in America, with focus on St. Louis County. Doors of Opportunity is CAASTLC's campaign aimed at using collective voices and effort to elevate the poverty conversation and open real doors to real opportunities to families.
Hosted by KMOX News Anchor and 2022 Media Hall of Famer Carol Daniel, this evening of dining, live entertainment, poverty awareness and philanthropic generosity will be quite memorable. The keynote speaker will be Dr. Adam Green, Ph.D., a long-time collaborator of the Sargent Shriver Peace Institute. Green is currently leading the efforts to edit and annotate the forthcoming memoir by Sargent Shriver, We Called It a War. The memoir outlines Sargent Shriver's efforts to lead the War on Poverty, as declared by President Lyndon B. Johnson in 1964.
CAASTLC, became part of a national rebranding effort to make CAAs more identifiable in the community. As a result, today the agency serves over 40,000 people in St. Louis County who are experiencing conditions of poverty. Families are provided a broad range of supportive and actionable services including rental and mortgage assistance, food, gas, electric, water and sewer assistance. These vital supports serve as an entry-port for the agency to connect with and empower customers through intensive family & economic empowerment that helps dismantle the cyclical devastation of poverty.
So come on out and let us paint the evening "Blue & Bling, and of course, green.
For sponsorship information, contact Sherri Robins at 314-406-0855 or srobins@caastlc.org.