7th Annual Cook County Human Trafficking Task Force Conference

Thursday, August 3, 2017 at 8:30 AM

-

Friday, August 4, 2017 at 4:30 PM (CDT)
Event Details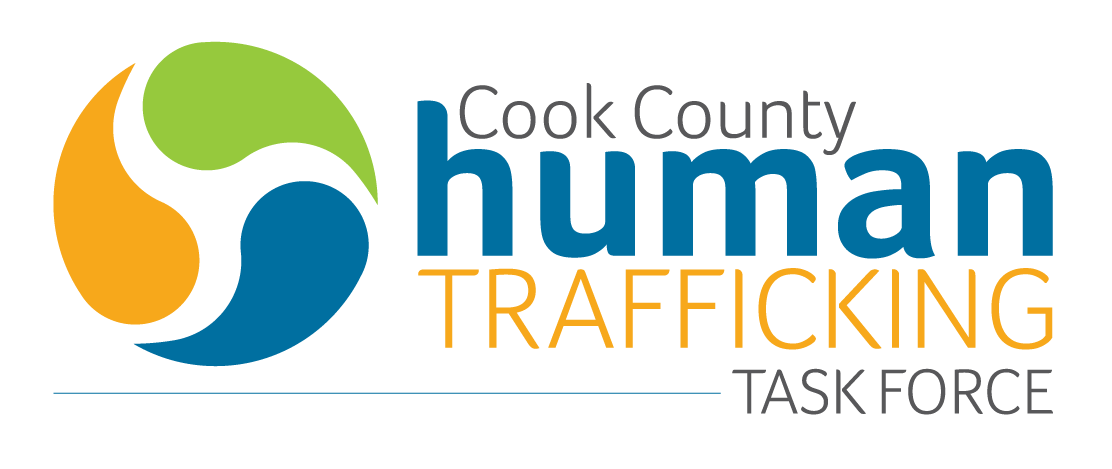 The Cook County Human Trafficking Task Force is pleased to host the 7th Annual Cook County Human Trafficking Task Force Conference on August 3rd and 4th, 2017 in partnership with IIT Chicago-Kent College of Law.


Thursday, August 3, 2017
PLENARY SESSION: 9:15 am to 10:30 am
The Neurobiology of Trauma and Its Impact on the Brain
Debi Grebenik
This session will explore the neurobiology of trauma and the impact it can have on the brain. Attendees will gain a better understanding of the nature of trauma, its impact on the brain and the resulting behaviors that can specifically come into play for survivors of human trafficking as they engage with multiple systems and services. 

CONCURRENT SESSIONS: 10:45 am to 12:15 pm (choose one)
Supply Chain Transparency
Markus Funk
Not long ago, many in the business community viewed ensuring a supply chain free from the taint of ''forced labor''—an umbrella term that includes trafficked, child, slave and indentured labor—as primarily a "PR/marketing" concern. After all, the skeptic will argue, can a U.S. or European retailer or manufacturer really control what goes on in a factory in China, India, Brazil, Vietnam or other distant locations? From the enforcers' perspective, however, the answer is simple: today's companies are expected to police their supply chains like never before, regardless of the practical challenges to effectively doing so.  Consumers expect to buy products free from the taint of forced labor. This presentation will cover both the history and present-day reality of landmark laws and regulations passed (and pending) in the U.S., Europe and elsewhere focused on recruiting—or, perhaps more accurately, conscripting—the business community into the global effort to rid supply chains of forced labor.
The Commercial Sexual Exploitation of Boys, Adolescents Males, and Trans Youth
Steven Procopio and Suamhirs Piraino-Guzman
Much of the current thinking and discourse in both public and professional venues about commercial sexual exploitation has been based on women and girls. As a result, boys and adolescent males have not been recognized and the interventions that are needed to protect them from perpetrators and life on the streets have not been fully developed. This workshop will focus on the causative factors of exploited males and behavioral indicators and definitions of how males experience being "in the Life". Discussion will follow on the services needed for youth along with policy implications and strategies for program development. 
The Cutting Edge of Victim Rights
Meg Garvin and Lisa Palumbo
Helping victims requires everyone in the criminal justice system to know what rights victims have and how to protect those rights. This session will explore the latest in victims' rights laws nationally, identify the most common scenarios where victims' rights may be in question, and target how system-based and community-based advocates can protect these rights at every juncture.  
Trafficking of People with Disabilities
Lydia Sharp 
This session will explore the intersection of people with disabilities and human trafficking, including particular vulnerabilities people with disabilities face, and national and local collaborative efforts working on prevention, identification, and response to trafficking of this vulnerable population. The session will also define disability and provide tips for communicating and working with people with disabilities.
PLENARY SESSION:  1:15 pm to 2:30 pm
Survivor Engagement, Advocacy and Leadership
Mary Durant, Suamhirs Piraino-Guzman, Ronny Marty

This session will explore promising practices on engaging with survivors as they interact with social services and the criminal justice system, discuss survivor-informed programming, and touch on engagement in survivor advocacy and leadership within the anti-trafficking movement.
CONCURRENT SESSIONS: 2:45 pm to 4:15 pm (choose one)
Prevention Methods for Youth At Risk
Vanessa Morris and Chloe Vega
This interactive workshop will include prevention techniques for working with teens. Individual and group activities reveal how these unique and effective techniques educate youth about this issue, raise self-confidence, and provide the tools they need to be protected from sex traffickers.  This workshop will inform attendees on how to effectively utilize prevention tactics with teenage boys and girls.
A Public Health Systems Approach to Assessment, Identification and Referrals for Adult Victims
Minal Davis

The City of Houston, Mayor's Office will discuss how it plans to leverage a public health model of care to better identify victims through coordinated assessments throughout the Houston Health Department, Harris Health Systems and Emergency Rooms. Houston's public health model of care includes coordinated assessment and aims to build capacity by enabling already established healthcare and case management/social service providers to serve trafficking victims. Through a bi-lateral arrangement, which links healthcare and social service components, potential victims will undergo an initial screening followed by a deeper assessment for trafficking indicators and will be provided, as needed, with emergency shelter. Case management services are embodied in program staff at both the hospital- and shelter-level: while case workers at the hospital-level will perform screenings, provide referrals for medical and psychiatric services (both of which are linked in this model), and act as victims' healthcare navigators, shelter-level staff will not only reserve shelter beds, as needed, but also coordinate needed non-medical care, which may range from meeting basic needs to facilitating civil legal assistance through area service providers. The presentation will focus on Houston's unique model of care, how initial coordinated screenings will be implemented, and how providers are linked across the model.
Working with Survivors of Trauma as They Engage with the Criminal Justice System
Debi Grebenik and Bethany Biesenthal
The behaviors of victims too often cause the public and those in the criminal justice system to doubt a victim's story. This session will focus on the impact of trauma on the brain and how understanding this impact can help explain seemingly counter-intuitive behavior of victims. These behaviors, which include victims who continue to feel loyalty to their trafficker, delayed disclosure of one's victimization or a flat affect when discussing the details of their victimization, will be discussed. Participants will gain an understanding of the 'why' of some of these behaviors and also learn more about the process of providing expert testimony on the impact of such trauma. 


Operation Lockdown: A Case Study on the Investigation, Dismantlement, and Prosecution of a Family Sex Trafficking Business
Renai Rodney, Shoba Pillay, Mike Barker, Carrie Landau, William J. Leen
When twins Tyrelle and Myrelle Lockett were just 16 years old, their father Nathan Nicholson groomed them to become pimps in the family's sex trafficking business. Nicholson used his sons to recruit his minor victims, and the brothers later trafficked their own girls. After years of victimizing minors and young women across the Midwest, in March 2017, these traffickers were sentenced to a combined term of imprisonment of 52 years. Law enforcement agents and prosecutors discuss their investigative strategy and lessons learned during their quest to bring these abusers to justice.


Friday, August 4, 2017 
PLENARY SESSION: 9:00 am to 10:15 am

Human Trafficking Prevention: Recent Developments for Worker Protection in Chicago and Illinois
Carolyn Morales (ARISE), Lydia Colunga-Merchant (Raise the Floor Alliance), Naomi Leilani Salcedo (AFIRE Chicago)
The panel will discuss recent developments in the field of worker issues and labor trafficking prevention efforts. The panelists will discuss how their organizations and coalitions have taken action in the past two years to further protect workers and elevate their voices. After a brief overview of labor trafficking and prevention efforts, each panelist will go into detail on what their organization specifically has accomplished or been working on to bolster workers' rights and target labor trafficking. 
CONCURRENT SESSIONS: 10:15 am to 11:45 am (choose one)

Engaging Boys and Men: Creating Healthy Definitions of Masculinity
Caleb Probst, Christopher Jaffe, Stefania M. Agliano, Bryan Hall
This panel will discuss the methods by which various agencies, including I AM: The Empowerment Project, the Chicago Alliance Against Sexual Exploitation, and the Becoming a Man Program, engage with men in discussions about healthy relationships, gender norms, and healthy male identities while pushing back on the mass marketing of hyper masculinity and educating on the harmful realities of human trafficking.  
Watch for Traffick: A Cost-Effective Collaborative Public Awareness Campaign to Increase Victim Identification
Minal Davis
The City of Houston, Mayor's Office will highlight its multi-modal Watch for Traffick media campaign, which brought multi-disciplinary partners together to create an ethically-informed, multi-lingual public awareness campaign whose goal was to impact tip reporting and victim identification rates during its run of August 2016 to May 2017. With the donated services of a consultant firm, and in collaboration with a local non-profit and law enforcement agencies at the municipal- and county-level, the Mayor's Office based the campaign's concept on a de-identified traffic light figure whose poses variously depict seven labor and two sex trafficking situations in different industries and venues. The campaign consists of multiple TV, radio, billboard, taxi and bus signs and has a general public outreach piece consisting of fliers, stickers and indicator cards translated in Arabic, Urdu, Mandarin, Vietnamese and Spanish; all of which the City of Houston makes available for free. 
Cross Border Justice: Service Provision to Foreign National victims of Human Trafficking
Jeremy McClean
Many transnational migrants who are victims of human trafficking and other forms of severe labor exploitation require services that need to be provided in their home country. This need can present when victims choose to return to their home countries, or when services are needed for family members that live in the victim's home country. When transnational services are required, victims and service providers face obstacles navigating two separate legal and service regimes. Victims may face challenges participating in ongoing U.S. civil or criminal proceedings, difficulty accessing health services, stigma, security concerns, and coping with debt and other financial issues. Service providers may find it difficult navigating a legal system different than the US system. In this session, the panelists will discuss strategies to ensure that trafficking survivors have access to portable justice, continuing social services, personal and financial security if they return home, and adequate legal services for family members that remain in their native country.
The Faces of Human Trafficking in Oklahoma: Investigative Cues to Identify Potential Victims
Lt. Doug Kimberlin
This presentation will discuss the results of three years of demographic data gathering in Oklahoma based on prostitution and human trafficking related arrests.  Detectives then went through the data for truancy and runaway reports to identify any potential correlation.  Through this research, cues have been identified which can be applied to the identification process of potential victims.  This session will explore the possibility of engaging with victims based on this data and identifying traffickers ahead of the full recruitment of the potential victim.
NETWORKING/LUNCH WORKSHOP: 12:00 to 1:15 pm 
From Knowledge to Action - Your Role in Addressing Human Trafficking (Lunch Provided)
PLENARY SESSION: 1:15 pm to 2:30 pm
Labor Trafficking Case Study: The People of the State of Illinois vs Roy Estivez
Mary Anna Planey and Brigid Brown
This plenary will focus on Cook County's first labor trafficking case in which Roy Estivez was charged with labor trafficking two young adult males, making them work multiple jobs around the clock only to turn over all the money they made to him. The session will discuss the full prosecution of the case including pre-trial motions, challenges, medical documentation, ways to follow the money, the outcome of the case and restitution.  
CONCURRENT SESSIONS: 2:45 pm to 4:15 pm (choose one)

Know Your Rights in a Changing Political Climate
Saba Baig
Everyone has rights under the U.S. constitution, including undocumented immigrants. As we face harsher immigration enforcement and a changing political climate, it is more important than ever to know your rights and how to exercise them. The National Immigrant Justice Center and Legal Assistance Foundation will conduct a Know Your Rights workshop, with discussion around legal options and safety planning.  
Lessons Learned from Youth Living Out Loud: A Mentoring Program for Sexually Exploited Youth
Tiffany Wilhem, Jenna Reetz, Claudine O'Leary
This workshop, intended for intermediate to advanced audiences, will discuss the lessons learned from providing specialized services to youth in Milwaukee, WI. Participants will learn emerging best practices in working with youth populations who have experiences of being sexually exploited.  In addition, they will have an opportunity to assess their own program and/or service capacities in the context of meeting the complex needs of youth who have experienced sexually exploitation, as well as how to connect and partner with local efforts in their community. 
Trauma-Informed Multi-Disciplinary Teams: A Focus on the Parallel Process of Power and Control Dynamics in Engaging Victims of Human Trafficking
Jamie Manirakiza and Susan Brotherton

Many interventions designed to serve victims of human trafficking can actually replicate the trauma bond enacted by a trafficker. While held in treatment and secure facilities, victims are often mandated to participate in therapy and recovery services. Compliance with treatment is not a choice but an obligation, mirroring the obligation to one's trafficker to avoid negative consequences. This session will focus on the dynamics of aftercare services with victims involved in the criminal justice system, open law enforcement investigations, and the juvenile delinquency system. This session will discuss challenging examples of cases where victims are pushed into treatment and sometimes held in secure facilities in order to maintain safety. This session will challenge participants to rethink aftercare models and MDT response systems to be truly trauma informed and victim centered.
Working with Bitcoin to Follow the Money (Law Enforcement Only)
Shoba Pillay and Kyle Rau
The Dark Web and Virtual Currencies have become critical tools for human traffickers, but continue to be unchartered territories for investigators. This presentation will attempt to strip away the veil of the Dark Web and pierce the anonymity endemic in this arena. In breaking down the technical jargon it will provide investigators with insight into how to use the information, where to build leads, and what evidence is can be collected and used in a prosecution.
----
*** Agenda is subject to change. ***
If you have any questions, please contact stop-it@usc.salvationarmy.org or contact Cook County Human Trafficking Task Force Coordinator Summar Ghias at 773-433-5735. 
When & Where

Chicago Kent College of Law
565 West Adams Street
Chicago, IL 60661


Thursday, August 3, 2017 at 8:30 AM

-

Friday, August 4, 2017 at 4:30 PM (CDT)
Add to my calendar
Organizer
The Cook County Human Trafficking Task Force is a multi-disciplinary task force that brings law enforcement, social service and legal service agencies together to work on human trafficking cases. Learn more about the Cook County Human Trafficking Task Force here. 
7th Annual Cook County Human Trafficking Task Force Conference