About this Event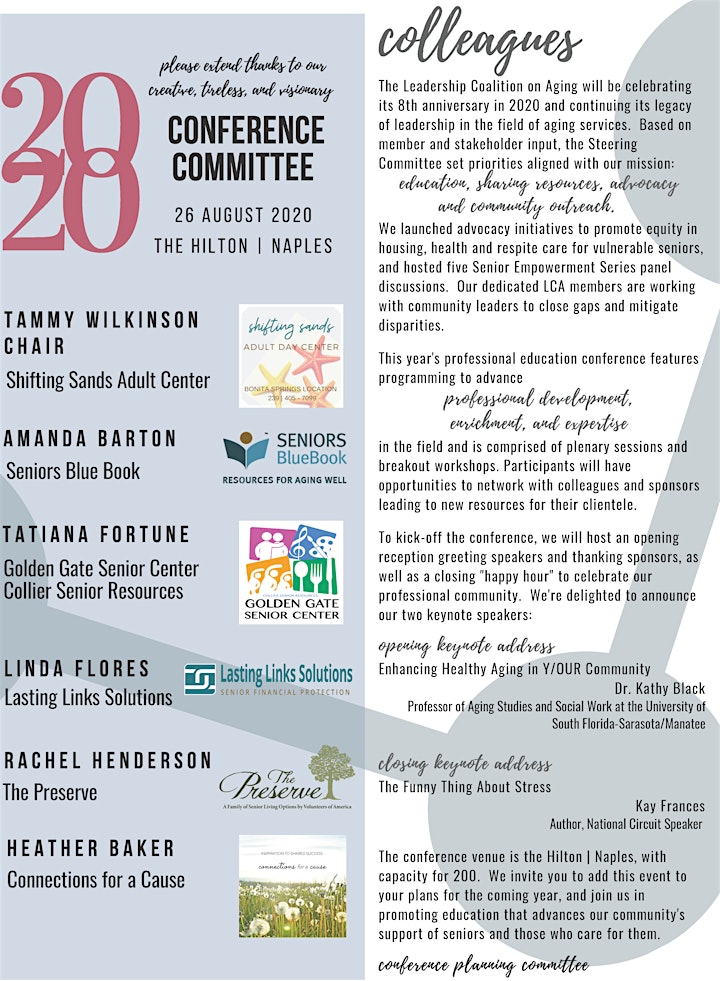 Opening Keynote Address by Dr. Kathy Black, Professor of Aging Studies, University of South Florida
"Enhancing Healthy Aging in Y/Our Community"
Everyone is a stakeholder in our aging society – and we are all getting older and older! This talk will discuss ways to enhance active, healthy and engaged living through the built, social and service environment in which we reside. Attendees will be inspired to consider the myriad of ways in which each of us can contribute to our collective age-friendly journeys that enhance community life for all.
Morning Breakout Sessions Include:
Dementia Live®: A Simulated Experience
Leave Nothing on the Table! Accessing Senior Health Benefits & Lowering Costs
Elder Emotional Abuse and Financial Exploitation: A Cautionary Tale
Global Solutions to Solving the Labor Demands: Meeting the Needs of Our Senior Community
Afternoon Breakout Sessions Include:
Dementia Live®: A Simulated Experience
Beyond 911: Tips to Assist First Responders
The Palliative Care Difference: 20/20 & Beyond
Healthy Living for Your Brain & Body: Tips from the Latest Research
Closing Keynote Address by Kay Francis
"The Funny Thing about Stress"
It's a well-documented fact that people who manage their stress, maintain an optimistic spirit and take care of their health are happier and more productive than those who don't. In the frenzied world of aging care, folks need to be reminded of why these things are vitally important.
The first 200 attendees will receive a copy of Kay Francis' book, "The Funny Thing About Stress".
Continuing Education Credits
Up to 5 continuing education credits are available for attendees in nursing, nursing home administrators, public and professional guardians, massage therapy, clinical social work, marriage and family therapy, and mental health counseling.
Certificates will be issued to attendees with the option to file for CEs independently.
Applicants must submit all required information and complete the conference survey to be eligible.
Closing Social
Please join us after the conference from 5 pm to 7 pm for a closing social with light hor d'oeuvres, refreshments, and door prizes!
Conference Portfolio
For more information about the conference, access the conference portfolio here.