Description



Join us for the 7th Annual Child Abuse Conference on April 5-6, 2019 at the Knipling Conference and Education Center!
In 2017 the state of Texas had 172 confirmed fatalities due to child abuse or neglect. In Lubbock County alone we had 1,031 confirmed cases of child abuse or neglect with 1 fatality in 2017. Shatter the Silence surrounding child abuse, neglect, and maltreatment. By working together we can better protect our children.
For more information on Day 1: Target Audience: Nurses, EMS, Social Workers, and Law Enforcement- Information includes speaker times, Continuing Education, and breaks please click on the following link:
For more information on Day 2: Target Audience: Social Service Agencies, School Teachers, School Counselors, School Administrators, Childcare Professionals, EMT & Law Enforcement- Information includes speaker times, Continuing Education, and breaks please click on the link below:
If you would like to purchase a shirt for Child Abuse and Awareness month through the South Plains Coalition for Child Abuse please click here http://www.liveunitedlubbock.org/go-blue-lubbock-2019
Prices on the shirts do not include tax. Those wanting shirts should submit their "inquiry" or shopping cart items on the website and Advance Graphix will then call them to confirm order and sizes and secure payment. This helps with group orders and those requesting tax exempt orders.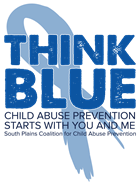 ---
FAQs
What are my transportation/parking options for getting to and from the event?
If you are a vistor to Covenant Medical Center you can park in the west parking garage. The conference will be located on the 6th floor of the west parking garage. If you are employed by Covenant Health in Lubbock you can park in any approved parking lot.
Can I apply for Friends of Nursing Scholarship?
Yes, FON reimbursement has been approved for Covenant Medical Center Nurses and Covenant Children's Hospital Nurses. Documents required are:
1) Copy of EventBrite receipt
2) Copy of CNE Certificate
3) FON application completed with signature from your Nurse Manager
4) Scan or fax to Carolyn Garnett cgarnett@covhs.org / 806-725-0840 office / 806-723-7527
How can I obtain a paper registration form?
You can email or call any of the below 3 people.
How can I contact the organizer with any questions?
Kaci Thompson
kaci.thompson@stjoe.org
806-725-6584
Laura Navarrette
sescill1@covhs.org
806-725-6406
Bridgett Anderson
bridgett.anderson@stjoe.org
806-725-7934