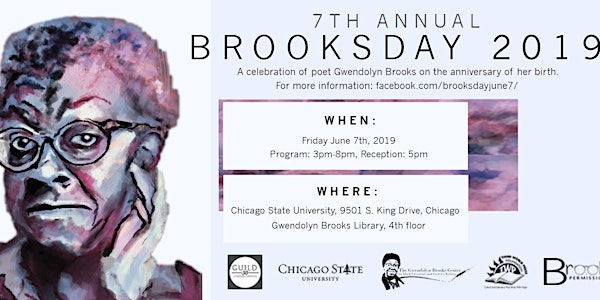 7th Annual BrooksDay
When and where
Location
Chicago State University 9501 S King Dr Gwendolyn Brooks Library, 4th floor Chicago, IL 60628
Description
BrooksDay is the Guild Literary Complex's annual celebration of Gwendolyn Brooks, held every year on June 7th, the anniversary of her birth. Since 2013, BrooksDay has been a marquee event in the Guild's yearly calendar with many literary, cultural, and civic leaders from Chicago and beyond taking the stage to celebrate and honor Gwendolyn Brooks, former Poet Laureate of Illinois and the first African American writer to win the Pulitzer Prize. BrooksDay honors her legacy as an artist and an iconic figure of generosity and civic conscience in Chicago and the nation.
Each year, BrooksDay is unique, but BrooksDay always commemorates Gwendolyn Brooks' artistic achievements, her legendary generosity toward other poets, her influence as a pathbreaking cultural figure in Chicago and beyond, and her well-deserved status as one of the standard-bearers for progressive values and contemporary poetry in modern Chicago, through public performances of her work. BrooksDay 2019 is a collaboration between The Guild Complex, Brooks Permissions, and Third World Press Foundation, who have sponsored previous BrooksDays, and the Gwendolyn Brooks Center for Black Literature and Creative Writing at Chicago State University, where Ms Brooks taught, and which has recently renamed their library in her honor.


3-5pm
4th Floor Atrium
The Guild Literary Complex presents a reading of Gwendolyn Brooks' work featuring members of Chicago's literary arts community carrying on Ms Brooks' commitment to the literary arts and literary artists
5-6pm
4th Floor Solarium
The Event Sponsors host a reception celebrating Gwendolyn Brooks' life and work on her birthday with appetizers and birthday cake!
6-8pm
4th Floor Atrium
The Gwendolyn Brooks Center for Black Literature and Creative Writing at Chicago State University presents a program in honor of the legacy of Gwendolyn Brooks

Event Sponsors:
www.guildcomplex.org
www.csu.edu
www.gwendolynbrooks.net
www.thirdworldpressfoundation.org