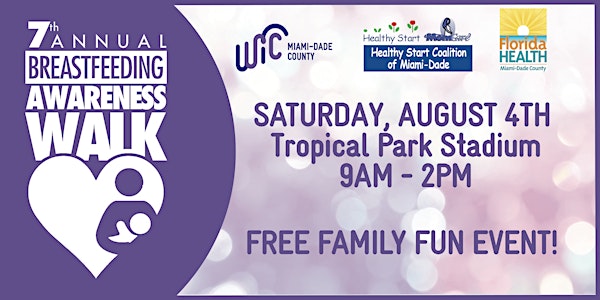 7th Annual Breastfeeding Awareness Walk & Big Latch On
Location
Tropical Park Stadium
7900 Bird Road
Miami, FL 33155
United States
Sales Have Ended
Registrations are closed
Registration for the 7th Annual Breastfeeding Awareness Walk & Big Latch On has ended. You may come to the event and register on-site. Event Date: August 4, 2018 Time: 9AM - 2PM Location: Tropical Park Admission: FREE
Description
The Florida Department of Health in Miami-Dade County WIC Program and Healthy Start Coalition of Miami-Dade invite you to the 7th Annual Breastfeeding Awareness Walk & Big Latch On on August 4, 2018 at the Tropical Park Stadium. A FREE fun family event to raise awareness on the importance of breastfeeding support, promotion and education! Great entertainment and activities for the whole family including workshops, Zumba, kid zone with water slides, Storytime, glitter tattoos, face painting and much more. ALL FOR FREE! Open to all.
El Departamento de Salud de Florida del Condado de Miami-Dade Programa WIC y la Coalición de Healthy Start de Miami-Dade le invitan a la 7º Caminata Anual de la Lactancia Materna y La Gran Lactada el 4 de agosto de 2018 en el Tropical Park Stadium. ¡ Un evento familiar de diversión gratis para concientizar sobre la importancia del apoyo, promoción y educación de la lactancia materna! Gran entretenimiento y actividades para toda la familia incluyendo classes, Zumba, zona infantil con toboganes de agua, cuentos, pintura facial y mucho más. ¡ Todo gratis! Abierto a todos.
Pwogram WIC nan Depatman Sante nan Florid la nan konde Miami-Dade ak Healthy Start Coalition ap envite ou nan 7em ane mach konsyantizyon bay ti moun tete ak demonstrasyon ki ap fèt Samdi 4 Out 2018 nan Pak Tropical Park Stadium la. Se yon pwogram GRATIS ki ap gen amizman pou tout famni lan , ki gen pou objektif konsyantize sou enpotans pou sipote bay ti bebe yo tete , pwomosyon ak edikasyon tou ! Bon jan amizman ak aktivite pou tout fanmi tankou atelye, zumba, aktivite pou timoun tankou glisad dlo, bel ti istwa, desen tatou tanporè sou po, pentire figi ak plis anko. Tout bagay sa yo gratis! Se yon pwogram ki ouvri pou tout moun.