The BEAUTIFUL BIKERS CONFERENCE & AWARDS, serves as a destination for women who aspire to ride and women who are seeking new moto adventures
About this event
Our 7th Annual BEAUTIFUL BIKERS CONFERENCE & AWARDS, serves as a destination for women who aspire to ride and women who are seeking new motorsports adventures.  Our conference highlights the fearlessness and sisterhood of women who embrace the passion of the biker lifestyle.  We honor female motorcycle riders and clubs, in celebration of their triumphs and accomplishments on ground.
We welcome all riders, from the beginning to the intermediate, as we encourage you to push the boundaries of your comfort zone.  Our breakout panels will give you the tips and tricks to grow your confidence level to take your first ride, cross country trip, or international journey.  You are cordially invited to ride with us and be inspired by the journey of our speakers and honorees.  We hope you'll find beauty in the sisterhood created by the open road.  We are proud to always curate an uplifting and exciting experience in Celebration of Women Who Love The Ride!  
BEAUTIFUL BIKERS CONFERENCE REGISTRATION INCLUDES:
Access to all Beautiful Bikers Events
Friday 5/21 :
- Meet and Greet
Saturday 5/22:
- Sisters Morning Ride & Lunch
- Breakout Sessions
- Ride The Runway Fashion Show
- Beautiful Bikers Awards Dinner
+ Beautiful Biker Gift Bag & Event T-shirt
Host Hotel: Hilton Garden Inn - San Marcos
(512)805-4411 (use code BBRB)
Room Rate: $104 per/night + tax.  
Must Book Before FRIDAY 4/30/2021.  See website for details.
Visit us online:
http://facebook.com/beautifulbikers
http://instagram.com/beautifulbikers
For Press Inquiries, Fashion Show Features or Vendor information, email hello@beautifulbikers.com or contact (310) 733-0508.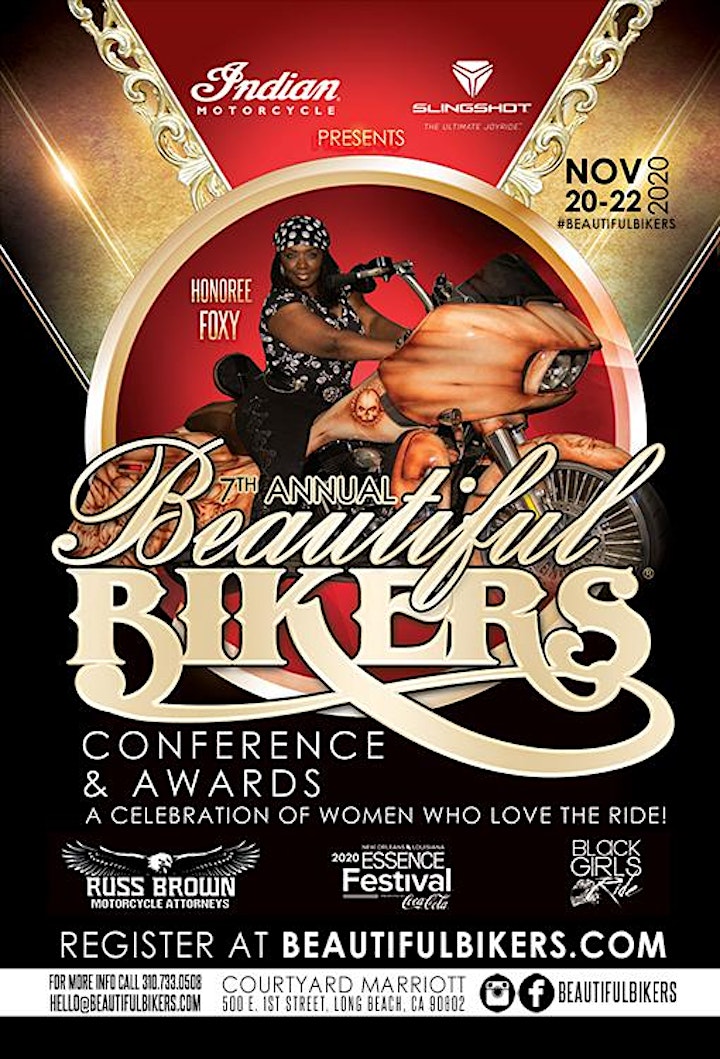 Organizer of 7th Annual Beautiful Bikers Conference & Awards
As a rider with a background in historical research, Porsche Taylor became curious about other women who blazed a trail in motorsports and how they evolved in the new millenium. In her research, she found a lack of representation of women of color in motorsports.  Seeking to fill this void, Porsche became the Founder and Editor-In-Chief of Black Girls Ride Magazine, an inclusive celebration of all women who live to ride, featuring riders, racers, product reviews and riding events.  Founded in 2011, Black Girls Ride now celebrates 8 years, and has expanded to include female riding workshops and events, including the Beautiful Bikers Conference.