Description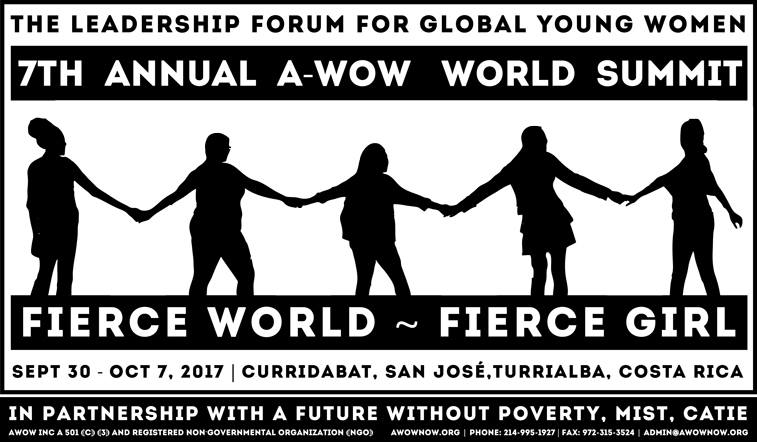 WELCOME TO THE 2017 A-WOW LEADERSHIP WORLD SUMMIT

World Leaders, Expert, Businesswomen and Businessmen, from Private Sector, Government Officials and Relative Organizations are set to attend speak and facilitate this informative and momentous occasion.
COME EXPERIENCE EXCITING TEAM-BUILDING, DISCUSSIONS, KNOWLEDGE SHARING, NETWORKING AND FUN!!
OVERVIEW
Some of AWOW's leading global young women and innovators will fly in to San Jose, Costa Rica for this prestigious event organized by AWOW International Girls Leadership Initiative, with support from Southwest Airlines, Future Without Poverty, CATIE University, MIST, Rotary Club of Curridabat and more!
INSPIRE AND EMPOWER
The Summit is about leadership and inspiring change, but at its core it is meant to inspire and empower young women and girls across the world to engage in purposeful career development and take on leadership for important causes, to lead change with more conviction and confidence, and improve communities and the world for all.
INVOLVEMENT
Participant's involvement in the summit activities is essential to help them learn various leadership concepts and develop the necessary skills to implement them. By attending this summit they will be introduced to some intriguing ideas. Participants who participate in the activities and fully engage themselves in each exercise will convert those exercises into relevant experiences that will impact and enhance their lives forever!
OPPORTUNTIES
A-WOW develops emerging leaders, ages 16-25 years old, from various countries as Ghana, Costa Rica, Liberia, Trinidad and Tobago, India, Nigeria, and the United States. A-WOW programs are designed to introduce concepts and tools that can be easily incorporated into any leadership role in any organization or community. Its programs focus on the key skills and behaviors that contribute to the success of today's leaders.
AWOW believes, young women should have a platform that allows them to express themselves and connect across cultures globally creating a broad-spectrum of roles and opportunities, which they can assume as global change agents.