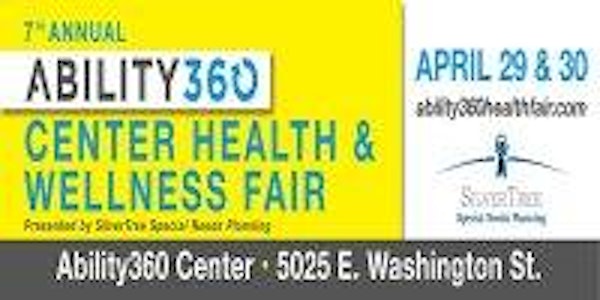 7th Annual Ability360 Center Health and Wellness Fair Presented by SilverTree Special Needs Planning
When and where
Location
Ability360 Center 5025 East Washington Street Phoenix, AZ 85034
Description
SilverTree Special Needs Planning presents The 7th Annual Ability360 Center Health & Wellness Fair
Location: Ability360 Center
5025 E. Washington Street
Phoenix, AZ 85034
Ability 360 Center
Tenants: Ability360, Arizona Autism United, Arizona Center for Disability Law, Arizona Spinal Cord Injury Association, Brain Injury Association of Arizona, Joni & Friends, Multiple Sclerosis Society, NAMI Arizona, Raising Special Kids, Symbius Medical, Statewide Independent Living Council, Valley Center of the Deaf and Virginia G. Piper Sports & Fitness Center for people with disabilities.
Dates/Times: Friday, April 29, 2016 - 12:00 p.m. - 5:00 p.m.
Saturday, April 30, 2016 – 10:00 a.m. - 4:00 p.m.
Audience: Event is FREE to the general public, including consumers,
families, healthcare professionals in search of answers
to the complex questions surrounding chronic illnesses and
disabilities.
Event
Description: This 2-day health fair will offer multiple education, exhibition
opportunities and health screenings to an estimated 1,200 attendees.
Marketing
Opportunities: Light Rail Kiosks
Valley Metro Bus Stop Kiosk
Static & Electronic Billboards
Radio Advertisement
Theatre Advertisement
EventProgram Advertisement
Inclusion on web site, flyers, social media, as well as other
Electronic Media (e-mail distribution groups)
On-site Banner Placement Advertisement
Promotional Mailers to over 13,000 households
Website:
Deadline: Thursday, March 31, 2016
For questions, please contact David Carey at (602) 443-0723 or