Event Information
Location
Troubadour
9081 Santa Monica Blvd
Los Angeles, CA 90069
About this Event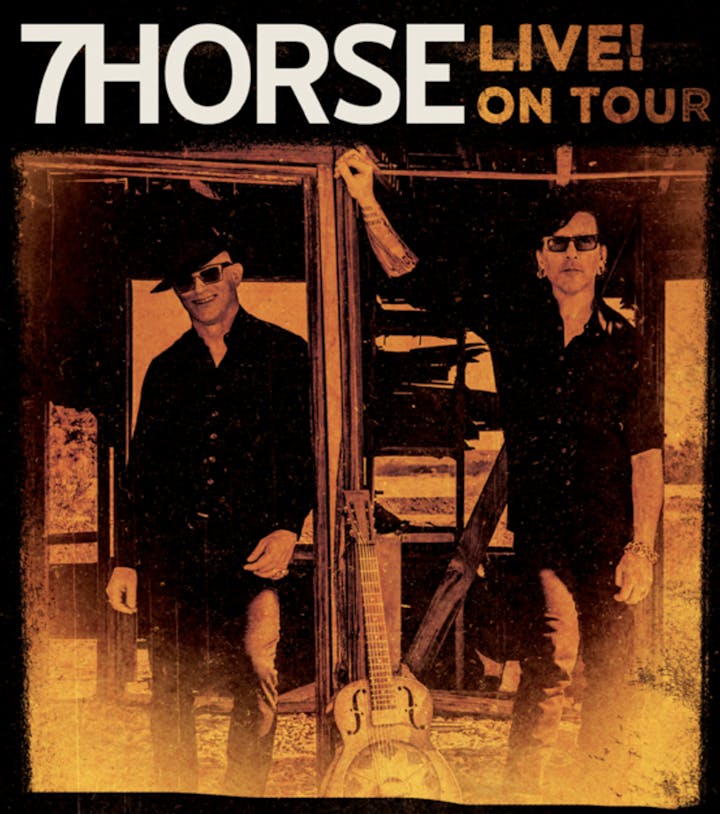 "You're never going to be as good as something you copy. So, we want to invent our own space," says Phil Leavitt, one half of the stalwart rock/blues duo 7Horse. "And if you want what we've got, we're the only ones who have it."
Formed in 2011 by Leavitt and longtime friend and musical partner Joie Calio, 7Horse has blazed their own trail across three well-reviewed albums: Let the 7Horse Run (2011), Songs for a Voodoo Wedding (2014) and Livin in a Bitch of a World (2016) and most recently SUPERFECTA (12/7/2018). Along the way, their raw, swaggerin' catalog of "dark, sexual rock'n'roll" has racked up 13.5+ million streams on Spotify and been featured across TV shows (Amazon's The Grand Tour, the NFL playoffs on Fox), video games (Far Cry 5) and one very, very big movie — The Wolf of Wall Street, which showcased the band's left-of-center hit "Meth Lab Zoso Sticker."
"There's a level of validation when Martin Scorsese thinks your song is good enough for his movie," says Calio. "That was the proverbial shot in the arm for us. We weren't looking for it, but we had worked our asses off — sometimes stuff like that comes to you."
But ever restless, the band has toyed with their musical formula on their new album Superfecta. Written and recorded in the Hollywood Hills over a six-month span, it marks a true sonic evolution for the group, and adds a few new voices to their swampy mix.
"We started as a two-piece, blues-influenced, Black Keys-styled band, but we couldn't stay there," says Leavitt. "We have all these influences. I'm a product of growing up in Vegas, so I love showbiz, and I love rock'n'roll. To me, it's like Dean Martin fronting the Stones. Is there room for that? We want to find out."
In lieu of self-producing, the band brought in Grammy-winning mixer/producer Dave Way (Ben Folds, Jakob Dylan, Michael Jackson, Foo Fighters, Paul McCartney, Pink). "He's mixed some of our stuff before, and he's a great collaborator," says Leavitt. "He has the same appreciation for the '60s and '70s bands we like — and he cut his teeth as an engineer/mixer for a lot of R&B records, so he gets the groove that's part of our sound. And he's a great hang."
As well, the band also started working with Brian Whelan, a multi-instrumentalist who recently served as the guitar player for Dwight Yoakam. "He's a great bass player and keyboardist, and he really frees us up live," says Calio.
For Superfecta, the group upended their unorthodox songwriting process. "We live in two different cities, so we used to send each other lyrics and ideas, and finish the song when we went into the studio, to create that last-minute spark," says Calio. "That worked for three records. This time, we did a lot of pre-production and wrote for several months together. It was a conscious effort to up our game."
The result is an expansive, daring take on 7Horse's blues-rock sound. Take the thunderous opener "Victorious," a foot-stomping anthem that plays like "We Will Rock You" cycled through classic ZZ Top. It's certainly a diverse record, but a cohesive one: the spaghetti western vibe of "What Kind of Man" and sped-up rockabilly of "Die Behind the Wheel" pair nicely with the more languid break-up rocker "Broken String" (featuring Joie on lead) and the slow din of "Burn," a song written at 5 a.m. after Leavitt witnessed images of the 405 on fire.
Lyrically, Superfecta, the band's fourth record, centers on four themes — death, money, love and the duo's relationship to music (hence the title, a reference to betting on the four winning horses in a race). The album also touches upon the frazzled state of our country — see the toe-tapping, what-do-you-believe first single "What Is America."
In support of the September 2018 release of a rollickin' cover of Johnny Cash's "Man in Black" (recorded for the movie VENOM) and their newest album out in late 2018 — the band is itching to hit the road. "We want to tour. A lot," says Leavitt. "I love playing in front of people. That inspires us."
Interestingly, the group found great success touring with rather unexpected musical pairings, including country/Southern rockers The Cadillac Three and blues guitarist Kenny Wayne Shepherd. "Those were great tours, and that's the kind of tour I want to be on." says Calio. "You're there to show up and change minds. I love doing that."
For Leavitt and Calio, 7Horse marks the incredible evolution of a friendship and musical partnership that goes back over two decades — with some brief detours into book writing, solo records and the Blue Man Group — starting when the two served as the rhythm section and Joie sang lead for the platinum alt-rock trio dada. "We've always been unified in thought," says Calio. "We agree on almost everything. And we know that even as we expand our band, the two of us will always be the foundation."
Performers
Date and Time
Location
Troubadour
9081 Santa Monica Blvd
Los Angeles, CA 90069