Sales Have Ended
Ticket sales have ended
Online Registration has closed but don't let that stop you from attending our THIRD FRIDAY artwalk! Check-in at the door with $5 in cash or credit (checks will not be accepted) to attend as a walk-up, if we are not at capacity when you arrive we are happy to have you join us!
Sales Have Ended
Ticket sales have ended
Online Registration has closed but don't let that stop you from attending our THIRD FRIDAY artwalk! Check-in at the door with $5 in cash or credit (checks will not be accepted) to attend as a walk-up, if we are not at capacity when you arrive we are happy to have you join us!
Join the creative businesses of 78th Street Studios as they open their doors for you to explore our November THIRD FRIDAY Art Walk!
About this event
We look forward to you joining us for our THIRD FRIDAY Art Walk on Friday, November 19th from 5 to 9 PM!
Many of our resident artist studios and galleries will be open for you to explore, presenting dynamic new exhibits and artwork. We're excited to welcome back one of our long-time food partners, Local West, a terrific Gordon Square sandwich shop and we will also be ​featuring BARneo who will be serving adult beverages on the RAMP level to benefit the operations of our resident museum ARTneo while you navigate your way through our eclectic arts maze!
This month enjoy live music throughout the building and the classical music ensemble, OPUS 216, performing in smARTspace!
78th Street Studios is part of Destination Cleveland's CLEan Committed Program, and we are dedicated to providing a clean, spacious environment in our enormous 2 city blocks of Industrial Building!
In order to monitor attendance and occupancy, we are still a ticketed event at $5 per person (free for those 16 and under) and will be checking in guests at our main entrance and suggest wearing a mask when in crowded areas of the building. We strongly suggest purchasing tickets in advance and will accept walk-ups at the door if we are not at capacity.
List of participating businesses:
Entertainment:
OPUS 216 in smARTspace
Outside Access:
KINK Contemporary—(located near the Garden) "Who Me?!" a solo exhibition by David Maynard
Current—(Entrance located off W.78th) "US Together"
RAMP Level: (YELLOW DOOR)
Yellowcake Shop
The Byzantine
ARTneo Museum—"Drawn To Clay: The Alchemy of the Elements"
Googie Style
Dave Crider Designs
Variegate Design
M Puma Perme Photographs in CLE Film Factory
Northcoast Promotions—RAMP Level:
Artful Sisters
Doodlebugs by Devida
Randall James Collage Art
Floyd by Floyd
Linda Dempsey Driftwood Art
Planet Magnet
D.A.M Designs
Aunt Margies's Garden
Lavish Elegance Design
Transfigured Trees
Cuyahoga County Department of Sustainability
MakerTown Pop Up Market—RAMP Level:
Atomic Tangerine
Alyxir Art
Artisan Embers
Atlas & Aether
Brew & Bolts
Cool Hand Crftd
Glamour Edge Beauty
JWestfall Creative
Maraq Gourmet Soup Shop
Opulenza Designs
Purple Elephant Herbal Commissary
Urbanography Prints
Shannon Marie Makes
Thrift 2 Gift
West Side Charcuterie
Everarbor
Inisonia
1st Floor/smARTspace:(GREEN DOOR)
E11even2
Ron Johnston + Betsi Morris Studio
GalleryPlus
Bruce Buchanan Design
Laurel Herbold + cowtownchad Studio
Eileen Dorsey Studio
Dawn Tekler Studio
Eric Rippert Studio
Megan Frankenfield Studio
Kinley Studio
Susie Frazier Showroom
Northcoast Promotions—smARTspace:
Altemus Leatherworks
David Bornancin Paintings, Mixed Media
Happy Bear
Anchor & Forge LTD
Artistic Carved Glass
White Squirrel Clayworks
Butterfly Designs by Deb
Indulgence Studios
Spirited Pottery
Manuelle Photography
The Honey Pot
The Pastimes
Kimberley Rose , LLC
Lilla Rose
M. Clement Reilly Photography
Dude About Town
Dallas Still Acrylic Paintings
Goddess Elite
My Turquoise Kitten
Shen Yung
Slysupply Co
2nd Floor: (ORANGE DOOR)
HEDGE Gallery—Opening Reception for David King's "Transience and the Gift of Curiosity"
Suite 215 Gallery—CPaRt Project Opening Reception
Larry Waldman Fine Arts
Mark Krieger Studio
Kenneth Paul Lesko Gallery
Gallery 202
Poetry Psychic Project
Keri Lee Studio
Suite 203: Allen Kradlak Ceramics & Jewelry by Jeff Dubé
Facing Forward Studio
3rd Floor:(BLUE DOOR)
Charmaine Spencer
Justin Brennan Studio
Survival Kit Gallery—Sonata #6 Project
We look forward to providing you with a safe and positive environment to explore some of Cleveland's most awe-inspiring local artwork, and we can't wait to see new and familiar faces once again! All are welcome to join the creative businesses here at 78th Street Studios for our art walks. We also welcome well-behaved children and pets!
Please note that most of our resident Galleries and Studios have implemented online stores for your virtual shopping convenience -- Check them out when you visit our website www.78thstreetstudios.com!
Banner Image: Artwork by Beth Lindenberger in ARTneo exhibit "Drawn to Clay: The Alchemy of the Elements"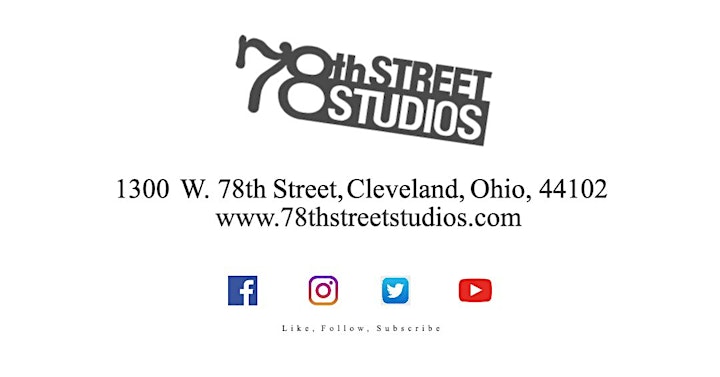 Organizer of 78th Street Studios November THIRD FRIDAY Art Walk
Every THIRD FRIDAY of the month from 5 - 9 pm, over 60 creative businesses inside 78th Street Studios open up at the same time to present compelling visual exhibits, ambient music, delicious cuisine, and pop-up vendors. Named Cleveland's Best Arts Event by Scene Magazine and Best of Yelp Cleveland, THIRD FRIDAYS is a multisensory art experience like nothing else in this region. With four different floors of eclectic architecture and visual displays, 78th Street Studios is a retail adventure that allows the public to interact with Cleveland's living artists and producers to discover authentic art, furniture, music, and cuisine made in this region.
THIRD FRIDAYS launched in the early 2000s as a quarterly event among a handful of pioneering gallerists and art lovers, pulling in a few hundred people. By the end of 2013, this cultural collaboration grew to include over 80 gallerists, artists, and designers working together to attract 1500 visitors to the building each month. Today, THIRD FRIDAYS has expanded into a district-wide event to include promotions and dining specials in the restaurants, bars, and boutiques of the Gordon Square Arts District. When this property isn't playing host to its own event, multiple spaces throughout the building are being rented to corporations, organizations, and individuals for their own private functions, making the industrial ambiance of 78th Street Studios a year-round attraction.
Join us during our THIRD FRIDAY art walk and find out why we're known as the 'Best Arts Event' in Cleveland!