Sales Have Ended
Ticket sales have ended
Online Registration has closed but don't let that stop you from attending our THIRD FRIDAY artwalk! Check-in at the door with $5 in cash or credit (checks will not be accepted) to attend as a walk-up, if we are not at capacity when you arrive we are happy to have you join us!
Sales Have Ended
Ticket sales have ended
Online Registration has closed but don't let that stop you from attending our THIRD FRIDAY artwalk! Check-in at the door with $5 in cash or credit (checks will not be accepted) to attend as a walk-up, if we are not at capacity when you arrive we are happy to have you join us!
Join the creative businesses of 78th Street Studios as they open their doors for you to explore our May THIRD FRIDAY Art Walk!
About this event
We look forward to you joining us for our THIRD FRIDAY Art Walk on Friday, May 21st from 5 to 9 PM!
Many of our resident artist studios and galleries will be open for you to explore, presenting dynamic new exhibits and artwork. You can also join us virtually via Facebook Live between 7 and 8 PM for pre-recorded and live clips of our open businesses and our event.
We'll have live music in smARTspace on the first floor, featuring Jul Big Green, a cross-genre artist from Cleveland, Ohio, who plays Pop-Rock, with heavy Hip-Hop influences.
Randy Sacks will also be performing Americana Rock, Folk and Blues in RAMP, and The Rock & Roll Hall of Fame will be on site with the Rock Hall Joy Van in the parking lot with music!
As our Thanks to you for shopping with us, you will receive a ticket voucher at the entrance for your paid admission. Exchange this ticket with our participating resident Artists and Galleries for a FULL $5.00 DISCOUNT on your purchase.
List of participating businesses:
Entertainment:
Rock & Roll Hall of Fame Joy Ride (outside in the parking lot) 
Randy Sacks in RAMP
Jul Big Green in smARTspace
Outside Access:
Current --ReDeaux Art (Entrance located off of 78th St.)
KINK Contemporary -- Jeff Schofield's: Seasonal Adjustments (Entrance located near the Garden)
RAMP Level:
Variegate Design
Googie Style/Dave Crider Designs
Yellowcake Shop
ARTneo Museum--'Opening Reception of Strange and Lonely Spaces: Magic Realism in Cleveland 1930-1960'
The Byzantine
Northcoast Promotions—RAMP Level:
Je Le Veux Jewelry – Hand Designed & Upcycled Jewelry 
Cuyahoga County Dept. of Sustainability
Silver Heron Studios — World Coin Jewelry, Fine Art
Terri Simons — Symbolic, Abstract Animal Paintings
Transfigured Trees — Wood Turned Bowls
Slysupply Company - Leather
Skuff Micksun — Wood, Canvas, Prints, Ceramics & Acrylic
1st Floor/smARTspace:
Eileen Dorsey Studio
Laurel Herbold + cowtownchad Studio
Ron Johnston + Betsi Morris Studio
E11even2 -- Group Exhibition: Beyond The Garden Gate
Dawn Tekler Studio
Bruce Buchanan Design
Megan Frankenfield Studio
Kinley Studio
Eric Rippert Studio
708 Alexander
Gallery +
Susie Fraizer Showroom
DSW Photography
Northcoast Promotions—smARTspace:
Altemus Leatherwork – Handmade Leather Bags & Accessories
Bob Moorhead – Photo Art & Wine Accessories 
Butterfly Designs by Deb – Jewelry & framed butterflies
GE Smith Designs – Silver Smith Jewelry 
Goddess Elite – Yarn, Stone, Wax, Wood, and Driftwood Art 
My Turquoise Kitten – Polymer Clay & Textiles
White Squirrel Clayworks – Handmade Functional Stoneware 
Indulgence Studios — One of a King Natural Gemstone Jewelry
2nd Floor:
HEDGE Gallery -- 'Opening Reception for Liz Maugans and Douglas Max Utter's AlmostReal'
Suite 215: HEDGE Gallery presents Paintings and Printmaking by Dale Goode
Keri Lee Studio
Mark Krieger Studio
The Poetry Psychic Project
Gallery 202
Kenneth Paul Lesko Gallery -- Pop Hybrids Redux
Suite 203: Allen Kradlak Ceramics & Jewelry by Jeff Dube
3rd Floor:
Charmaine Spencer
Justin Brennan Studio
Survival Kit Gallery
Each guest will be checked in at our main entrance, where a sanitizer station is available. Sanitizer stations are also available throughout the various levels of the building.
78th Street Studios is part of Destination Cleveland's CLEan Committed Program, and we require all guests to wear a facial covering upon entry and while visiting. There are disposable masks available at the entrance, and if you'd like to purchase custom PPE while you're here, visit Yellowcake Clothing Co. on the RAMP Level.
78th Street Studios is carefully following the Ohio Department of Health's, local and county guidelines, and has made extra efforts to keep our facility clean and sanitized, and will be doing so throughout the event as well. Our staff and business owners will be wearing facial coverings and will be monitoring their studios and galleries.
We look forward to providing you with a safe and positive environment to explore some of Cleveland's most awe-inspiring local artwork, and we can't wait to see new and familiar faces once again! We hope that those of you unable to join us in person for THIRD FRIDAY will enjoy us remotely via the Livestream on Facebook Live from 7: to 8:PM!
All are welcome to join the creative businesses here at 78th Street Studios for our art walks. We also welcome well-behaved children and pets!
We look forward to providing you with safe shopping experiences and to seeing you soon! Please note that most of our resident Galleries and Studios have implemented Online Stores for your virtual shopping convenience -- Check them out when you visit our website www.78thstreetstudios.com!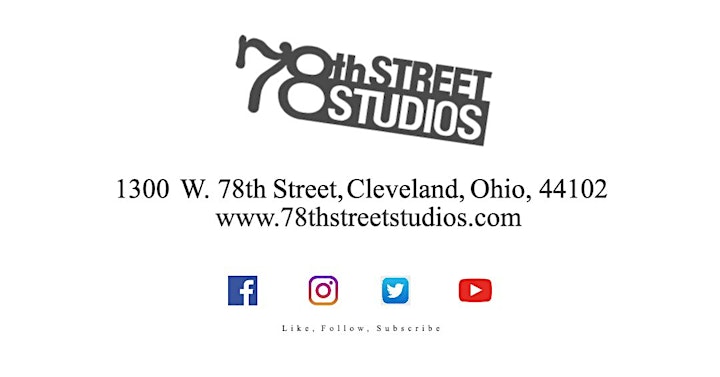 Organizer of 78th Street Studios May THIRD FRIDAY Art Walk
Every Third Friday of the month from 5 - 8 pm, over 50 venues inside 78th Street Studios open up at the same time to present compelling visual exhibits, ambient music, delicious cuisine, and pop up vendors. Named Cleveland's Best Arts Event by Scene Magazine and Best of Yelp Cleveland, THIRD FRIDAYS is a multisensory art experience like nothing else in this region. With four different floors of eclectic architecture and visual displays, 78th Street Studios is a retail adventure that allows the public to interact with Cleveland's living artists and producers to discover authentic art, furniture, music and cuisine made in this region.
THIRD FRIDAYS launched in the early 2000's as a quarterly event among a handful of pioneering gallerists and art lovers, pulling in a few hundred people. By the end of 2013, this cultural collaboration grew to include over 80 gallerists, artists, and designers working together to attract 1500 visitors to the building each month. Today, THIRD FRIDAYS has expanded into a district-wide event to include promotions and dining specials in the restaurants, bars and boutiques of Gordon Square. When this property isn't playing host to its own event, multiple spaces throughout the building are being rented to corporations, organizations, and individuals for their own private functions, making the industrial ambiance of 78th Street Studios a year-round attraction.
Since the pandemic we have had to scale back out artwalk by shortening the hours of the event to 5-8pm and set a maximum capacity to 400 visitors at a time. Join us during our THIRD FRIDAY art walk and find out why we're known as the 'Best Arts Event' in Cleveland!