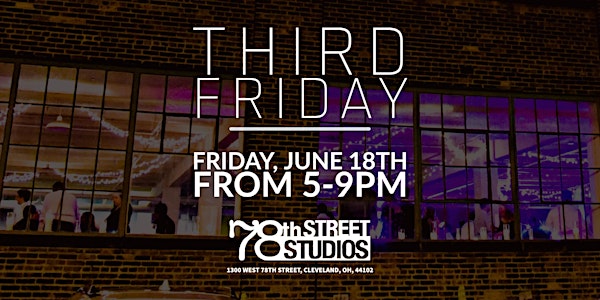 78th Street Studios June THIRD FRIDAY Art Walk
Join the creative businesses of 78th Street Studios as they open their doors for you to explore our June THIRD FRIDAY Art Walk!
When and where
Location
1300 W 78th St 1300 West 78th Street Cleveland, OH 44102
Refund Policy
Contact the organizer to request a refund.
Eventbrite's fee is nonrefundable.
About this event
We look forward to you joining us for our THIRD FRIDAY Art Walk on Friday, June 18th from 5 to 9 PM!
Many of our resident artist studios and galleries will be open for you to explore, presenting dynamic new exhibits and artwork. We will also be ​re-introducing BARneo this month, serving beer and wine while you navigate your way through our eclectic arts maze!
We'll have live music in smARTspace on the first floor, featuring Carrie King, playing French-style cafe tunes on the accordion. Michael McFarland will also be performing Anthemic Indie Rock in RAMP!
We are still a ticketed event at $5. per person, (free for those 16 and under) to maintain a spacious environment in our enormous 2 city blocks of Industrial Building.
List of participating businesses:
Entertainment:
Carrie King in smARTspace
Michael McFarland in RAMP
RAMP Level:
Variegate Design
Yellowcake Shop
ARTneo, The Museum of Northeast Ohio Art—Strange and Lonely Spaces: Magic Realism in Cleveland 1930-1960'
The Byzantine
Googie Style/Dave Crider Designs
Northcoast Promotions—RAMP Level:
Doodlebugs by Devida - Handmade Jewelry
Skuff Micksun - Wood, Canvas, Prints,Ceramics & Acrylic
Terri Simons - Original Artwork
Slysupply Co - Leather
1st Floor/smARTspace:
Dawn Tekler Studio
Bruce Buchanan Design
Ron Johnston + Betsi Morris Studio
E11even2 -- Surviving 2020
Gallery + -- "Solar Effects: Forest City" Opening Reception
Eileen Dorsey Studio
Kinley Studio
Eric Rippert Studio
Susie Fraizer Showroom
Laurel Herbold + cowtownchad Studio
Megan Frankenfield Studio
708 Alexander
DSW Photography
Northcoast Promotions—smARTspace:
Altemus Leatherwork - Handmade Leather Bags & Accessories
October Sun Studio, LTD - Oils
Floyd by Floyd - Pop Culture images hand painted on magnets
GE Smith Designs – Silver Smith Jewelry
My Turquoise Kitten Polymer Clay & Textiles
Goddess Elite - Yarn, Stone, Wax, Wood, and Driftwood Art
Artistic Carved Glass - Etched Glass
Bohemian Vibes Co - All-natural luxury bath care
Dallas Still - Impressionism / Realism Acrylics
Vincent Hennel - Abstract Acrylics
Butterflies By Deb - Jewelry & Framed Butterfly Art
2nd Floor:
Kenneth Paul Lesko Gallery - Pop Hybrids Redux
HEDGE Gallery - Liz Maugans & Douglas Max Utter's AlmostREAL
Suite 215 - HEDGE Gallery presents Paintings and Printmaking by Dale Goode Closing Reception
Mark Krieger Studio
Gallery 202--Grand Opening
Keri Lee Studio
Suite 203: Allen Kradlak Ceramics & Jewelry by Jeff Dubé
The Poetry Psychic Project
3rd Floor:
Charmaine Spencer
Justin Brennan Studio
Survival Kit Gallery
Peter J. Larson Studio
M. Sweeney Art
78th Street Studios is part of Destination Cleveland's CLEan Committed Program, and we are dedicated to providing a clean, spacious environment while monitoring our attendance by checking in guests at our main entrance and recommend wearing a mask if unvaccinated or in a crowded location. There are disposable masks available at the entrance, and if you'd like to purchase custom PPE while you're here, visit Yellowcake Clothing Co. on the RAMP Level.
We look forward to providing you with a safe and positive environment to explore some of Cleveland's most awe-inspiring local artwork, and we can't wait to see new and familiar faces once again! All are welcome to join the creative businesses here at 78th Street Studios for our art walks. We also welcome well-behaved children and pets!
Please note that most of our resident Galleries and Studios have implemented Online Stores for your virtual shopping convenience -- Check them out when you visit our website www.78thstreetstudios.com!