Sales Have Ended
Ticket sales have ended
NOTE: Additional tickets for special activeis not included in the basic pre-registration fee must be purchased at the cost(s) associated within this forms.
Sales Have Ended
Ticket sales have ended
NOTE: Additional tickets for special activeis not included in the basic pre-registration fee must be purchased at the cost(s) associated within this forms.
Description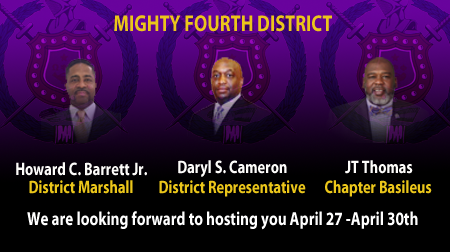 76TH FOURTH DISTRICT MEETING
The Alpha Alpha Alpha Chapter, an unincorporated association of Omega Psi Phi Fraternity, welcomes you to Morgantown, WV. We are excited to act as the host chapter for the 76th Fourth District Meeting. Throughout the next six months, we will make it a priority to ensure you are properly registered, have appropriate accommodations and enjoy yourself in one of the best small cities in our country.
Alpha Alpha Alpha was rededicated in Morgantown, WV by 13 men of Omega Psi Phi Fraternity on June 1, 2013. Our pursuit continues to focus on building the presence of Omega in Morgantown, WV while becoming a more integral part of the Mighty 4th District. Hosting the 76th Fourth District Meeting provides an opportunity to meet both of these objectives. With your commitment, this District Meeting will leave a positive impression of The Omega Psi Phi Fraternity in the city of Morgantown, WV.
Morgantown is home to the Big 12 West Virginia University Mountaineers. Throughout your time in Morgantown, you will meet an enthusiastic population of hospitality unlike anywhere else. Our country roads provide limitless outdoor activities, community outreach programs, exquisite dining experiences, social outlets and Mountaineer sports. While in Morgantown, I invite you to tour the city and campus that has been home to the Nu Zeta chapter for 43 years. It is only then you will discover why everyone comes back home to Almost Heaven West Virginia.
---
GENERAL INFORMATION
IMPORTANT NOTE: Read this information in its entirety before submitting your District Registration form.
REGISTRATION: All members of the fraternity must be registered in order to participate in business activities of the Fourth District Meeting. Badges, Tickets and/or International Financial Cards will be required for admittance to all District Meeting activities.
REGULAR REGISTRATION: Brothers are urged to register on time to avoid additional fees. The deadline for registration is March 31, 2017. The cost for registration is $200.00 Graduate and $100.00 Undergraduate. Please take advantage of on-line payment and form submission at the district website:www.omega4thdistrict.org. or www.4D2017.org.

If you prefer to submit paper registration forms, all forms must be mailed to Bro. Howard Barrett, 4th District Marshal, P.O. BOX 677, MORGANTOWN, WV 26506 and postmarked before MARCH 31, 2017 to avoid late penalties. Brothers must have their current international financial card to pick up annual meeting materials. Registration is non-transferable.
Registering online, as noted above, will expedite the district meeting check-in process when you arrive.
LATE REGISTRATION: Registration received after MARCH 31, 2017, will be considered late and the late registration fees will apply. Registrations received after the MARCH 31, 2017, unaccompanied by the late fee will be returned to the sender. The late registration fee is $225.00 Graduate, and $120.00 Undergraduate. PLEASE NOTE: ONLY on-line payments will be accepted after March 31, 2017 through http://4d2017.org.

ON-SITE REGISTRATION: Graduate On-Site $250.00; Undergraduate $120.00.

ROOM RESERVATIONS: Waterfront Place Hotel, Morgantown, WV, will be the host hotel for the 4th District 76th District Meeting. Early registration is suggested. Early registration ends MARCH 31, 2017. All room reservations at the hotel must be made through the Waterfront Place Hotel directly, via phone at 866-782-9974
or locally at 304-296-1700. The room rate at the hotel is $139.00/night plus tax. Parking is $5/night. Group Rate Code: Omega Psi Phi.
REGISTRATION OF DELEGATES: All chapter delegates must be financial at the chapter, district and international levels. Pre-registered delegates must present their current international financial cards at the registration desk during the 4th District Meeting. Delegate badges will ONLY be provided to brothers that have provided appropriate credentials as chapter delegates.
CREDENTIALS FOR DELEGATES: Delegates and Alternates must have their Voting Delegate Credential Form (Form 6DC, attached) received in the District Marshals' address by MARCH 31, 2017. The chapter's Basileus and the chapter's Keeper of Records and Seal must sign the credential form.
VOTING ELIGIBILITY: Pursuant to Chapter IV, Article I, Section 6 of the By-Laws of the Fourth District, District Officers and Past District Representatives may serve as delegates of their respective chapters at the District and Council Meetings. However, they may not cast votes as both district officers/past district representatives and chapter delegates. All financial chapters are entitled to two delegates, each of whom has a vote. No chapter delegate can cast more than one vote. All Chapter Delegates must be present to vote. All alternates must be listed with proper credentials on file. Remember that the chapter delegate must be financial with the Fraternity at the chapter, district and international levels.
Suspended chapters and non-financial chapters may not have a delegate at the annual meeting. Suspended chapters and non-financial chapter members may not register for the District Meeting.

DECORUM: No one will be permitted to enter any district activity wearing paraphernalia that is lewd or obscene. There will be no exceptions. Coat and tie must be worn at all official sessions.
CANCELLATIONS AND REFUNDS: Brothers needing to cancel their District Meeting Registration must inform the District Marshal in writing. Under no circumstance will a refund be made without a written request. Brothers who use this option prior to the registration deadline of MARCH 31, 2017, will be refunded the registration fee less 25% administrative fee. No cancellation or refund request will be processed after MARCH 31, 2017. Refunds will be mailed no earlier than thirty (45) days after the last day of the District Meeting. Any refunds of electronically submitted funds will be credited back to the credit or debit card in which the registration was paid. There will be no cash refunds given for online registration. Brothers are responsible for cancelling their own Hotel reservations.
ATTENDING AND VISITING REGISTRANTS: Brothers who register using the Attending or Visitor status on the registration form herewith must be financial at the International level at the time of the 4th District Meeting as defined by the International Headquarters of the Omega Psi Phi Fraternity, Inc.
RETURNED CHECKS: A $50 bank charge payable to the Alpha Alpha Alpha Chapter will be assessed for returned checks prior to finalizing registration as a Delegate, Attending or Visiting brother.
The District Marshal can be reached at:
Brother Howard Barrett
4th District Marshal
P.O. Box 677
Morgantown, WV 26506
(301) 807 - 7582
Email: howardbarrett@comcast.net

Alpha Alpha Alpha Chapter Basileus can be reached at:
Brother James W. Thomas
P.O. Box 677
Morgantown, WV 26506
(304) 685-7395
Email: aaa.gradchapter@gmail.com

---
Kevin Cherry March Down
Saturday April 28, 2017
Each chapter, Graduate or Undergraduate, will be allowed to send one March Down Team. Any step team may, if they desire perform only as a general exhibition act. However, be advised in doing so, the step team will not be considered as a competing team.
RULES AND REGULATIONS
Each March Down Team will be given a time limit of ten (10) minutes with a (2) two-minute warning. Each minute over the time will result in a five-point deduction. Time will begin once the first step begins.
March Down Teams are limited to twelve (12) members including props/special effects crew.
Each March Down Team will be allow (2) minutes to assemble and disassemble any stage props and special effects equipment.
All competing teams will be judged and the team selected to represent the Fourth District at this year's Conclave (if a conclave year) will be announced at the conclusion of the competition.
March Down competition will be judged on the following criteria:
I

Precision; transition of steps
II

Enthusiasm/Intensity
III

Creativity and Originality
IV

Appearance/uniformity and dress
V

Vocal Quality
Any vulgar act or expression or any use of canine reference in a derogatory manner construed as embarrassing to the Fraternity or contrary to the principles of the Fraternity will result in disqualification and elimination from competition. No fatigues, cut off pants or shorts will be allowed in the competition.
ALL TEAMS MUST HAVE AT TWO MEMBERS REGISTERED FOR THE DISTRICT MEETING TO STEP IN THE SHOW. ALL MEMBERS OF THE STEP TEAMS MUST BE FINANCIAL.