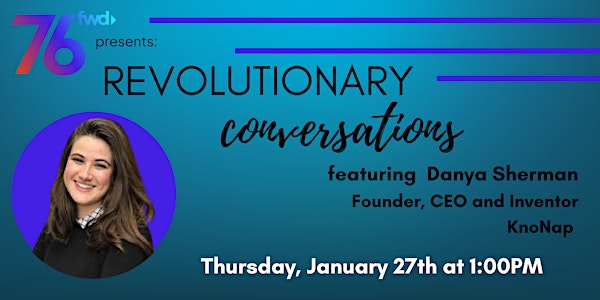 76 Forward Presents: Revolutionary Conversations featuring Danya Sherman
This event is open to all individuals.
About this event
Revolutionary Conversations is a fireside chat series that gives you an inside look at entrepreneurs who are making an impact in their community and industry. We'll host monthly conversations to hear personal stories, successes and lessons learned from various entrepreneurs.
Meet this month's guest, Danya Sherman, Founder, CEO and Inventor of KnoNap and the winner of the 2021 76 Forward & CVS Customer Experience Accelerator!
About Danya Sherman:
Danya Sherman is an entrepreneur passionate about combining human rights and technology innovation to create lasting, sustainable, social change. She is the founder, Chief Executive Officer and inventor of KnoNap, a company that creates discreet, gender-inclusive detection devices for rape drug presence. Through KnoNap, Sherman works to empower college and dating aged individuals to always be in the know of what they are consuming. Sherman has participated in distinguished entrepreneurial fellowship programs, including Halcyon House, Future Founders, Kairos, Target, and 76 Fwd/CVS's accelerator. She has been featured among Washington Life's Technology Hall of Fame, Toyota's Mother of Invention, and Forbes 30 Under 30 Social Entrepreneur.
About 76 Forward
We're a community of entrepreneurs passionate about solving complex problems, revitalizing cities along the Northeast Corridor in the process. By joining 76 Forward, our members can access the knowledge, mentorship, capital, markets, and talent they need in order to scale. Along with offering shared workspace, we also offer focused programming, curriculum, community, and expertise to help entrepreneurs grow their business. For more information, please visit www.76forward.com and follow @1776 on Twitter and @1776vc on Instagram.