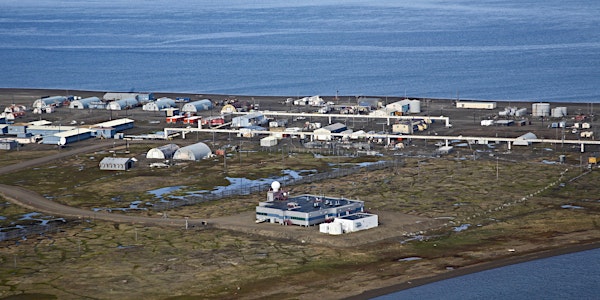 75th ANNIVERSARY OF THE NAVAL ARCTIC RESEARCH LABORATORY
Ukpeaġvik Inupiat Corporation invites you to celebrate the 75th Anniversary of the Naval Arctic Research Laboratory!
Refund Policy
Contact the organizer to request a refund.
Eventbrite's fee is nonrefundable.
About this event
Register today for the celebration and forward-looking reflection!
The events during the week of August 1st, 2022, will include Enhancing Arctic Science and Engineering Workshop along with Regional Development Tours and forums on the Arctic science to plan for the next 25 years of Arctic research. Public Draft Agenda should be available next week!
The community of Utqiaġvik (formally Barrow) has been ground zero for Arctic Research dating as far back as the first International Polar Year of 1881 when the Signal Corps and the Smithsonian sponsored the establishment of a permanent station for meteorological, magnetic, tidal and pendulum observation. This was followed by the establishment of the Arctic Research Laboratory (ARL), later known as the Naval Arctic Research Laboratory. NARL was under the auspices of the United States Navy beginning in the early 1940's to support petroleum exploration and Arctic research in what is now known as the Naval Petroleum Reserve in Alaska (NPRA). The research facility operated until 1980 when it was decommissioned due to the high cost of operations. The facility was then transferred to Ukpeaġvik Inupiat Corporation (UIC) in 1984 and UIC Science, a subsidiary of UIC, continues to operate it today.
Because of the unique proximity to the community of Utqiaġvik, the Arctic Research Laboratory opened up career opportunities for locals at the station and set the foundation for the mission, services and co-production opportunities UIC Science provides today. It also set the stage for what we consider the Premier U.S. Arctic Research Station.
We hope to celebrate the past foundation building our Inupiaq Elders and past researchers completed to ensure a successful future for Utqiaġvik and North Slope Based Arctic Science with this NARL 75th Anniversary Celebration.
Adaptation to changing conditions is a concept that Indigenous people are very familiar with. The purpose of this event is to honor our past and plan for our future. With the changing research climate and new focuses of tackling climate change, we find ourselves at a crossroads where we must adapt to meet new challenges. In addition to celebrating our past successes, we will explore what research will look like and take place over the next 25 years. Based on this, we can adjust our business model and infrastructure plans to meet the requirements of the current future projects and PI's. We hope to ensure our future and the future of the Arctic by anticipating research and logistical needs and upgrading facilities that are well beyond their useful life.
Living and working in the Arctic has taught us that doing anything alone is next to impossible and requires cooperation. We hope you can be a part of this special and important event!
Invited to Attend: Scientists and Engineers, Indigenous Leaders, Arctic Community Members, Policy Makers, Government Organizations, and Businesses.
Regional Development Tours: Tour of Utqiagvik (Barrow), Barrow Arctic Research Center, Inupiat Heritage Center, Illisagvik College, Search & Rescue Facility, and NOAA Facilities Tour.
Register Now to participate in 75th Anniversary of the Naval Arctic Research Laboratory week, August 1-5, 2022. All payments must be received at the time of the registration. Any request for refund will be considered to be determined on a case-by-case basis.
Air Travel Information: Please use Alaska Airlines to purchase your ticket to Utqiaġvik (Barrow), https://www.alaskaair.com. Travel discount code: ECMD815.
Accommodations: The blocks of rooms are reserved for participants in major hotels in Utqiagvik under the name – 75th NARL. To reserve single occupancy, dorm style rooms at UIC Science's Nanuqs Den please book online at https://uicscience.checkfront.com/reserve/?date=20220730 or for Top of the World Hotel, please call for reservations at +1 (907) 852 3900 Ext. 0. The space is limited.
Car rental: UIC Car Rental, (907) 852-2700.
COVID-19 Mitigation: Ukpeaġvik Inupiat Corporation will provide the final plan in July after consulting with state medical experts on current situation at that time. Meanwhile, you can be checking on COVID updates for the region here.
To confirm your participation or for more information about 75th Anniversary of Naval Arctic Research Laboratory please contact: Kristina Baiborodova, Partner, ArKtiKa Company, Kristina.Baiborodova@gmail.com