Event Information
Location
Slowdown - Main Room
729 North14 Street
Omaha, NE 68102
United States
About this Event
Doors at 7:00pm
Main Room
$20 Advance/$25 Day of Show
All ages show. Check entry requirements at http://theslowdown.com/All-Ages
About The Menzingers
Since forming as teenagers in 2006, The Menzingers have shown their strength as rough-and-tumble storytellers, turning out songs equally rooted in frenetic energy and lifelike detail. On their new album Hello Exile, the Philadelphia-based punk band take their lyrical narrative to a whole new level and share their reflections on moments from the past and present: high-school hellraising, troubled relationships, aging and alcohol and political ennui. And while their songs often reveal certain painful truths, Hello Exile ultimately maintains the irrepressible spirit that's always defined the band.
The sixth full-length from The Menzingers, Hello Exile arrives as the follow-up to After the Party: a 2017 release that landed on best-of-the-year lists from outlets like Clash and Noisey, with Stereogum praising its "almost unfairly well-written punk songs." In creating the album, the band again joined forces with producer Will Yip (Mannequin Pussy, Quicksand), spending six weeks recording at Yip's Conshohocken, PA-based Studio 4. "That's the longest amount of time we've ever worked with Will," notes Barnett. "We wanted to make sure these stories didn't get lost in the music, so we kept it to a lot of room sounds with the guitar and bass and drums."
Despite that subtler sonic approach, Hello Exile still rushes forward with a restless urgency—an element in full force on the album-opening "America (You're Freaking Me Out)." With its pounding rhythms and furious guitar riffs, the viscerally charged track provides a much-needed release for all those feeling frenzied by the current political climate. "We're living in a pretty insane time, where all you can think about every single day is 'What the hell is going on with this country?'" says Barnett. "But as I was writing that song I realized that it's kind of always freaked me out, especially coming-of-age during the Iraq War. I love so much about America, but I think you can't deny that there are some people in power who are absolutely evil."
Elsewhere on Hello Exile, The Menzingers turn their incisive songwriting to matters of love and romance, exploring the glories and failures of human connection. A wistful piece of jangle-pop, "Anna" paints a portrait of lovesick longing, complete with dreamy recollections of wine-drunk kitchen dancing. And on "Strangers Forever," the band shifts gears for a searing tribute to parting ways, backing their spiky guitars with brilliantly barbed lyrics (e.g., "Maybe it's for the better if we both stay strangers forever").
An album fascinated with home and displacement and belonging (or the lack thereof), Hello Exile takes its title from its heavy-hearted centerpiece. With its aching vocals, graceful acoustic guitar work, and beautifully lilting melody, "Hello Exile" draws inspiration from Anton Chekhov's "The Lady with the Dog" (a short story set in the Black Sea resort city of Yalta). "I grew up in a tiny town that's essentially a cross between a summer-vacation spot for New Yorkers and a retirement home, so for most of my childhood there were always people coming in and out of my life," says Barnett, who hails from Lake Ariel, PA. "Reading that story made me think of how isolating it felt when my friends would leave to go back to the city at the end of the season, and I'd still just be stuck way out there in the woods."
In looking back on the songwriting process behind Hello Exile, Barnett points to the starkly confessional "I Can't Stop Drinking" to illustrate the band's commitment to total candor. "We've written so many songs about fun times with alcohol—but the older you get, it's not always fun anymore," he says. "With 'I Can't Stop Drinking,' I wanted to be completely truthful and get away from glorifying anything. Sometimes it's tough to look at yourself and at others that way, but it felt important to make it as real as possible."
With the band achieving that soul-baring intimacy all throughout the album, Hello Exile emerges as The Menzingers' most emotionally daring work to date. "We've always been in love with good songwriting and the beauty of taking a song to its fullest potential, but with this album I feel like we're really becoming the band we've always wanted to be," says Barnett. Not only a creative turning point for The Menzingers, that uncompromising honesty helps fulfill their mission of leaving each listener with a potent sense of solidarity. "A lot of these songs are looking at different life challenges—they're stories of people at some sort of crossroads," Barnett says. "We might not have the answers for anybody, but hopefully the songs will help them to see the light at the end of the tunnel, and know that they're not alone in whatever tough decisions they're facing."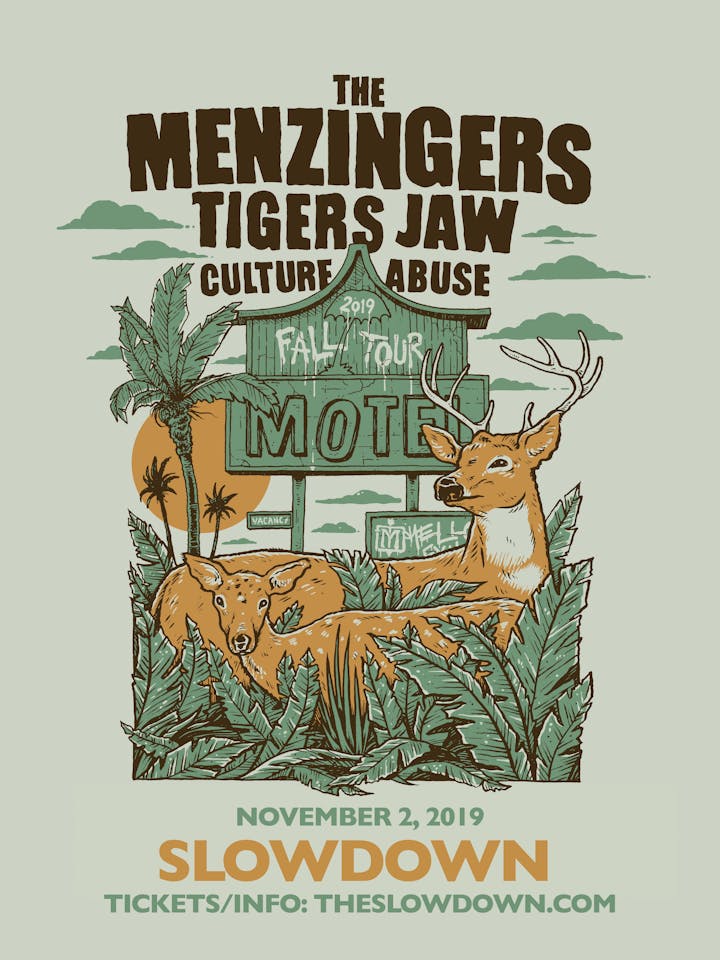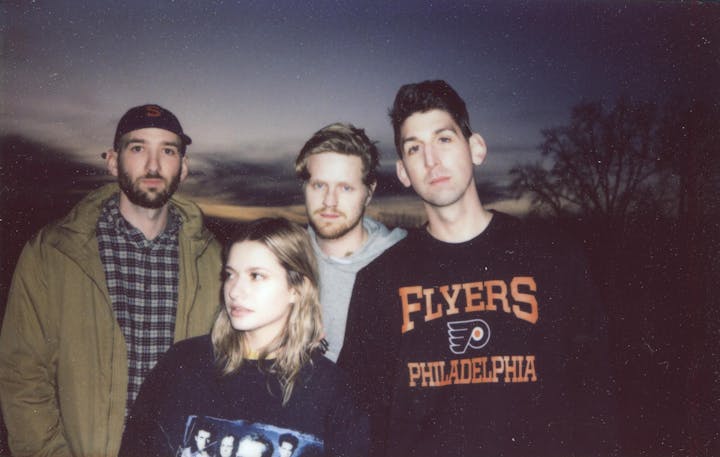 About Tigers Jaw
A real cool band.
Tigers Jaw was formed in 2005 by Ben Walsh and Adam McIlwee. Characterized by unconventionally catchy songs, weaving harmonies, and timelessly relatable lyricism, the band has been organically increasing its fanbase over a decade-plus of touring and releasing music. Walsh & McIlwee recorded Belongs To The Dead in 2006 using a cassette deck and cheap microphones in McIlwee's garage, drawing heavy influence from The Microphones. Around this time, the duo was also self-recording I'm On Your Side, the "lost tigers jaw lp" which contained early versions of Tigers Jaw songs. Soon after, Tigers Jaw linked up with Run For Cover Records to re-release the Self-Titled album (originally released on CD by Scranton's Prison Jazz Records), as well as Two Worlds(2010), Charmer(2014), and other EPs. Following a lineup change in 2013, Tigers Jaw began touring full-time. Walsh and longtime member Brianna Collins took some time off in 2016 to write songs for a new album. spin was released in 2017 on producer Will Yip's Black Cement Records. Tigers Jaw's first major label release was praised by critics and cemented the band as a songwriting force, satiating longtime fans and gripping new listeners. Aptly described as the middle ground between Fleetwood Mac and Saves the Day, Tigers Jaw have managed to progress and evolve while preserving the spirit of their modest origins in the scrappy DIY Scranton punk scene.
Tigers Jaw Forever.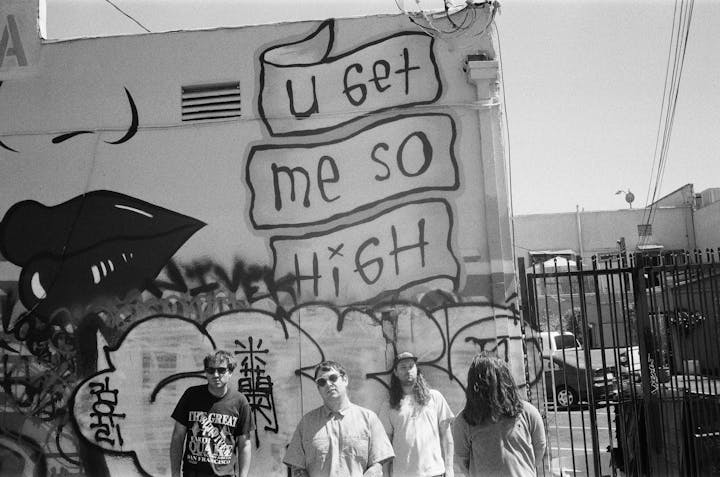 About Culture Abuse
"I was just waiting 'til I could get out and play music for the rest of the world," says David Kelling, songwriter and frontman of Culture Abuse. Bay Dream, Epitaph's first full-length release for the band, offers up ten impeccably-crafted songs full of personal and universal lessons. And the best advice is simple and practical. "Be kind to the bugs, be conscious of others, be careful with drugs, be kind to yourself even though it gets hard," Kelling sings out clearly over searing, rhythmic guitars provided by John Jr and new addition Nick Bruder on "Bee Kind to the Bugs." Together with Shane Plitt on bass and drummer Ross Travers the band provides the same strong rock foundations and memorable, critical lyrics as their debut, Peach, but Bay Dream travels exciting new territory for the five-piece. New territory makes sense, as Kelling has relocated to Los Angeles from San Francisco, and the songs read like open letters to both the cities and the people in them. "I grew up in a super small town called Murphys, California… Once I graduated high school I left. At first I set out for San Francisco, then as everything keeps moving it's brought me down to LA. So for now I feel like I can't go back home until I feel fulfilled with chasing this dream."
So there's no wonder physical and emotional movement play off of each other effortlessly throughout Bay Dream. The title and opening track deals exactly with the guilt of moving away from friends and family to follow a dream. "Dip" is about struggling to keep those loved ones relevant: "Time keeps dragging like a big slug, I get squished like a big bug, trying hard not to lose control, tell me what you wanna say, tell me cuz I wanna know, tell me cuz I gotta go." The deceptively simple words reveal a happier albeit wiser side of Kelling's songwriting. "I wrote songs in my head until I got a guitar. Just going after the sound that I think each song needs individually, so the sound is in constant change," Kelling explains. He cites listening to everything from Billy Boyo, to Paul Simon, to Sly and the Family Stone during the making of the record. Despite the variety of influences there is still plenty of cohesion throughout the songs, thanks in part to Grammy-winning engineer and producer Carlos de la Garza, whose past experience working with artists like Ziggy Marley, Jimmy Eat World, M83, and Paramore was a glove-like fit for the breadth and nuance of Bay Dream.
Despite the more upbeat sound and outlook, there is no escaping the uglier side of life. Everywhere lurk threats, obligations, limitations, and the will to fight through them. "Rats in the Walls" is full of the anxious excitement that only the love/hate relationship that is city-life in America could inspire. Lyrics like, "But the bugs in your bed, the rats in the walls, and the bill collecting phone-calls, make it harder and harder, and the rent's going up… Don't waste your time" are more about the beautiful fleeting nature of life than any specific apartment. Where Peach dealt with being in the middle of painful times, Bay Dream is about getting through them to find the sweet times are even sweeter. "I miss the way the air smells, I miss seeing the Bay Bridge across the water, the feeling that there is still more out there," David says of his old city. "It's a battle because that's where my family is, and as time goes on everyone's getting older and I don't know how much time I have left with them. But I still have work to do out here in the world." Each song is proof that work is paying off.
It's tempting to see Bay Dream, due out June 15th, as a concept album. "Bluebird on My Shoulder" is the perfect ending song that brings everything into perspective like a drive down the California coastline, and the dub influence is just right. Kelling remarks, "I've written songs like this always. Just finally working up the guts to show other people." If Bay Dream is any milestone of where the band is going, there are clearly more good things up the road.
Performers
Date and Time
Location
Slowdown - Main Room
729 North14 Street
Omaha, NE 68102
United States
Refund Policy