Description
MODERN CALLIGRAPHY is all the rage now! You see it everywhere -- on wedding invitations, hand-addressed envelopes, art prints, chalkboards, signage in your favorite craft store, and more.
if you would like to learn how to write in this creative, whimsical style, then join Maureen Vickery, a professional calligrapher and hand lettering artist, as she teaches the basics of MODERN CALLIGRAPHY using pointed pen. No calligraphy experience is necessary to attend!
In this 2.5-hour class you will learn:
the characteristics of modern script

proper techniques for using your tools and supplies

detailed steps on how to write each letter

how to change elements of your writing to create new styles

how to practice (after class is over) to achieve the results you want
Supplies (included with the class):
1 wood oblique pen holder

1 straight pen holder

2 pointed pen nibs

small jar of black ink

small water dispenser for distilled water

modern script alphabet exemplar (shows how each letter is formed)

guideline sheets for practice
Your supply kit will include a nice quality turned wood oblique pen holder that Maureen believes is easier to write with than the $2 plastic Speedball oblique holder (you may receive in other calligraphy classes) due to the better angle of the nib in the handmade wood holder.
The handouts include instructions on how to write the alphabet, tips, practice worksheets, and resources for further study.
More Details
We'll provide light snacks and drinks, and BYOB is welcome. We'll also throw in a few door prizes to add to the fun!
This class is ages 16 and up only. Seats are limited to allow for individual attention and Q&A time, so sign up today!
Doors will open at the Flower Bar at 6:00pm so you can pick a seat, grab some refreshments, and chat with Maureen and fellow calligraphy creatives before class starts. Flower Bar is on the second floor, Suite 230.
Investment

$125 per person (plus ticketing fees)
After the workshop is over, you won't be left on your own! Students can email Maureen at classes@pendancestudio.com to ask questions about modern calligraphy and to receive one free critique (after practicing a few weeks first!).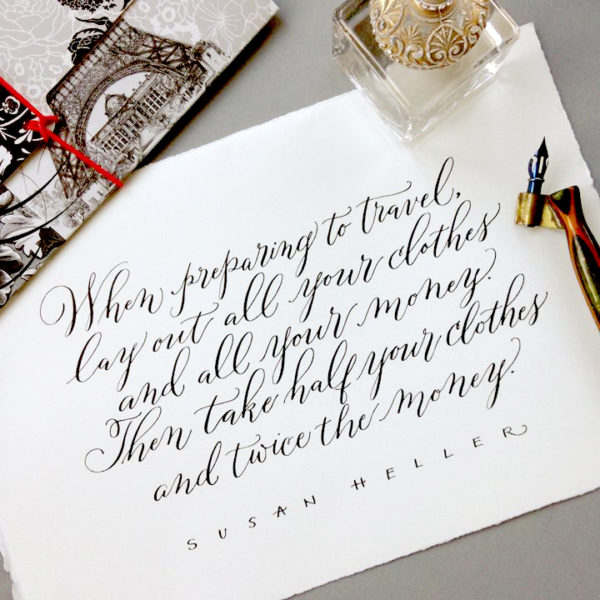 Refund Policy
Refunds are available up to 1 day before the class date.