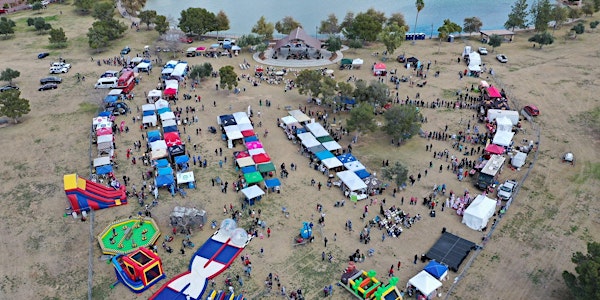 71st Annual Laveen BBQ (2023)
The Laveen BBQ 2023! This is a free event for the public! Sponsors and Vendors use page for registration and payment processing.
By Laveen Community Council
When and where
Date and time
Saturday, February 25 · 11am - 4pm MST
Location
Cesar Chavez Park 7858 South 35th Avenue Phoenix, AZ 85339
About this event
The Laveen Community Council is excited to host the 71st Laveen BBQ at the beautiful Cesar Chavez Park on Saturday, February 25, 2023. The park has a plethora of open space to maintain adequate social distancing. Last year's Laveen BBQ was a huge success, with over 4,000 attendees. This year, we hope to have your support for the 71st Laveen BBQ, as we make this milestone event a huge success once again.
We have food and drinks, bands, over 100 vendors, a fun zone for all ages, and many other activities. This is Laveen's biggest community event for friends, family and neighbors to get together. We are reaching out to you because as always, it is our sponsors who make this event successful.
We are a 501(c)(3) nonprofit organization. All profits go directly back into the Laveen community. Each year we provide scholarships to local high school graduates, give funds to various youth, school & community activities and provide fun events. The BBQ is a fantastic opportunity to enhance visibility and support for your business.
The Laveen BBQ represents a venue through which those living in Laveen and beyond can communicate with one another about their collective identity & distinctive ways of life.
Sponsors:
Sponsorship applications are due on January 31, 2023. For more information, please reach out to the Sponsorship Committee at BBQsponsor@laveen.org or Wendy Flood at 602-999-8523.
ALL sponsors include vendor space, name listed on the LCC website, and a thank you sign displayed in the community. Ask us about custom packages that are right for you!
The sooner we get your information, the sooner we can advertise you on our website and social media. We are still working on the Title Sponsorship if you are interested give us a call and we can talk about tailoring it for you. We want to stress that the LCC is a non-profit community group, and all profits go right back into keeping our community great! Thank you!
Vendors:
Applications are due by February 13, 2023.
1. The Laveen BBQ takes place rain or shine, so plan accordingly!
2. The vendor is responsible for any necessary fixtures. Electricity and Wi-Fi are NOT provided.
3. Vendor spaces are on grass. If you have a canopy you must anchor or weight it down in case of wind. No stakes are allowed due to sprinkler lines.
4. Vendor spaces are 11'x11' and must be staffed at all times. No soliciting or selling (including political signature collection) outside assigned booth space.
5. Products displayed, sold or given away in the vendor area must not compete with the BBQ meals itself including ANY drinks of any kind. You may not sell or give away any product not listed on your application so please be specific when listing your item(s). If you are selling a food it MUST be approved and we reserve the right to deny any product.
6. Vehicles are not allowed in the vendor area after 11 am. Fixtures, equipment, and supplies must be dropped off at vendor site and vehicles immediately moved to the parking lot. No vehicles can be parked on grass or dirt areas. We do not provide dollies or hand carts.
7. Vendors must be set up by 11 am and must stay open until 4 pm, no exceptions!
8. SORRY, VENDORS CANNOT BRING PETS TO THE EVENT!
9. Vendors who fail to follow any of the guidelines outlined in this document will be asked not to return the following year. Vendors are responsible to ensure all employees and or volunteers adhere to the guidelines
10. Only one product-reseller vendor permitted per company (i.e. one Avon, one Pampered Chef, one Origami Owl, etc.). Laveen residents will be given priority and application postmark will be the deciding factor in the case of duplicate entries.
11. All vendors must show proof of an AZ Sales License on the day of the event. A one day permit can be purchased at ttps://www.azdor.gov/TransactionPrivilegeTax(TPT).aspx. In addition, all food vendors must abide by the rules & regulations of the AZ Dept. of Health. Please review the guidelines for home baked goods, if applicable http://www.azdhs.gov/. We are not liable for any violations that any agency may enforce. It's up to the individual vendor to ensure that they are in compliance.
About the organizer
The Laveen Community Council is a registeted 501(c)3 Arizona Nonprofit Community Organization that has been bringing the Laveen community together for over 68 years. The purpose of the Laveen Community Council is to promote the welfare, and assist in the needs of the Laveen community and it's youth.
We are the Chartered Organization for Laveen Cub Scout Pack & Boy Scout Troop 244. We have sent Girl Scouts from Laveen/South Phoenix to camp. We have funded 4-H activities, Laveen Soccer, Laveen Summer Ball, and awarded funds through our Community Fund to community organizations, Laveen Elementary Schools, Churches, Block Watches and more. 
We have awarded oscholarships to graduating high school seniors totaling $60,000 to college bound seniors. We sponsor local activities including the Laveen Lions Community Parade, Laveen Classic Car Show, Phoenix's Star Spangled Celebration, Haunted Hayride, Laveen Baseball Classic, Trunk-Or-Treat, Community Arts projects and most recently South Mountain Aglow at the South Mountain Environmental Education Center(SMEEC). We are able to achieve our mission through our programs, fundraisers, and our Annual Events like the Laveen BBQ, Laveen Turkey Trot 10k 5k, and the Laveen Community Golf Tournament.
This is all made posssible through the generosity and support of the community and our sponsors. . You can help make a difference, Today, from right where you are by registering for 18 holes of golf on a championship course, or by signing up for a 10k or 5k run in the Turkey Trot, a Laveen Thanksgiving Day Tradition, or if you'd like to help with a small donation, or volunteer at one of our events, we would love to see you.
P.O. BOX 488
LAVEEN , ARIZONA 85339