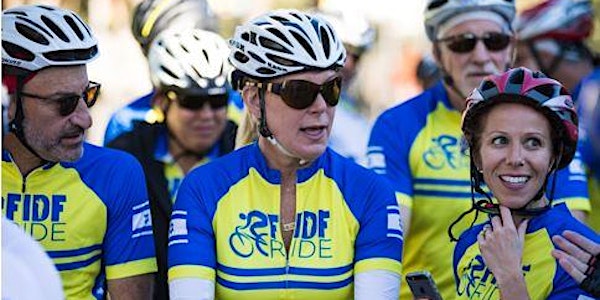 70 Kilometers for 70 Years - FIDF Bike Ride
Date and time
Sunday, April 22, 2018 · 8am - 1pm PDT
Location
San Mateo Convention Center 1346 Saratoga Drive San Mateo, CA 94403
Description
**PLEASE NOTE** All those attending much sign a waiver prior to the ride. Those who have not signed the waiver will not be allowed to join the ride.
Waiver: https://waiver.fr/p-Xgo2G
April 22nd Ride
Registration for this event includes free participation in the May 6th ride (optional), lunch, an FIDF Ride jersey, and FIDF Ride water bottle. Participants will also be accompanied by three wounded soldiers who are supported by the FIDF.
Route for April 22: http://www.mapmyride.com/routes/view/1998261320
Directions:
Riders will meet and end on the lawn near Gate S1 off of Saratoga Dr in the parking lot of the San Mateo Event Center.
Grounds Map: https://www.smcec.co/docs/SMCEC_Grounds_Map_2017.pdf
May 6th Ride (free with purchase)
Riders will meet on the grass infront of the Walt Disney Family Museum in the Presidio. This ride will end at the corner of Montgomery and Lincoln near the "Presidio Picnic" where food trucks will provide a variety of lunch options and riders are welcome to the event's free valet bike parking.
Presidio Picnic is located on the Presidio's Main Parade Ground, bordered by Montgomery Street, at Lincoln Boulevard San Francisco, 94129. It can be easily accessed by the MUNI 43 line or the free PresidiGo Downtown Shuttle , which runs between the Main Post, Union Street/Van Ness Avenue, Embarcadero BART, and the Transbay Terminal from 9 am to 7:30 pm on weekends. Free Bike Valet is offered every Sunday, sponsored by New Wheel.
Route for May 6: https://www.strava.com/routes/12046956
The Wounded Soldiers
Yoni Damari
Yoni joined the Shimshon Battalion in 1999 and graduated the officers academy in 2002. In March 2003, terrorists entered the settlement of Gadid in the Gaza Strip and ambushed Yoni's platoon. The bullet that hit Yoni impaled his chest and left him in critical condition. After several months of hospitalization and rehabilitation, Yoni returned to service. He is now married with two children and has been working as a mortgage broker for the past eight years.
Ohad Mekahel
Ohad enlisted in the Armored Corps in 2014. A year later, Ohad's battalion was pursuing a terrorist squad that was planning terror attacks in the area when their vehicle overturned, fell into a ravine and caused several serious injuries to Ohad. Today, he studies construction technology and engages with other wounded soldiers through the FIDF-funded Brother's for Life cycling team.
Roi Aharoni
Roi joined the Golani Brigade in 1989 and took part in many military operations in Israel and in Lebanon. In 1991, during an operation in Lebanon, the vehicle he and his fellow soldiers were traveling in was bombed. Two soldiers were instantly killed and Roi was seriously injured and lost consciousness. When he came to, Roi saw that his friend was critically injured. He fought to save his life for 45 minutes before he died in his arms. Since finishing his rehabilitation, Roi has developed his skills in the culinary arts to become a cook and support his wife and two children. He also uses his culinary skills to cook meals for other wounded soldiers.