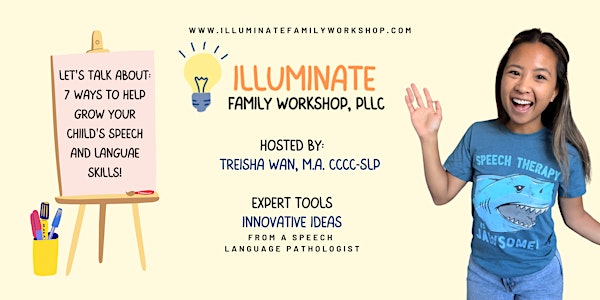 7 Ways to Help Grow your Child's Speech & Language Skills
Get expert tools and innovative ideas on way things you can start doing TODAY to boost your child's language skills!
About this event
Hello friends and families of Illuminate Family Workshop & The Montessori Room! We're so glad you're here!
During this fun workshop, let's talk about:
Strategies for Early Language Development (Tips for kiddos Birth-3)
Ways to use Toys as Tools
How to play when your child isn't interested in toys
When to consult an SLP
*Share this invite with grandparents, nannies and other grown-ups in your child's life!*
------
Excited for August 19th? Check out the YouTube Channel while you wait! New episodes weekly: https://www.youtube.com/channel/UCAr6ppnMZJpxruhk9C-c9lQ
-------
About the host:
"As grown-ups, our job is to help them [kids] discover and hone in their superpowers! They have visions for the future, ideas to express and experiences to share!"
Treisha Wan is a licensed Speech Language Pathologist and owner Illuminate Family Workshop, PLLC. She has partnered with The Montessori Room to bring parents and teachers resources about speech and language development. You can find more about her background on the "about me" section at https://www.illuminatefamilyworkshop.com/