Description
7 Steps to bring mindfulness and Compassion to business
DESCRIPTION

Are you a business person or an entrepreneur?
Are you looking for new strategies in a faster-moving world?
Do you wish to integrate mindfulness into the way you work or your business culture?
Have you found a personal mindfulness practice that resonates with you but did not yet find a way to implement a daily practice?
We want to support you on your journey and make you ready for the 4th industrial revolution. This program will guide you through 7 steps that will help you to go deeper, create your personal life strategy, and routines that are aligned with what you aspire in personal and work life.
This workshop series is designed to support you to bring mindfulness and compassion into your day-to-day work and find new growth-strategies in a faster moving world. This workshop series will guide you through 7 steps that will help you to get an overview and understanding how mindfulness fit into your company context, how it can create a new business culture of co-creation and how new leadership looks like?
In each workshop we will introduce you to one or two of our 7 steps – you are invited to either join all workshops or pick the step you want to go deeper.
15. May – Step 1 – Overview Mindfulness & Compassion@work
How does mindfulness fit into your company context, how can it create a new business culture of co-creation and what does the new leadership look like?
19. Jul – Step 2 – Passion & Purpose
Happiness has to do with, purpose, meaningfulness, and what you really want; go on a quest to find your strengths, values, vision, and passion.
22. Aug – Step 3 – Practice
Find and deepen your own practice, and learn new methods and techniques.
12. Sep – Step 4 – Life Strategy
Create a plan how you can bring your passion and purpose into reality, have a regular practice in your day-to-day (business) life, create routines and an action plan that supports you.
17. Oct – Step 5&6 – Authentic Communication & Compassion
Find your own voice and learn how to communicate effectively and with compassion. Working with compassion is looking out for the benefit of all – this natural style of leadership inspires people, attracts trust and instills confidence.
20. Nov – Step 7 – Co-Creation
Work in a way that motivates, inspires, and brings out the highest potential of each individual, and creates solutions that are co-created by the whole team.
PLEASE BRING
Your Journal (book to write in) & a pen
About us
Connected Business:
Connected Business brings Compassion and Mindfulness into daily business interactions and supports companies to get their culture, skill-set, and leadership ready for the fourth industrial revolution.
Our vision is to empower and connect people in business to create a new culture of leadership and enterprise. In doing so we are building a community with a common purpose - one that is connected, mindful and loving, that values diversity and authenticity, and pioneers integrity and sustainability. We are part of a co-creative group and a global movement - join us
COURSE HOSTS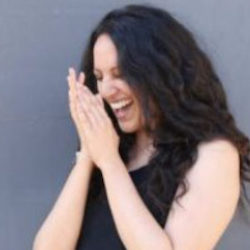 Mounira Latrache: Mounira's vision is that we will find a way to work with each other that includes the diversity and passion of the whole person, that aims to find solutions for the greater good as a community and is fun at the same time. She also wants to bring love & compassion into this environment because she believes that change in the inside inspires change outside and will contribute to world peace.
Before launching Connected Business, Mounira was leading the YouTube Space Berlin and heading YouTube PR for Germany, Austria & Switzerland. During her 5 years at Google she dedicated 20% of her working time to spreading mindfulness at Google and externally. Mounira has 15+ years of management experience leading international brands. In previous years she lead brand communications and marketing initiatives for Red Bull and BMW. Mounira is also a trained business coach, Forrest Yoga teacher and facilitates mindful leadership trainings across the world.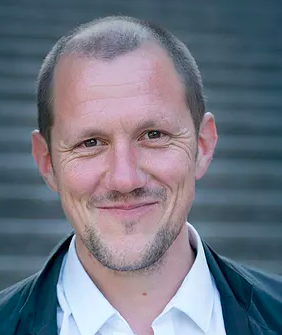 Angel Hernandez: From early childhood on, he has asked himself, how we can grow into our highest accessible potential, as individuals and society? To find answers he undertook numerous travels into the inner and outer world, always investigating this question and bridging worlds between engineering, neuroscience, high-performance, entrepreneurship, mindfulness and indigenous tribes.
Angel is a full-blood entrepreneur and international expert for co-creative project development. Over the last 10+ years, he supported individuals, groups, and organizations to connect with their true purpose and visions. Combining digital concepts with mindfulness is at the heart of Angel's work - as an expert for creating mindful cultures through co-creative processes he mentors startups, social entrepreneurs, and organizations to a transformation by using learning organization models.
His personal deep mindfulness practice and high-performance strategies always guide him to look beyond things and evolve a servant leadership style that empowers people.
For more information, please visit www.connected-b.com
Any questions? Send us an email: contact@connected-b.com
---
TICKET INFORMATION
After the purchase, you will receive a confirmation email from Eventbrite our ticket partner. Your E-Ticket will be attached to this email. Important: if you did not receive a confirmation email, please check your spam folder, if you still do not find it please click here and contact Eventbrite.

If you encounter technical issues with the order process please click here and contact Eventbrite.

Do you want to look at your order again or actualize it? Here you will find all the information.

All purchases are binding.

Mentioned facilitator or speakers can be subject to change.
I accept the terms of use for my purchase of the online ticket. Here you will find the general terms and conditions.
TICKET INFORMATION
Nach deinem Kauf erhälst du eine Bestätigungsemail von Eventbrite, unserem Ticketingpartner. Dein E-Ticket(s) findest du im Anhang dieser Mail. Wichtig: Wenn du keine Bestätigungsmail erhalten hast, überprüfe bitte deinen Spam-Ordner. Wenn du sie auch dort nicht finden kannst, dann klicke bitte hier und wende dich an Eventbrite.

Solltest du andere technische Probleme mit deiner Bestellung haben, klick bitte hier und kontaktiere Eventbrite. Weitere Fragen und allgemeine Informationen zum Festival findest du hier.

Möchtest du dir deine Bestellung noch einmal ansehen oder sie aktualisieren? Hier findest du alle Infos dazu.

Alle Käufe sind verbindlich.

Die genannten Lehrer und Redner sind zum Zeitpunkt der Veröffentlichung bestätigt, können sich jedoch kurzfristig ändern.
Ich akzeptiere die Nutzungshinweise zum Kauf eines Online-Tickets. Hier findest du die Allgemeinen Geschäftsbedingungen.