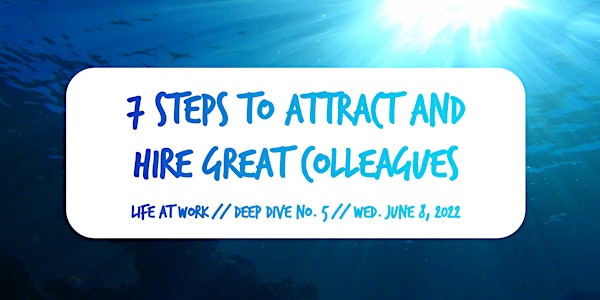 7 Steps to Attract and Hire GREAT Colleagues ~ Life at Work ~ Deep Dive 5
Attracting and hiring team members for purpose, culture and passion - train for skills.
About this event
Is your start-up or company growing and you are urgently searching new team members?
Are you tired of hiring new colleagues who don't match your team? and then to begin the whole process anew?
Do you ask yourself what hiring process and practices are ideal for collaboration in the 21st century?
In this Deep Dive webinar, I provide you with insights  into an effective 7-step hiring process that supports you in finding new colleagues you really wish to work with. In this interactive webinar, I also offer you an overview over innovative, creative and collective hiring practices related to the 7 steps that support you and your team in attracting, selecting and onboarding great new colleagues.
☑️  Discover the importance of hiring team members (not only "employees");
☑️  Explore your current hiring practices;
☑️  Add progressive and fresh tools and approaches to your hiring toolbox;
☑️  Design your conscious hiring process and
☑️  Attract, select and onboard GREAT members for your team!
Hiring great team members is one of THE most decisive actions you'll take. Wasting time with unclear processes and out-dated methods leading to wrong decisions - far too costly! Are you ready to make better selection decisions and hiring great new colleagues? I'm looking forward to welcoming you to the Deep Dive webinar!
I'm very much looking forward to hosting this live Deep Dive webinar for you.
Register today to secure your seat and receive the link to the Deep Dive webinar! Join us for a Deep Dive full of insights, information and inspiration! Bring your team members and colleagues from your networks too!
Let's co-create People & Culture Services that are serving holistic businesses for people, planet and purpose! 
#LifeatWork #HumanityatWork #FutureofWork #FoW #NewWork #WorkEvolution #WorkRevolution #HUMANFutureofWork #HumanRevolution #HumanEvolution
This Life at Work // Deep Dive is the 3rd in a series of thematic sessions on the theme "R*Evolutionize HR: From Human Resources to Human R*Evolutions in Action!":
Deep Dive No. 1 ~ 7 R*Evolutionary Waves of HR ~ Wednesday, 12.01.
Deep Dive No. 2 ~ 9 Impulses to bring HUMAN back to HR ~ Wednesday, 09.02.
Deep Dive No. 3 ~ 7 Practical Examples of Agile HR in Action ~ Wednesday, 09.03.
Deep Dive No. 4 ~ 5 Living Structures in Organizations ~ Wednesday, 11.05.
Deep Dive No. 5 ~ 7 Steps to Attract and Hire GREAT Colleagues ~ Wed., 08.06.
Register your participation and join us in all of them!
Subscribe to the Life at Work // Newsletter, like the Facebook page and stay tuned for more events and updates!