Description
7 Stages to Sustainability
Permaculture Design Certification Course
in the Heart of Bodhgaya, India

Instructors
Jay Ma, Melanie St. James, Lilliam Sum, & Guests
Course Inspriation

We are excited, honored, and grateful to be holding this unique course and sustainability collaboration project at the UNESCO world heritage site the sacred Buddhist pilgrimage city of Bodhygaya, India - the place of the Buddha's Enlightenment. Our intention is to not only provide a high quality, information filled, and life changing experience for participants; but also to catalyze the 7 Stages to Sustainability process and permaculture design implementation towards supporting the on-going efforts of sustainable development in Bodhgaya by the humble people, activists, and Buddhists monks & nuns in the local community.
Course Description - Seven Stages to Sustainability+ Permaculture
"7 Stages to Sustainability (7SS)" is a collaboration road map, Asset Based Community-driven Development (ABCD) framework, philosophy of self determination and a curriculum empowering people, businesses and organizations to turn local assets into holistic solutions from the ground up. Developed by Empowerment Works' several years of 7SS global grassroots community action, and the success of a first 7SS service learning curriculum in China, 7SS is being taken to new heights in northern India. While the 7 Stages to Sustainability is an Asset Based Community-driven Development (ABCD) framework, philosophy of self-determination and a curriculum, this seven stage pattern is also a proven to catalyst for business, technological and social innovation.
We are exciting to be partnering with with Sacred Earth Trust, an Indian-based NGO, & Empowerment WORKS - a US 501c3 global sustainability think-tank in action dedicated to the advancement of whole-system, locally-led solutions... to bring the 7SS curriculum along with a Permaculture Design Course to the villages of Bodhgaya, India. In addition to delivering essential 7SS tools for effective implementation of community-led solutions, this 2 week + sustainability intensive will be integrated with a full Permaculture design course focused on utilizing the 7SS and Permaculture Design curriculum towards real projects in the local community. Click Here for more information on the 7 Stages to Sustainability.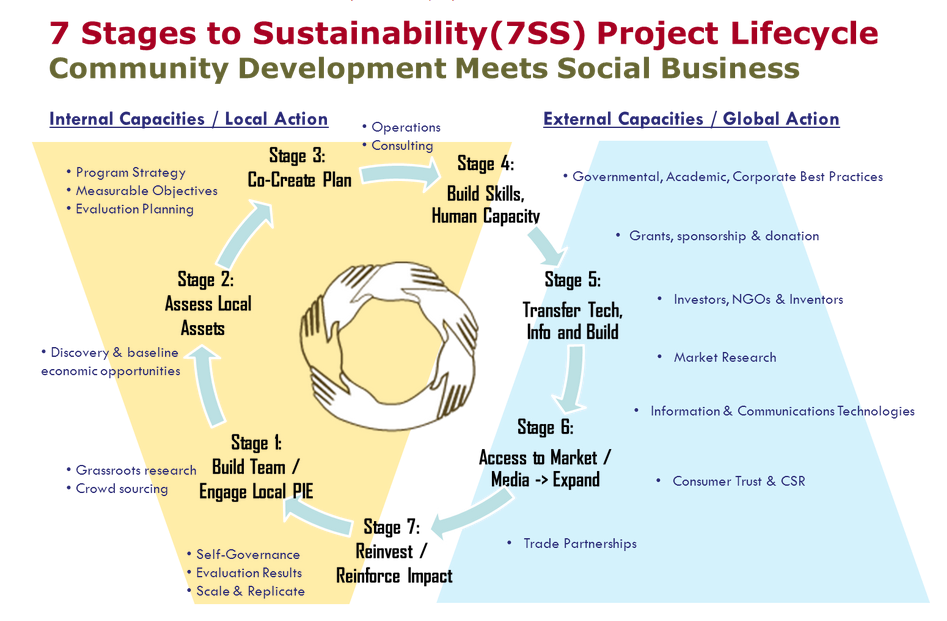 Permaculture Design Course Description
Learn all about sustainability and receive your Permaculture Design Certificate in the setting of the sacred city of Bodghaya and its many monasteries, pilgrims and seekers who travel from all over the world to this place of the Buddha's Enlightenment. Do hands-on projects, face challenging exercises, do a permaculture design, and learn about the many facets of creating a sustainable lifestyle while benefiting the local community and the efforts for sustainability in Bodhgaya. This is a full immersion experience that will change your outlook and your life forever, as you begin to build a life of resiliency.
Using a variety of learning techniques and strategies this course presents Permaculture as an integrated design approach to create sustainable human habitat. Course time will consist of traditional lectures, guest presentations, group discussions, games, exercises, hands-on projects, photos, movies and site visits. While we will focus on land systems, many discussions and examples will be explored of applications in the 'Invisible Structures'. These are the social, cultural, political, and economic structures we create as humans that powerfully shape much of our world today. Not only will the course be about Permaculture, but it will also model it by its structure and the environment we create together during the course.
During the latter part of the course design teams will be formed and given real life design assignments that are relevant to the course venue. The course will culminate with each team giving presentations of their designs to the class and interested local people and groups. These designs will be left with venue to become valuable resources for them. Elements to whole sections of past student designs have been incorporated by many sites were this course has been hosted.
Join this course and be prepared for a life changing experience which will leave you much more prepared to respond to the global changes that are starting to happen with solutions, resiliency, and compassion.
Site Details: Bodhgaya, India - The Place of the Buddha's Enlightenment
Bodhgaya in northeastern India, is one of the most spiritual places in the Buddhist world and also an UNESCO WHS accredited town. Bodhgaya is the site of the Buddha's enlightenment and the most important of four main Buddhist pilgrimage destinations. Known as Uruvela in the Buddha's time, the city of Bodhgaya is now a town of about 30,000 permanent residents. The two major sacred sites in Bodhgaya are the Mahabodhi Temple and the Bodhi Tree, around which many other temples and monasteries of various Buddhist traditions (Japanese, Tibetan, Bhutanese and others) have been built. Every year, millions of Buddhist pilgrims flock to Bodhgaya to be inspired, dissipate negative karma and earn merit by visiting the holy site where the Buddha became the Buddha - the "Enlightened One." There are many other sacred sites located nearby including Mahakala Cave and others. It is rich in culture and an international gateway, the busy winter season is frequented by pilgrims and visitors from all over the Himalayas and the world.
Supporting Sustainable Development With Local Communities in Bodhgaya
This course will culminate with several groups doing a real life design projects that will be relevant to the local Bodhgaya community. Not only will the teaching be about Permaculture, and the Seven Stages to Sustainability, but it will also model it by its structure and the environment we create together in the course. This course will contribute to the enrichment of its site, the local community, and each of the participants. With the goal of having half international students and half local students this workshop will not only be an opportunity to learn about Permaculture and the 7SS, it will also offer an opportunity to understand we can create a regenerative, sustainable world together. The person attending the Permaculture Design Course will not only gain theoretical and practical knowledge on Permaculture at the end of the workshop but will be handed a Permaculture Design Course Certificate. This certificate will enable the participant to be a certified Permaculture Practitioner.
More Information
Visit the Course website for More information
For Question e-mail: education@livingmandala.com or
Phone: (707) 634-1461

Organizer of 7 Stages to Sustainability Permaculture Design Course Bodhgaya India 2013
Living Mandala designs, facilitates and produces courses, workshops and events as well as offers consultation services that support personal, ecological and socially regenerative practices for green and holistic lifestyles. The mission of Living Mandala is to serve, empower, and promote holistic educators and organizations in order to increase awareness of their work, to create educational programs, to catalyze project activities that implement ecologically and socially regenerative practices of human beings living in greater harmony with each other and their environment. Grounded in the design science of Permaculture and Whole Systems Design, Living Mandala works with a triple bottom line of ethics and values: Care of the Earth, Care of People, and Return the Surplus. Living Mandala has co-produced over 75 courses workshops, and events the last 4 years from intensive three-week residential Permaculture & Ecovillage Design Certification Courses, weekend workshops, to larger conferences and events like the Harmony Festival Ecovillage, Financial Permaculture Summit, and others.