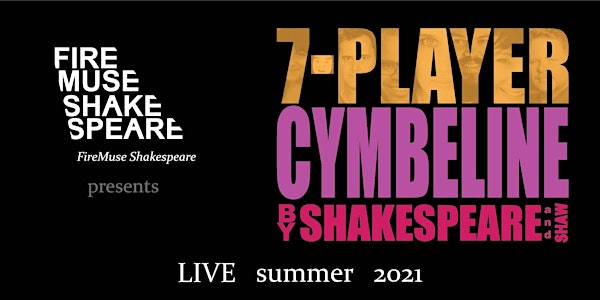 7-Player Cymbeline (Thousand Oaks 7/3)
FREE 90-minute performance of Shakespeare's Cymbeline plays in a private home in Thousand Oaks for a PUBLIC show!
About this event
Cymbeline has everything you love from Shakespeare...
a British king and a scheming queen
a princess, a potion and prophecies
a goofy suitor and a faithless husband
a scheming seducer and a stealer of children
a Roman ambassador and a soothsayer
ghosts and gods
bets and banishments
long-lost siblings and forbidden love
disguised journeys into the woods and parent-child reunions
and a revelation-filled ending (this one goes to eleven)!
FireMuse Shakespeare is thrilled to announce that the upcoming performance of its inaugural production, 7-Player Cymbeline, will take place at a private Thousand Oaks home at 2pm on Saturday, July 3... AND this FREE performance will be open to the PUBLIC !
This FREE production stars Lauren Rachel, Scott Blanchard, Stan McConnell, Sarah Boughton, Adam Womack, Sindy McKay, Christopher Rubin, and Theresa Secor. These talented performers will be taking this 90-minute, stripped-down adaptation of Shakespeare's infrequently produced late-period romance (and its subsequent play-fragment, "Cymbeline Refinished" by George Bernard Shaw) on the road live beginning June 5. Running through Labor Day weekend, additional performances will be on Saturday afternoons this summer, presented FREE for private audiences, outdoors (socially distanced) and at the audience's location.
July 3rd's performance, at a TBA location in Thousand Oaks, is open to the public!
You may reserve up to 4 tickets/seats. Since this is a private home, seating is extremely limited to maintain a wicked combination of intimacy AND social distancing. Please do not overbook.
You will receive an email within three days of the performance, informing you of the exact location for YOUR FREE performance of 7-Player Cymbeline!
On the day of performance, please attempt to be at least 15 minutes early with your low-profile chair, a sun-hat, sunscreen and water, because this debut performance will start on-time (and in the sun)!