7 - NIGHT MEDITERRANEAN CRUISE {OCTOBER 15 2022 - OCTOBER 22 2022}
About this event
7 NIGHT MEDITERRANEAN CRUISE
MSC GRANDIOSA
{OCTOBER 15 2022 - OCTOBER 22 2022}
FINANCING AVAILABLE - $399 PP OR $35.58/ MONTH
-PORTS OF CALL-
BARCELONA - CANNES - GENOA - LA SPEZIA - CIVITAVEECHIA - PALMA DE MALLORCA
_________________________________________________________________________________________________
Ramblas, a timeless symbol
Barcelona – Spain's second city, and the self-confident capital and port of Catalunya – vibrates with life, and there's certainly not another city in the country to touch it for sheer style, looks or energy.
A cruise excursion to Barcelona city centre will take you to discover its world-class art museums and its fashionable designer restaurants, bars, galleries and shops. And in Antoni Gaudí's extraordinary church of the Sagrada Família and the world-famous boulevard that is the Ramblas, you have two sights that are high up on any Mediterranean cruise sightseeing list.
A holiday in Barcelona can start with the Ramblas, and then dive straight into the medieval nucleus of the city, the Barri Gòtic. But there are plenty of other central old-town neighbourhoods to explore too, from La Ribera – home to the celebrated Museu Picasso – to funky El Raval, where cool bars, restaurants and boutiques have mushroomed in the wake of the striking contemporary art museum, MACBA.
Even if you think you know these heavily touristed neighbourhoods well, there's always something else to discover during an MSC excursion – tapas bars hidden down alleys little changed for a century or two, designer boutiques in renovated old-town quarters, bargain lunches in workers' taverns, unmarked gourmet restaurants, craft outlets and workshops, fin-de-siècle cafés, restored medieval palaces and neighbourhood markets.
On Passeig de Gràcia there is Gaudí's Casa Batlló, designed for the industrialist Josep Batlló: the stone facade hangs in folds, like skin, while on the rooftop sprout the celebrated mosaic chimneys and a little tower topped with a three-dimensional cross.
The mountain of Montserrat stands just 40km northwest of Barcelona and it's a popular trip out from the city. Once there, you can visit the basilica and monastery buildings which fan out around an open square, and there are extraordinary mountain views from the terrace.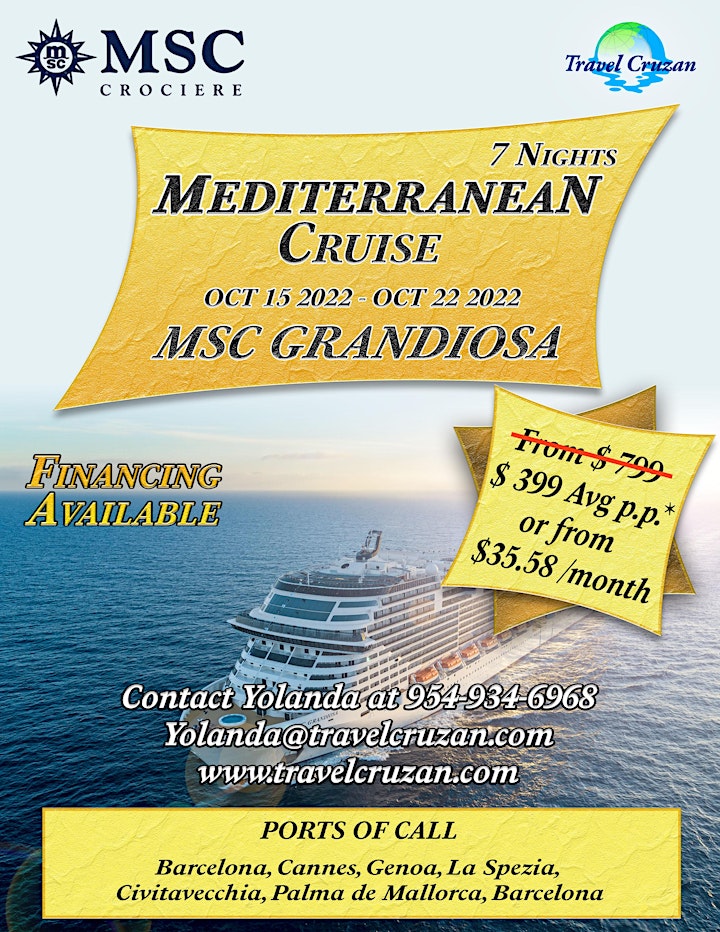 Organizer of 7 NIGHT MEDITERRANEAN CRUISE ON MSC GRANDIOSO
Our travel agency focuses on providing excellent service, while focusing on your unique vacation budget and needs. By sharing my firsthand knowledge of the most popular resorts and cruises, we make sure your vacation is truly memorable. Unlike booking websites, we go above and beyond to make sure all your needs are met and all your questions are answered. That's personal attention you won't find anywhere else.
In addition to traveling to many of the most popular destinations ourself, we have also worked closely with many of the top travel suppliers. Our agents continuallly train to receive industry certifications to keep you informed of the newest resort features and amenities. Not to mention, we have access to all the latest deals and special offers.