7 Fatal Errors Women Make When Looking For A Mate

Thursday, August 21, 2014 from 6:30 PM to 7:20 PM (PDT)
Event Details
Master the Skills you Need to Attract the Relationship you Desire!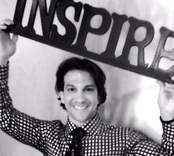 In this webinar, Arman Sadeghi will give you relationship coaching to open your heart and attract true love. If you're not currently in a relationship – isn't it time to have a proven approach for attracting your ideal mate… someone who loves and cherishes you, who lights you up and charges you? If you want your relationship to be an area of excitement and passion, then you need to know the tools that can give you the the ultimate advantage.
Regardless of your past experience or current relationship, the promise of something deeper, richer and lasting is within your grasp.
You'll learn:
Find out why you're not attracting the right person
Learn how to attract the right mate
Learn how to sustain an intimate relationship
7 Fatal Errors Women Make When Looking For A Mate