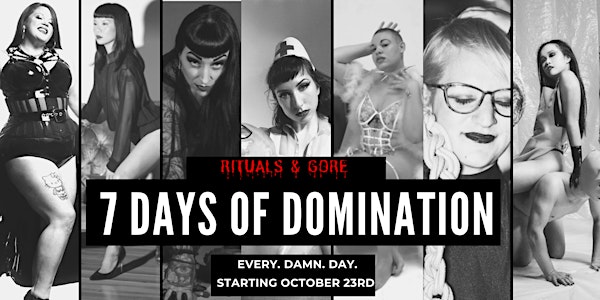 7 Days of Domination - Rituals & Gore
Let us help you get through the week with something to look forward to….EVERY. DAMN. DAY.
Refund Policy
Contact the organizer to request a refund.
Eventbrite's fee is nonrefundable.
About this event
Let us help you get through the week with something to look forward to….EVERY. DAMN. DAY.
Our NINTH installment of the 7 Days of Domination is here! This Volume is all about Rituals & Gore. We're putting on our twist on spooky season. Getting rid of all the pumpkin but keeping the witchy, magick, and overall gruesome vibes. This 7DOD is all about rtuals and gore. EVERY. DAMN. DAY.
The Days of Domination brings you the specialties of some of the worlds top Pro Dom/me/mxs as they shed their light and their knowledge on a series of topics and skills within BDSM. Every night (for about an hour) a different Dominant will highlight a skill or concept, explaining what it is, why folx are drawn to it, how you go about working this into your play, and the main questions - What's, next? The daily dose may expand upon a concept, theory or skill. By no means can our featured presenters give a Masterclass worth of info into less than an hour. Think of it as an eye-opener and microscope into one professional's practice.
Above all, the 7 days of Domination introduces you to a myriad of styles.
If you're interested in one of the last 7 Days of Domination you can purchase each individual day (or all EIGHT weeks) HERE
**If you are a SW please reach out for our special SW rate.
BONUS content
Every night (or afternoon) tune into our IG Live's where we have an after hours talk with each days presenter.
Whether you attend one session or all nine, all ticket holders are invited to our after party at the end of the entire series we will take off our teaching hats and hand the mic over to the attendees to socialize, reminisce and maybe even cruise.
Who is this for?
This is a limited engagement series intended for both submissive, Dominants, switches, perverts, those looking to go pro and those looking for pure entertainment value. We'll take you all…and maybe you'll end up learning something out of it. WHODA'THUNK?
Hell, at least it gives you a reason to tell the different days of the week apart.
**A La Carte Passes will be available if you only want to select individual classes.
TOPICS
Sunday OCTOBER 23RD - 2PM EDT - Necrophilia Role Play with Satanatrix
Monday OCTOBER 24TH - 8PM EDT - Loving Latex with Lucille Ballbuster
Tuesday OCTOBER 25TH - 8PM EDT - Mummification with Azalea Trix
Wednesday OCTOBER 26TH - 8PM EDT - The Parallels of BDSM and Magick with Dia Dynasty
Thursday OCTOBER 27TH - 2PM EDT - Vore with Empress Wu
Friday OCTOBER 28TH - 8PM EDT - Is it Kosher? with Gretchen Manors
Saturday OCTOBER 29TH - 2PM EDT - Sutures: turn that pole into a hole! with Odette Engle
What do I get with a ticket purchase?
For each class or series you purchase you can either choose to watch the workshop live via zoom, enjoy it via a recording OR watch them both again and again and again.
We have a brand, spanking new website which means recording and live access is streamlined. After purhcase you will be added to our video portal where you can access both the LIVE class and the RECORDING all in the same place.
You'll also get sound knowledge that 20% of all proceeds from this series will be donated to Bay Area Worker Supper
Oh no, I'm late! Can I still join in midweek?
You may be late, but you're not out! All late comers will receive access to recordings to any sessions they missed in addition to upcoming dates!
What happens if I can't make a certain day?
If you have signed up for the week long course only, you will be given access to each nights recording within 24 hours of its completion.
When will I get an email with the Link to the livestream?
No more links! You'll be added to our video platform where you can watch the live class AND the recording to whatever you purchase!
What if I only want to go to a certain day?
A La Carte Passes are available for each individual day. If you want to purchase multiple, make sure you purchase one for each individual day as opposed to multiples for a single day.
How can I get connected with the different presenters if I'd like to inquire about their rates?
Each Dominant will give their details at the end of the daily Dom sesh. You can check out the Instructors Page on our website for further information.