Description
The Center for Civil and Human Rights and Creative Visions will show a screening of 7 DAYS IN SYRIA, a timely film showing the families in Syria living on the frontlines of the conflict. There will be snacks, a cash bar, and post-screening discussion. Panelists include:
1. Bee Nguyen, Atlanta's Got Something to Say: Refugees Welcome!
2. Thomas Reynolds, Vice President of Program, Partnerships and Learning at CARE.
3. Cynde Strand, Director of International News Coverage at CNN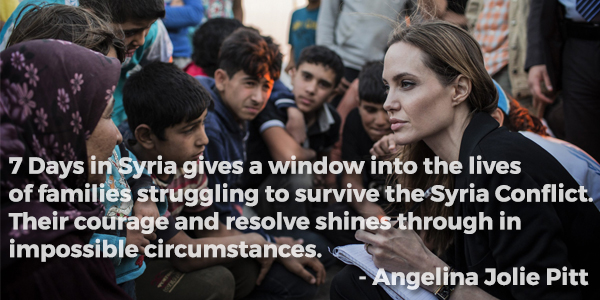 About the film:
7 Days in Syria follows Newsweek's Middle East Editor, Janine di Giovanni, as she journeys into the heart of the conflict in Syria, offering an extremely rare glimpse into the lives of families struggling to survive the frontlines.
Along the way Janine meets a carpenter-turned-baker, risking his life to feed four neighborhoods. Then there's a Syrian teenager who was studying economics until the university was bombed. She now videos injuries and deaths, a very important task for posterity and war tribunals. Despite the threat of constant shelling and bombardment, their courage and resilience shines through in impossible circumstances.
Date and Time
Location
Center for Civil and Human Rights
100 Ivan Allen Junior Boulevard Northwest
Atlanta, GA 30313