Multiple Dates
7 Day "STYLIST IN THE MAKING" Challenge
Event Information
Refund policy
Contact the organizer to request a refund.
Eventbrite's fee is nonrefundable.
Discover your potential in fashion through the 7 Day "STYLIST IN THE MAKING" Challenge. Boost your career!
About this event
Discover your potential in fashion through the 7 Day "STYLIST IN THE MAKING" Challenge. Explore this industry and start your journey in the fashion world. Boost your career! Start your journey here.
If you have a passion for fashion, enjoy shopping and want to make an income doing something you love, then this challenge is for you!
OR if you are a personal stylist and you want to up your game & boost your income, this challenge is also for you.
Joining this challenge allows you to be a part of a group that is supportive and non-judgemental, helping each other become better stylists. We believe in "Power of the Pack".
Who we are?
Isobel Kershaw, founder of The Stylist London, which not only is about styling services for men, women & teens but also encapsulates The Style Academy. Isobel has been in the fashion industry for 30 years.
Kim Apodaca, founder of Recharge Your Style, Los Angeles, has been a personal stylist for the past 14 years that has styled many celebrities, red carpet events, men and women corporate executives and other public figures.
The challenge will be filled with daily tasks to wet your appetite with elite level coaching in the world of becoming a professional stylist. We will share some of our secrets that we have learned along the way.
Participants are limited to ensure a deep level of training.
$27 To Join - Next challenge begins Sept 21st 2020
This course will be for approx 1 hour per day for 7 days beginning at the same time each day 10am PST & 6pm GMT
Sign up here today AND join our private Facebook Group: https://www.facebook.com/groups/7DAYSTYLISTINTHEMAKINGCHALLENGE/?ref=group_header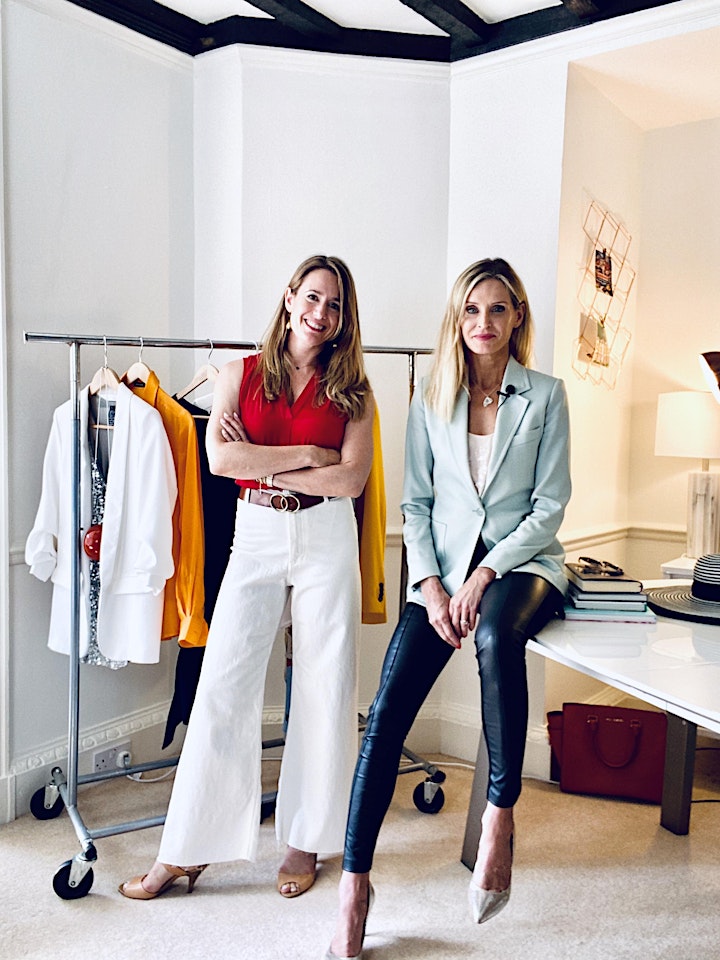 Location
Refund policy
Contact the organizer to request a refund.
Eventbrite's fee is nonrefundable.
Organizer of 7 Day "STYLIST IN THE MAKING" Challenge
About Kim Apodaca ~ Founder of Recharge Your Style
Originally from South Africa, Kim has spent much of her childhood traveling and learning from her Italian relatives. As a business & psychology graduate, Kim had the Entertainment Industry in sites and immigrated to the USA over 20 years ago. Quickly after she arrived, she worked as an executive assistant to a few Hollywood celebrities  and fell in love with the LA Fashion scene.

​An unexpected twist in her fate, Kim's love for Fashion and desire to help others love themselves, Kim started styling and helping others. 14 years ago Kim starting styling stay at home mothers that were feeling unattractive & drained, by helping these women, Kim realized that it wasn't only stay at home mothers that didn't have time to get dressed in the morning, but they didn't know what to wear either.  By changing these women's lives, Kim was passionate about helping others and she suddenly understood that empowering others through style was her life's calling.

Kim's approach is holistic. She works from the inside out at first, but understanding each client's lifestyles, needs and goals.  Accentuating the positives and deleting the negatives.  Kim then puts together a personal style and unique image that will help you build your confidence & self worth, thus having the tools to reach a higher level of success in life.

Kim's techniques help many executives be seen and help them to advance in their careers quicker.  Today Kim has dedicated herself to her passion for style and helping people realize their full potential.

"I am motivated daily by the transformations my clients make and seeing them so happy in their own skin."   ~Kim
About Isobel Kershaw ~ Founder of The Stylist London

Isobel has more knowledge and experience than any other stylist in the UK! Not only that, but her skills and knowledge are at executive level which cannot be copied or trained by anyone else.
Her journey started with a friends sewing machine and the production of a satin camisole at the age of 16. She was always creative and had an innate sense of style and creativity that stood out. She pursued a degree in fashion and textiles which she completed successfully before travelling off to Madrid to work with designers Loewe and Alfredo Caral. She qualified as a pattern cutter as well as a designer and uses that knowledge today for tailoring and body shape analysis.
She then came back to London as she was offered a place on the elite Executive training scheme at Harrods. She progressed through the ranks and was chosen by the chairman to train further on the Chairman's senior management programme before she was promoted to Acting Director.
With her in depth skills in retail and fashion, she went into partnership and wrote the first Personal styling training programme which launched in 2008. She trained 100's of wonderful women and men under this partnership, and so many of which still are in contact due to her ultimate promise and passion to singularly help them to achieve their goals.
In 2017 she founded her own company, The Stylist London - and hasn't looked back.
Being authentic in this business sets her apart and she prides herself on having done the time in this industry to give her the edge overall.
Isobel is also a member of  The British School of Etiquette. This academy covers all aspects of etiquette including dress codes, how to dress elegantly, walking in heels, demeanour and creating presence. We also run training for corporates and retailers tailor made to the each brand and company- business excellence and corporate etiquette.
With her background, her retail and styling experience, and her own social lifestyle, she is the perfect trainer for modern etiquette and social intelligence.