Description
Get ready to escape on the newest and most exciting ship on the seas! Norwegian Escape, our most innovative ship ever built, is ready to whisk you away to Bermuda from New York Indulging in every whim is what unforgettable vacations are made of. Get ready to chase sunsets on The Waterfront. Explore a world of exotic flavors with two new restaurants from Iron Chef Jose Garces. Get closer to paradise with two quintessential Jimmy Buffett venues: Margaritaville at Sea and the 5 O'clock Somewhere Bar. Sip on some of Napa's best blends at The cellars, A Michael Mondavi Family Wine Bar. Or try our unique specialty cocktails, hand-crafted by Bar Lab. Be dazzled by Broadway hits like After Midnight. Discover a new world of Freestyle Cruising on Norwegian Escape.
7 Days leaving New York on June 10, 2018 going to Bermuda !!!-
Passports Not Required but highly recommended (must have certified birthcertificate and ID )
To Reserve :Contact Daphne Veazey
https://mybookinggenie.com/bermudaescapefromnyc
www.daphnesdreamyvacations.com
dveazey@daphnesdreamyvacations.com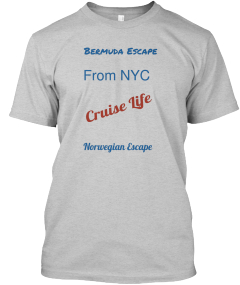 7 Day Bermuda Escape from New York! Apparel
$21.99
We partnered with Teespring to create some awesome merchandise for this event. Show your support and look good wearing it. Check it out!