About this Event
Featuring the work and spaces of seven unique and acclaimed Oakland artists including the art of the late African American Abstract Expressionist and Beat Generation Member, Arthur Monroe. Don't miss this rare opportunity to view Monroe's work, in situ, before it heads into the Smithsonian archives and other museum collections.
This event is Co-hosted by Arthur's son, Alistair Monroe. Wine, beer, cocktails and tasty bites will be provided!
This event is a fundraiser for Oakland Art Murmur.
Your regular price admission includes a one-year membership to Oakland Art Murmur (a $50 value!).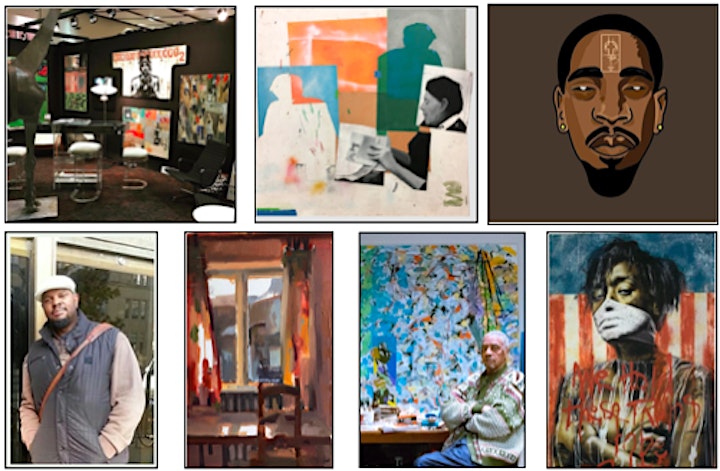 Tour and Open House Featuring:
Cannery Warehouse 5733
Studio 7 - African American Abstract Expressionist and Beat Generation Member, Arthur Monroe. Bay Area poet, writer, musician and columnist in residence at SFMOMA's Open Space, Kit Robinson calls Monroe's work; "A restless, philosophical quest". 

Eddie Colla - 
"If you want to achieve greatness, stop asking for permission". Street artist, Eddie Colla writes; "Public spaces were never intended to be coated from top to bottom with photos of consumer products. These spaces should, in some manner, reflect the culture that thrives in that space."
Douglas Stewart - Douglas Stewart is an art therapist and spoken word artist who has been teaching African Studies in the Bay Area for more than 20 years. He is a griot and art activist who brings his lived and spiritual experiences of the African Diaspora in a colorful array of creative storytelling, prose and the arts in order to challenge, heal and elevate community consciousness toward self preservation through self discovery. Douglas is the founder of the Indigenous House Consulting, a collective that specializes in bringing wellness, the arts and cultural programs to the community and abroad.
Timothy Bluitt - Timothy Bluitt (as an artist he goes by the name Timothy B), is an Oakland painter and muralist. Of his work he says; ""I want people to feel motivated to one, elevate themselves and do whatever they need to do to pursue the greatness within themselves, and two, contribute that to the community and elevate their peers."

Cannery Warehouse 5707
Sara Herrera & Gage Opdenbrouw - Gage Opdenbrouw is a painter, teacher, musician and wood worker.
Brad Long - 
Brad Long operates Curated, a furniture and art shopping experience located on Park Street in Alameda.
Brett Amory - Fine Art painter Brett Amory's recent work explores the time in which we live and how we make sense of the information that surrounds us. He explores the disjointed snapshots that make up our everyday life, and how our unconscious mind assembles these abstract, nonlinear events to attempt to fuse together a logical, linear explanation of our surroundings.
 About The Hosts
Alistair Monroe
With a rich family history of artistry and hospitality, Arthur's son Alistair Monroe was the founder of two festivals: the North Beach Jazz Festival, a vehicle for celebrating the legendary jazz history of San Francisco, and Festac Oakland, a festival of arts and culture, that supports small business and community arts programs. Alistair has managed multiple musical artists, including Bay Area jazz ensemble Mingus Amungus when they toured Havana, Cuba in 1997 and opened up for Carlos Santana, amongst other notables. Alistair also spearheaded the Oakland Cannery residents in protecting their homes, while protecting the first permitted warehouse to be converted into legal live-work artist studios. This should qualify The Oakland Cannery to be recognized as a historic landmark. As an inner-city, community-based, music producer and festival promoter, Alistair's works to enrich and beautify urban environments, and to educate the public about arts and culture through humanitarian platforms. 
Oakland Art Murmur
At Oakland Art Murmur we believe that People Power Art. Our mission is to connect all members of the public to Oakland's visual artists and art spaces. Our vision is for Oakland to become a thriving art ecosystem and creative economy. Oakland Art Murmur is a 501(c)3 non-profit.