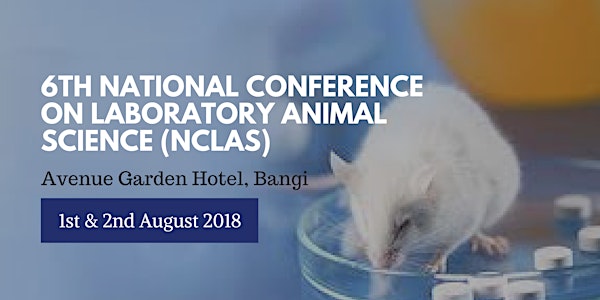 6th National Conference on Laboratory Animal Science (NCLAS) & IACUC Worksh...
Location
Avenue Garden Hotel Bangi
No.3, Pusat Perniagaan Bangi Avenue
Persiaran Bangi Avenue, Seksyen 2
Kajang, Selangor 43000
Malaysia
Description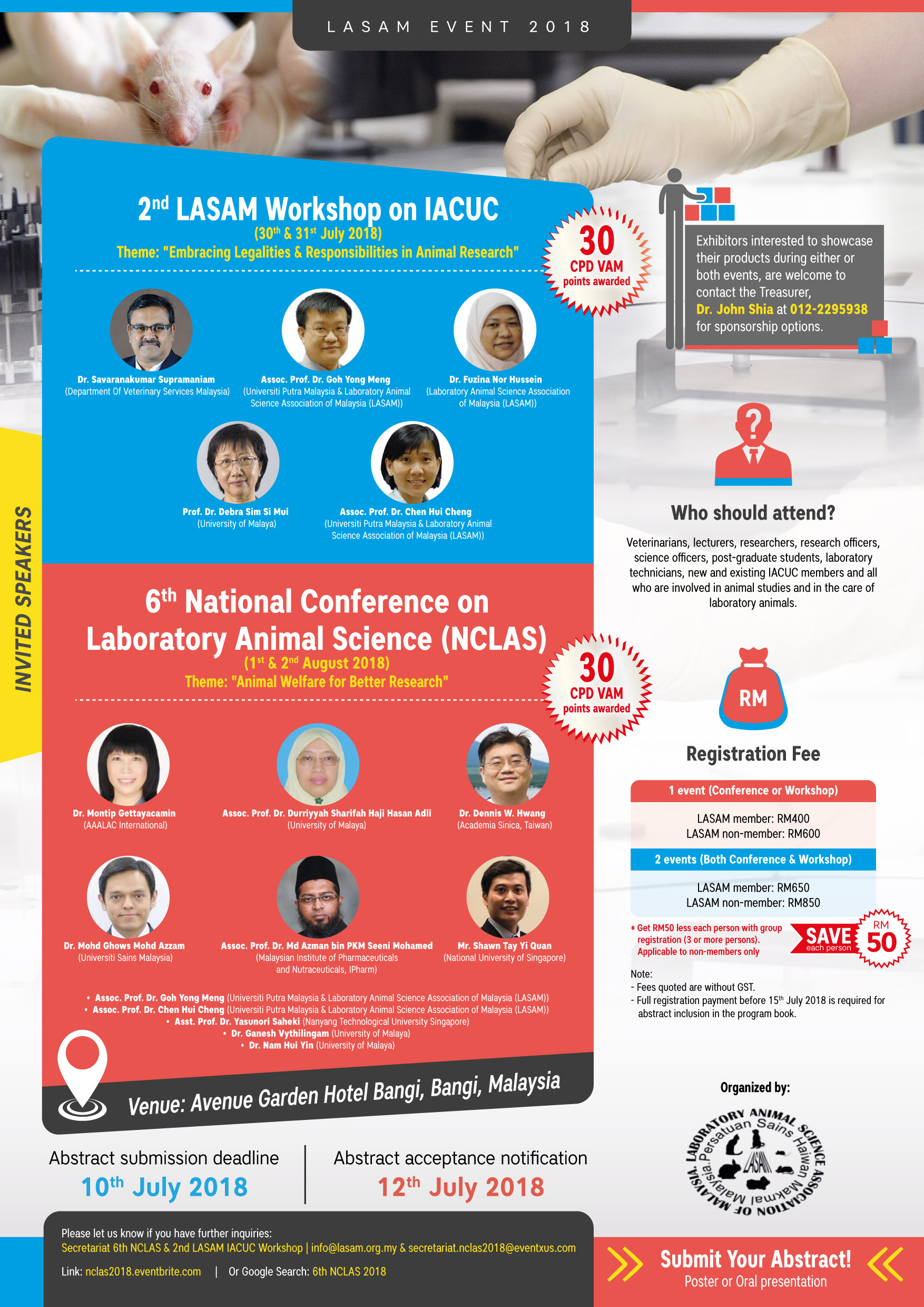 Click HERE for a clearer version

Extended Date:

Abstract Submission Deadline 10 July 2018
Acceptance notification 12 July 2018
This year marks the 6th National Conference on Laboratory Animal Science (NCLAS), a biennial meeting of Malaysian laboratory animal users and members of the Laboratory Animal Science Association of Malaysia (LASAM) which organizes the NCLAS events.
The NCLAS is a platform that allows LASAM to invite local and international experts for knowledge sharing with Malaysian scientists and personnel who care for animals, with the aim of ensuring that the Malaysian community of research animal users is fully and clearly informed of the latest developments within the field, particularly with regards to present-day legislation and welfare requirements. In order to achieve this aim, information sessions planned for the 6th NCLAS include laboratory animal management, updates on welfare and legislation, latest technologies in live animal imaging, research models, and Good Laboratory Practice (GLP) for laboratory animal science.
Who should attend?
Veterinarians, lecturers, researchers, research officers, science officers, post-graduate students, research assistants, assistant science officers, laboratory technicians and all who are involved in animal studies and in the care of laboratory animals.
Invited Speakers:
Dr. Montip Gettayacamin (AAALAC International)

Assoc. Prof. Dr. Durriyyah (UM)

Assoc. Prof. Dr. Goh Yong Meng (UPM/LASAM)

Mr. Shawn Tay Yi Quan (NUS)

Assoc. Prof. Dr. Chen Hui Cheng (UPM/LASAM)

Asst. Prof. Dr. Yasunori Saheki (Nanyang Technological University Singapore)

Dr. Mohd Ghows Mohd Azzam (USM)

Dr. Ganesh Vythilingam (UM)

Dr. Nam Hui Yin (UM)

Dr. Dennis W. Hwang (Academia Sinica, Taiwan)

Assoc. Prof. Dr. Md Azman bin PKM Seeni Mohamed (IPharm)
Conference Topics:
Implementation of the Animal Welfare Act - implications to research facilities in Malaysia.

An IACUC approach to encouraging comprehension and practice of Laboratory Animal Welfare in Malaysia

AAALAC International Up-dates and On-going Programmes

OECD - GLP Compliance Programme in Malaysia

The Challenges of Implementing Good Laboratory Practice Compliance in Animal Research Facility

Laboratory animal training and education to improve laboratory animal welfare

Regulations pertaining to Act772 and its impact on animal research

Pain from the perspective of IACUC, the welfare issue

Functional dissection of intracellular lipid transport via mammalian cell biology and C. elegans genetics

Drosophila melanogaster: A powerful genetic model organism

Bioengineered collagen graft for urethral reconstruction

Mastering animal cartilage models : making the most but minimising the harm
Pre-Conference LASAM Workshop on IACUC - 30th & 31st July 2018
The aim of this workshop is to create awareness of the Animal Welfare Act 2015 and its impact on researchers and institutions that are utilizing animals in research. All institutions that use animals are required to establish an ethics committee comprised of scientists, non-scientist professionals, laypersons and a veterinarian. Beyond the simple set up of an ethics committee, however, is the responsibility of assessing the research applications that are submitted. This workshop will provide in-depth presentations on legislation and related issues pertaining to research, how an ethics committee vets an application, as well as matters of humane endpoint and pain management. There will also be case studies and discussions on non-invasive and invasive uses of animals.
Who should attend?
Institution administrators, new and existing IACUC members, scientists, researchers, and veterinarians.
Workshop Topics:
Regulating the use of animals in teaching and research in Malaysia

Impacts of the Animal Welfare Act 2015 : Responsibilities of institutions, researchers and individuals on teaching and research in Malaysia

Roles of IACUC in Vetting Process

Protocol review - animal pain & distress

Humane Endpoint

Telling IACUC tales – experiences of the University of Malaya Faculty of Medicine

Sample size considerations - realities of application
There will be a forum session at the end of the workshop
---
REGISTRATION FEE:
1 event (Conference or Workshop)
LASAM members: RM400
LASAM Non-members: RM600
2 events (Both Conference & Workshop)
LASAM members: RM600
LASAM Non-members: RM850
---
Accommodation:
Family Deluxe (2 Queen beds / Room) - Normal RM229 // Member RM199
Family Room (1 Queen + 1 Single beds / Room) - Normal RM169 // Member RM139
Executive Queen Room (1 Queen bed / Room) - Normal RM129 // Member RM99
Superior Twin Room (2 Single beds / Room) - Normal RM129 // Member RM99
Single Room (1 Single bed / Room) - Normal RM79 // Member RM60
Getting there:

Nearest station : KTM Bangi Station, follow by 5min Grab taxi to hotel
Parking is available at the hotel at RM3 per entry

Google Map Location, click HERE
---
SEMINAR DAY ONE, 1st AUGUST 2018 (Wednesday)
8.30 - 9.00: Registration
9.00 9.30: TEA- BREAK / BOOTH VISIT / POSTER PRESENTATION / NETWORKING
9.30 – 9.40: Welcome speeches
9.40 – 9.45: Officiating ceremony
9.45 – 10.30: Keynote Talk:
Implementation of the Animal Welfare Act - implications to research facilities in Malaysia.
by Dr Saravanakumar, Department of Veterinary Services Malaysia
10.30 – 10.45: TEA- BREAK / BOOTH VISIT / POSTER PRESENTATION / NETWORKING
MANAGEMENT & HUSBANDRY SESSION
10.45 – 11.15:
An IACUC approach to encouraging comprehension and practice of laboratory animal welfare in Malaysia
by Assoc. Prof. Dr. Durriyyah Sharifah Haji Hasan Adli, IBS, Faculty Of Science, University of Malaya
11.15 – 11.45:
AAALAC International up-dates and on-going programmes
by Dr Montip Gettayacamin, Senior Director for Southeast Asia, AAALAC International
11.45 – 12.00: PLATINUM SPONSOR TALK
GENERAL TOPICS ON GLP
12.00 – 12.30 : Puan Fariza Wan Abdullah, Senior Principal Assistant Director, Jabatan Standard Malaysia
12.30 – 1.00:
The challenges of implementing Good Laboratory Practice compliance in an animal research facility
by Assoc. Prof. Dr. Md Azman bin PKM Seeni Mohamed, IPharm
1.00 PM – 2.30: LUNCH- BREAK / BOOTH VISIT / POSTER PRESENTATION / NETWORKING
WELFARE & LEGISLATION
2.30 – 3.00:
Laboratory animal training and education to improve laboratory animal welfare
by Mr. Shawn Tay Yi Quan, Senior Laboratory Executive (Training & Education) National University of Singapore
3.00 – 3.30:
Regulations pertaining to Act772 and its impact on animal research
by Assoc. Prof. Dr. Goh Yong Meng, Department of Veteinary Preclinical, Faculty of Veterinary Medicine, UPM
3.30 – 4.00:
Pain from the perspective of IACUC, the welfare issue
by Assoc. Prof. Dr. Chen Hui Chen, Dept. of Companion Animal Medicine & Surgery, Faculty of Veterinary Medicine
4.00 – 4.15: GOLD SPONSOR TALK - SIEMENS
4.15 - 5.00 : TEA- BREAK / BOOTH VISIT/ POSTER PRESENTATION / NETWORKING
---
SEMINAR DAY TWO, 2nd August 2018, (Thursday)
ALTERNATIVE MODELS IN ANIMAL RESEARCH
9.00 – 9.30:
Functional dissection of intracellular lipid transport via mammalian cell biology and C. elegans genetics by Assistant Prof. Dr. Yasunori Saheki, Nanyang Technological University, Singapore
9.30 – 10.00:
Drosophila melanogaster model in Malaysia,
by Dr Mohd Ghows Mohd Azzam, School of Biological Science, University Sains Malaysia
10.00 – 10.30: TEA- BREAK / BOOTH VISIT / POSTER PRESENTATION / NETWORKING
IMAGING
10.30 – 11.00:
Animal MRI (full title TBA)
by Dr. Hwang Dennis W, Director of Animal Magnetic Resonance Imaging Facility, IBS of Biomedical Sciences, Academia Sinica, Taipei, Taiwan
11.00 – 11.30:
Animal MRI (full title TBA)
by Dr. Yu Wen-Chen, Institute of Biomedical Sciences, Academia Sinica, Taipei, Taiwan
TRANSLATIONAL RESEARCH
11.30 – 12.00:
Bioengineered collagen graft for urethral reconstruction
by Dr. Ganesh Vythilingam, Department of Surgery, Faculty of Medicine, University Malaya
12.00 – 12.30:
Mastering animal cartilage models : making the most but minimising the harm
by Dr. Nam Hui Yin, Department of Orthopaedic Surgery, Faculty of Medicine, University Malaya
1.00 PM – 2.30: LUNCH- BREAK / BOOTH VISIT / POSTER PRESENTATION / NETWORKING
FREE COMMUNICATION
2.30 – 4.30: ORAL PRESENTATIONS
4.30 – 5.00: CLOSING CEREMONY
TEA- BREAK / BOOTH VISIT
POSTER PRESENTATION
NETWORKING