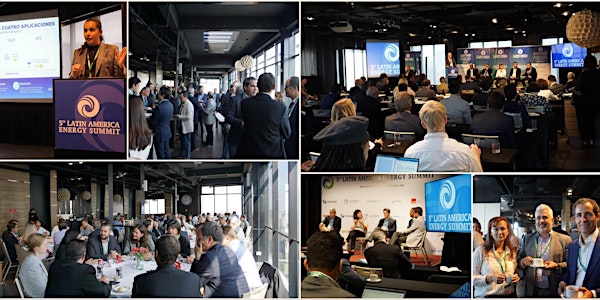 6th Latin America Energy Summit 2023 - Chile
The Latin America Energy Summit - the premier energy event for South America. Renewable energy, power generations, and natural gas in focus
When and where
Location
DoubleTree by Hilton Hotel Santiago - Vitacura 2727 Avenida Vitacura Las Condes, Región Metropolitana Chile
About this event
1 day 7 hours

Mobile eTicket
Register before February 13, 2023 and save US$800!
If you would like to pay in Chilean Pesos via bank transfer, contact: info@latamenergysummit.com
The 6th Annual Latin America Energy Summit (www.latamenergysummit.com) takes place at the Hilton Doubletree Hotel in Santiago, Chile on April 19-20, 2023 and gathers regional energy companies, engineering firms, infrastructure project developers, construction companies, investors and government officials to discuss opportunities revolving around the evolving energy industry in Latin America.
Register today and guarantee your spot! Group discounts available
​During the two day conference, industry experts and colleagues from Chile, Colombia, Peru, Brazil, Argentina, Canada, the United States and Europe, discuss the evolving business opportunities related to energy investments in Latin America. Significant attention is placed on the infrastructure projects related to renewable energy from wind, solar, and hydroelectric sources, as well as the role of hydrocarbons and natural gas in fueling power plant demand as well as transportation logistics. ​ 
Some of our previous speakers include: 
Claudio Huepe Minoletti, Ministro de Energía, Chile
Juan Carlos Olmedo, President, Coordinador Eléctrico Nacional (Chile)
Axel Leveque, CEO, Engie Chile
Alfredo Solar, CEO, Atlas Renewable Energy Chile
Asunción Borrás, Senior VP Business Development H2BU, Engie Chile
Helmut Kantner, CEO, AustriaEnergy
Sebastián Fernández Cox, VP Business Development, Transelec
Camila Manzano, Country Head, EDC Chile
María Paz de la Cruz, CEO, H2 Chile
Aurelio Bustilho, CFO, Enel Américas
Sergio Romero, Regional Commercial Manager Natural Gas Natural, YPF
Andrés García Novel, Energy Lead Latin America, IFC
Mario Gómez, President, TCI Gecomp
Daniel Cámac, Commercial Vice President, ENGIE Energía Perú
Gustavo Anbinder, Power business manager, GENNEIA
Ana Lía Rojas, Executive Director, ACERA
Alberto Solís, Head of Latin America, Elecnor
Alejandro Pérez, Senior Upstream Investment Officer, IFC
Rory Harding, VP Corporate Development, Neogreen Hydrogen Corp
Alejandro Moreno, VP Americas, Canadian Solar
Katherine Orozco, Hydrogen Lead, Ecopetrol
Patricio Salazar, Foudner and CEO, GPS Group
Rodrigo Jiménez, General Manager, SYSTEP
Pablo Alberio, Regional Director of New Business, Cinergia
Santiago Caniggia, Co-Founder and Managing Partner, Mountain Chile
Emilio De la Jara, CEO, Capta Hydro
Nicola Borregaard, General Manager, EBP Chile
Jesús Tamayo, Director, COES Perú
Alvaro Ríos, Founding Partner, Gas Energy Latin America
Carlos Cabrera, President, Acesol
Rodrigo Violic, Clean Energy Advisor Chile, Roc Global
Grace Keller, Director, GK Energy Media
Arturo Brandt, Green Senior Broker & Environmental Lawyer & Consultant, TFS
Christopher Lenton, Senior Editor México & Latam, Natural Gas Intelligence
Arthur Deakin, Co Director, Energy Practice, Americas Market Intelligence
Felipe Ribbeck, CEO & Founder, C3 Energía
Jorge Moreno, CEO, Inodú
and more
Competitiveness and increased productivity are crucial in today's operating environment. Don't miss this unique opportunity to develop the strategic business relationships necessary to succeed in this market.
​* Simultaneous translation will be provided.
ESPAÑOL
Identificando los cambios y oportunidades en una nueva época para la industria energetica de América Latina y Sudamerica
Durante el 19-20 de abril de 2023 desde Santiago de Chile, el 6th Latin America Energy Summit 2023, reunirá inversionistas, operadores, empresas energeticas, autoridades, proveedores, empresas de servicios, consultores y financistas para discutir el entorno de negocios que se está gestando alrededor de los proyectos energeticos en la region de Sudamerica. El foro hara un especial énfasis en las oportunidades y desafios de Colombia, Peru, Chile, Argentina y Brasil.
​No pierda esta oportunidad única de construir nuevas y estratégicas relaciones de negocios con sus pares en la región.