Description
About Conference
Conference Series LLC invites all the participants from all over the world to attend 6th International Congress on Bacteriology and Infectious Diseases during May 21-22, 2018 in New York , USA which includes prompt keynote presentations, Oral talks, Poster presentations and Exhibitions.
Bacteriology 2018 is providing a global platform for research that affords new insights into Microbiology, Molecular bacteriology, Clinical diagnostic bacteriology, Bacterial infections, Industrial bacteriology, Immunology and Infectious Diseases. Infectious diseases are those which are caused by bacteria like E.coli, Salmonella, H.pylori, N.gonorrhoeae, N.meningitidis, S.aureus, and S.bacteria. It includes diseases like pneumonia, meningitis, gastroenteritis, urinary tract infections. The drugs used to treat such bacterial infections are called Antibiotics. Especially in US about $ 44.68 billion is expected to reach by 2017.In the period of 2005-2011, there is a growth rate of 6.6% annually. The manufacturing of antibiotics has increased gradually these days, so global demand for aminoglycoside antibiotics is about 79%, pencillin 8%, tetracyclines 4%, erythromycin 7%, streptomycin 1% and chloramphenicol shares about 1% in the antibiotic market globally. The consumables, equipment and technology markets in the microbiology industry totaled nearly $7.7 billion in 2012. This total is expected to grow from $8.5 billion in 2013 to $11.4 billion in 2018, with a compound annual growth rate (CAGR) of 6.1% for the five-year period, 2013 to 2018.
Files from Microsoft outlook, Gmail, Google Drive, WE Transfer are also accepted for video and poster presentation.
Market Analysis
Importance and Scope:
Bacteriology has become progressively important to human society. It has emerged as one of the most important branches of life sciences. As microbes practically affect all activities of our life like, food, clothing, shelter, health hygiene etc., microbiology has made vast progressive strides in all these fields in little less than a century to improve the quality of our life. Infectious diseases have almost been conquered by new drugs, quality of agricultural crops improved by using techniques of genetic engineering, new varieties of wines, liquors have been produced- all these are possible only because of microbiology. All these will make us wonder how our life would have been without the knowledge of microbiology.
Major Bacteriology and Infectious Disease Associations Around the Globe:

European Society of Clinical Microbiology and Infectious Diseases
International Union of Microbiological Societies
Society for general Microbiology

Federation of Infection Societies
Canadian Society of Microbiologists
British Infection Association
Federation of European Microbiological Societies
Welsh Microbiology Association
Clinical Virology Network
Infectious Diseases Society of America

American Society for Microbiology

Top Universities Associated With Bacteriology:


Figure 1: Top Universities Associated With Bacteriology
Source: Reference: 8

Top Universities in USA: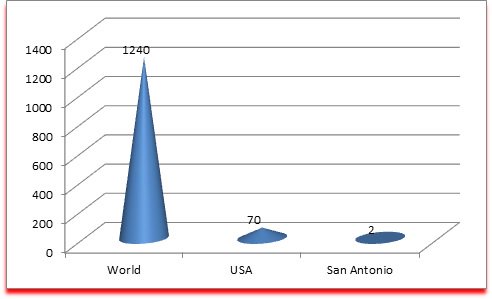 Figure 2: Top Universities in USA

Target Audience:
Industry 63%
Academia 30%
Others 7%



Figure 3: Target Audience

Source: Reference 3


Companies Associated with Bacteriology




Figure 4: Companies Associated with Bacteriology

Source: Reference 4

Statistical Analysis of Associations:


Figure 5: Statistical Analysis of Associations

Source: Reference 6

Percentage of Revenue Contribution for Research on Bacteriology:


Figure 6: Percentage of Revenue Contribution for Research on Bacteriology


Top global pharmaceutical companies manufacturing antimicrobial products:
1) Pfizer
2) Merck and Co
3) Johnson and Johnson
4) GlaxoSmithKline
5) Bristol-Meyers Squibb
6) Aventis
7) Pharmacia
8) Novartis
9) F. Hoffmann-La Roche
10) Astra Zeneca
11) Abott Laboratories
12) Wyeth
13) Eli Lilly and Co
14) Schering Plough
15) Bayer
Speakers

Menachem Shoham
Case Western Reserve University , USA

Richard G. Brennan
Duke University School of Medicine , USA

Brigitte Lamy
Montpellier University , France

Paul Jeffrey Freidlin
The National Public Health Laboratory , Israel

Joanna S. Brooke
DePaul University , USA

Robert J. Maier
University of Georgia , USA

Gee W Lau
University of Illinois at Urbana Champaign , USA
Amin A Fadl
University of Wisconsin Madison , USA

Eyal Gur
Ben Gurion University of the Negev , Israel

Miroslav Pohanka
University of Defense , Czech Republic

Turkan Sakinc
University of Freiburg Medical Center, Germany

B.Y.Chin
Sun way University , Malaysia

Pontus Nordenfelt
Harvard University , USA

Sylvie Alonso
National University of , Singapore

Nermin H. Ibrahim
King Saud University, Saudi Arabia

Amer Hayat Khan
Universiti Sains , Malaysia

Min Fang
CAS Key Laboratory, China

Herve M. Blottiere
INRA , France

Nadia Izadi Pruneyre
Institut Pasteur , France

Jong Hyun Ham
Louisiana State University Agricultural Center , USA

Jong Hyun Ham
Louisiana State University Agricultural Center , USA

Wanda C. Reygaert
Oakland University , USA

Ganapati H. Mahabaleshwar
Case Western Reserve University , USA

Rahul Saxena
Georgetown University Medical Center , USA

Mari Anne Newman
University of Copenhagen, Denmark

John G Thomas
West Virginia University , USA

Kathryn S Moffett
West Virginia School of Medicine , USA

Daifulah ALZahrani
King Abdulaziz Medical City , Saudi Arabia

Hitender Gautam
Chacha Nehru Bal Chikitsalaya , India

Makondo E. Zachariah
Sokoine University of Agriculture , Tanzania

Shobhona Sharma
Tata Institute of Fundamental Research , India

Suchismita Acharya
AyuVis Research LLC , USA

Mahasen Wadi
King Saud University , Saudi Arabia

Kashi Nath Prasad
Sanjay Gandhi Postgraduate Institute of Medical Sciences , India

Katherine Bowden
Centers for Disease Control and Prevention , USA

Kei Amemiya
US Army Medical Research Institute of Infectious Diseases , USA

Phillip E. Klebba
Kansas State University , USA

Abu Salim Mustafa
Kuwait University , Kuwait

Ilaria Ferlenghi
Novartis Vaccines Research Centre , Italy

Francis J. Castellino
University of Notre Dame , USA

Andrei P. Pomerantsev
National Institute of Allergy and Infectious Diseases , USA

Jingrang Lu
US Environmental Protection Agency , USA

Rahul Saxena
Georgetown University Medical Center , USA

Gloria Soberon-Chavez
National Autonomous University of , Mexico

Seiichi Katayama
Okayama University of Science , Japan

Ling Zhan
University of California , USA

Amin A. Fadl
University of Wisconsin-Madison , USA

Winka LE CLECH
Texas Biomedical Research Institute , USA

Sarah Othman
Universiti Putra , Malaysia

Abha Aggarwal
ICMR , India

Joyce A. Sutcliffe
Tetraphase Pharmaceuticals , USA

B.Y.Chin
International Medical University , Malaysia

Thea Sesardic
National Institute for Biological Standards and Control , UK

Kwang Poo Chang
Rosalind Franklin University of Medicine and Science , USA

Andrei A. Korostelev
University of Massachusetts Medical School , USA

Vjollca H. Konjufca
Southern Illinois University,USA , USA

Mitsuoki Kawano
Niigata Univ.of Pharm,Japan , Japan

Patrick Fickers
Universite libre de Bruxelles , Belgium
Ghassan M Matar
American University of Beirut , Lebanon

María M. Tavío
University of Las Palmas de Gran Canaria , Spain

Yogandree Ramsamy
University Of Kwa Zulu Natal , South Africa

Pisespong Patamasucon
University of Nevada School of Medicine , USA

Mohamed K Fakhr
The University of Tulsa , USA

Alejandro Yañez
Southern University of , Chile


Agenda