Description

6th India Study Tour:
Textiles + Art + Architecture
Led by Yoshiko I. Wada

Main Tour: 10 – 28 February 2019
Ahmedabad → Kutch → Kochi → Munnar → Pollachi
Kochi-Muziris Biennale + Natural Dye International Forum

Post-Tour Extension: 28 February – 05 March 2019
Sri Lanka



JAMA MASJID WITH MINARETS, ROBERT MELVILLE GRINDLAY, 1809

Led by textile scholar and Slow Fiber Studios founder Yoshiko Iwamoto Wada, the 6th India Study Tour focuses on local textile craft, inventive traditional and contemporary art, and historic architectural sites by traveling to some of India's most vibrant cultural centers.
Explore the contemporary art exhibitions at the Kochi-Muziris International Biennale; exchange ideas and broaden your dyeing knowledge at Aranya Naturals in Munnar; visit with collectors, artists, and designers at their private homes and studios; wander through the collections at key museums and galleries; engage in hands-on workshops with local artisans; enjoy local cuisine and overnight stays at traditional inns and historic haveli townhouses.
---
DETAILS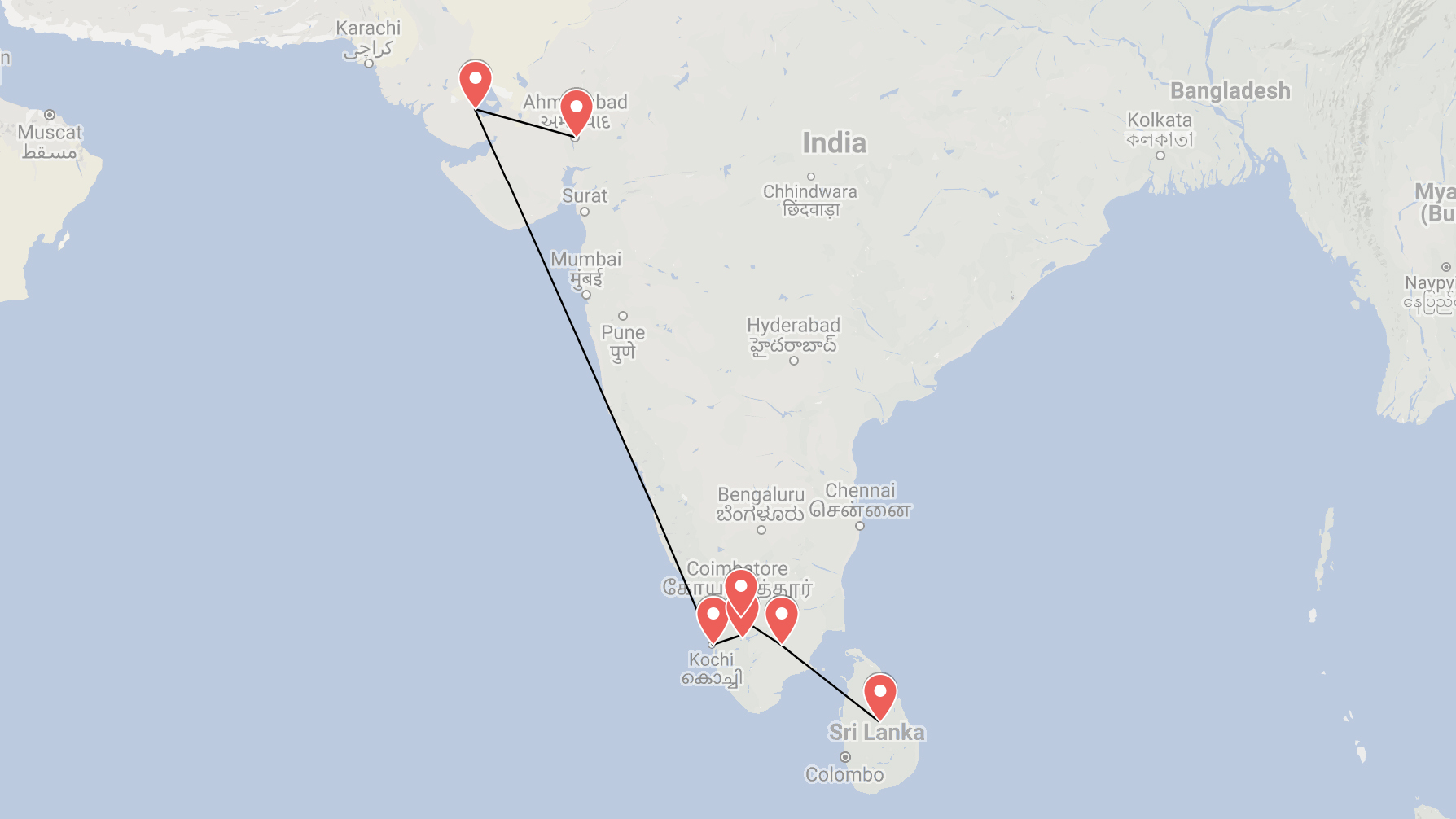 Main Tour: 10 – 28 February 2019
Registration: 5,400 USD
Single Supplement Estimate: TBD
Length: 17 Days, 18 Nights
Arrive: 10 February, Ahmedabad
Depart: 28 February, Pollachi (Coimbatore International Airport)
Destinations: Ahmedabad (4 Nights) → Kutch (4 Nights) → Kochi (3 Nights) → Munnar (5 Nights) → Pollachi (2 Nights)
Lodging: 18 nights of shared accommodations
Transport: Private and public transport between cities and venues
Maximum Participants: 16

Post-Tour Extension: 28 February – 05 March 2019
Registration: 1800 USD
Single Supplement Estimate: TBD Length: 5 Nights, 5 Days Arrive: 28 February, Sri Lanka Depart: 05 March, Sri Lanka
Destination: Sri Lanka
Lodging: 5 nights of shared accommodations, including 2 night-stay at Heitance Kandalama designed by Geoffrey Bawa
Transport: Private and public transport between cities and venues
Maximum Participants: 10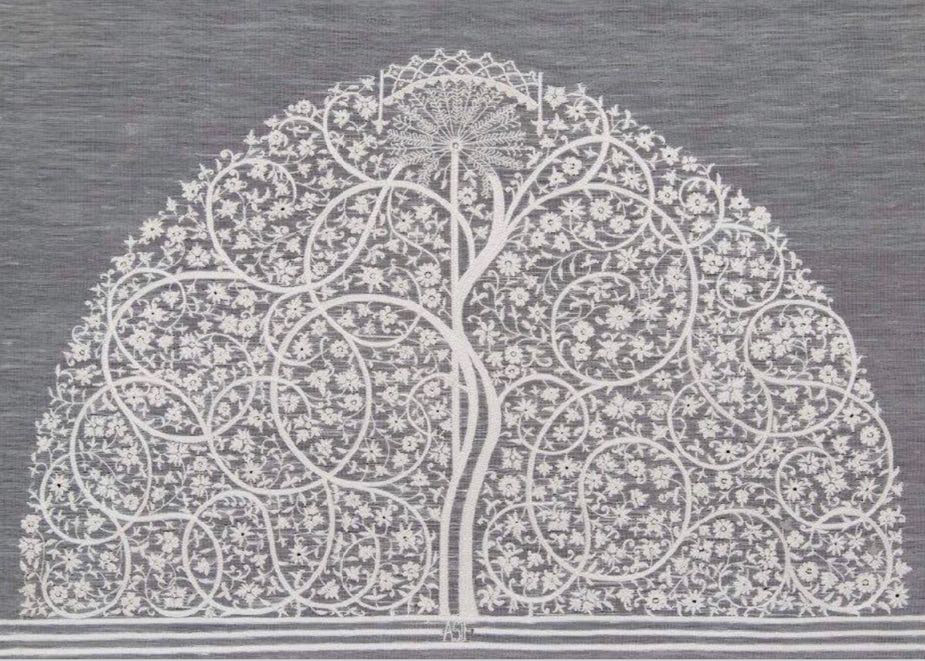 SACRED GEOMETRY, A MASTER EMBROIDERER'S ODE TO AHMEDABAD, ASIF SHAIKH

Registration + Deposits
Please carefully read Slow Fiber Studios Study Tour Policies. Study Tours are only open to World Shibori Network members. Learn more about membership privileges on the World Shibori Network Membership website.
Registration includes transport between cities and venues, accommodations, entrance fees to museums and historical sites, and select meals.
Among other things, you are responsible for purchasing your own airfare (international and domestic) and travel insurance.
Main Tour Participants please purchase this flight: Bhuj>Kochi
Main Tour + Post-Tour Participants please purchase this flight: Coimbatore>Colombo
Some activities are optional, including an opportunity to study with natural dye master Michel Garcia and the Aranya Social Welfare project's artisans in Munnar. Additionally, you may choose to work with the Aranya master dyers and artisans of shibori, woodblock printing, and wax-resist dyeing to create unique scarves and shawls in Indian cotton, silk, and pashmina. You will also have the opportunity to take a special shibori workshop with Yoshiko I. Wada, President of World Shibori Network. Lunch & materials are included in the workshop fee.
Purchasing a deposit guarantees you a place in this program. When tour registration opens, the full deposit will be applied to the registration cost.

Refund Policy
View Slow Fiber Studios refund policies on the Study Tour Policies page. Contact us at staff@yoshikowada.com to request a refund.
---
TOUR LEADER




Yoshiko Iwamoto Wada
Yoshiko is an artist, curator, textile scholar, president of World Shibori Network, founder of Slow Fiber Studios, producer of the Natural Dye Workshop film series, and co-chair of the 1st – 11th International Shibori Symposiums. A Berkeley resident since 1973, she continues to lead a wide range of workshops, lectures, tours, and international symposia, emphasizing sustainability, tradition, and innovation in design.
www.yoshikowada.com

---
Banner: 5th India Study Tour, Courtesy of Jan Etre, 2017
For questions, please contact us at staff@yoshikowada.com.