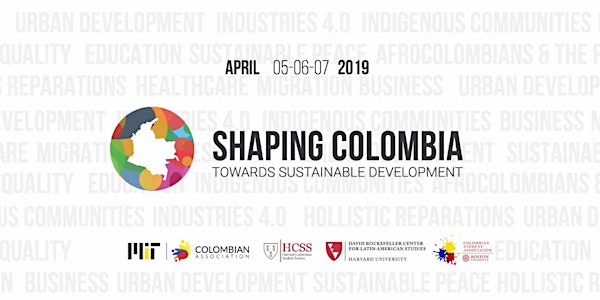 6th Colombian Conference - Shaping Colombia
Location
Boston University, Harvard University & MIT
Boston and Cambridge, MA 02215
Description
Tickets available here for Friday, April 5 or Sunday, April 7.
Tickets for Saturday, April 6: SOLD OUT
Colombia has set a roadmap to implement the Sustainable Development Goals (SDGs) and multiple efforts have been made both in the public and private sector towards achieving its milestones. Although there is still much to be done, numerous grass-roots organizations, public and private companies, and the government in Colombia are actively responding to the challenges posed by the SDGs.
Hosted by Harvard Colombian Student Society, the MIT Colombian Association, and Boston University Colombian Student Association, the 2019 VI Colombian Conference mission is to raise awareness and to help augment these initiatives. The conference will provide an academic setting to present recommendations and foster an open, critical, and interdisciplinary dialogue between stakeholders, scholars, students, and the general public.
Confirmed Keynote Speakers:
- Juan Manuel Santos, Nobel Peace Prize Winner and former Colombian President
- Brigitte Baptiste, executive Director Alexander von Humboldt Biological Resource Research Institue
- Juan Carlos Mora, Bancolombia CEO
- Elsa Noguera, Former Ministry of Housing, City and Territory
- Simón Mejía, Bomba Estereo, Proyecto Siembra
Panels:
1. Sustainable Business
2. Industries 4.0
3. Life plans of the indigenous communities of Colombian towards the SDGs
4. Empowering Women & Girls: Evidence from the field to foster development and equality
5. Human Rights Defenders fighting to make Peace Sustainable
6. Holistic Reparations
7. Sustainable Cities
8. Sustainable Development? Afro-descendant Identity, Territory, and Representation in the Colombian Pacific Region
9. Family, School, and Community: Scenarios and Context for Early Childhood Education in Colombia
10. Migration: challenges for Colombia and the region
11. Ensuring healthy lives and promoting the well-being of the Colombian population
Friday 04/05 at Boston University
Questrom Auditorium, 595 Commonwealth Avenue, Boston, MA, 02215
Saturday 04/06 at Harvard University
CGIS South, Tsai Auditorium S010, 1730 Cambridge Street, Cambridge, MA 02138
Sunday 04/07 at MIT
Wong Auditorium, 2 Amherst St, Cambridge, MA 02142
Click here for a complete schedule
Thanks to the generous contributions of our supporters, this Conference is open the public and offers free entrance to all interested attendants. Your voluntary donations will help the organizing team to cover the main expenses of this event.
Keep in mind that the auditoriums have a limited capacity that cannot be exceeded. Entrance will be granted on a first come, first served basis. Please plan accordingly and arrive on time for every activity.
In order to attend all three days of the conference, please register for each day separately.
Due to the high demand for tickets, please cancel your order if unable to attend.