6th Canadian EdTech Leadership Summit Presented by MindShare Learning

Tuesday, October 27, 2015 from 8:00 AM to 6:00 PM (EDT)
Event Details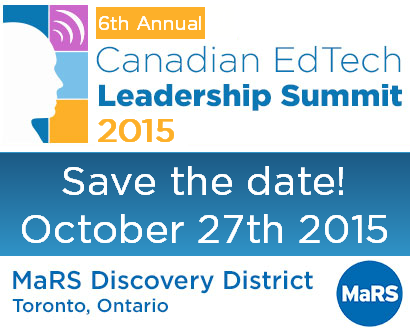 Join fellow education and industry leaders for this one-day Summit opportunity to learn, connect and gain valuable knowledge from leading global educational technology experts.
MindShare Learning is pleased to host the 6th Annual Canadian EdTech Leadership Summit in support of our mission to push the 21st Century learning envelope in Canada and strengthen the connection between education and business.
This one-day summit will focus on current hot topics in the K-12 and post-secondary education technology space, aiming to further engage stakeholders in shaping today's direction of a vital sector.
This year's theme is...
Redefining the Canadian Learning Landscape
Keynote speakers include:
Jordan Tinney, Superintendent, Surrey District School Board, B.C.

Dr. Jordan Tinney is Superintendent of Schools & CEO of the Surrey School District in Surrey B.C.  Prior to joining Surrey Schools as Deputy Superintendent in 2012, Jordan was Deputy Superintendent in Vancouver School District and Superintendent/CEO in Comox Valley School District on Vancouver Island. Jordan began his career in the oceanography industry where he was an Electronics Engineering Technologist. He is a founding C21 Canada Academy Board member. Through Jordan's leadership Surrey  School District was recently honoured with the International Society for Technology in Education (ISTE)  2015 Sylvia Charp Award for District Innovation in Technology. The award recognizes a school system for exhibiting effectiveness and innovation in the application of technology.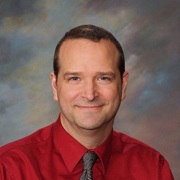 ---

Professor Sidneyeve Matrix, Associate Professor at Queen's University, ON

Sidneyeve Matrix is Queen's National Scholar and Associate Professor of Media and Film. She teaches courses in digital communications, culture, and commerce. An Educator in Residence at The Centre for Teaching and Learning at Queen's, Sidneyeve is the recipient of the OUSA Award for Excellence in Teaching at Queen's University, by the Alma Mater Society and the Ontario Undergraduate Student Alliance. Her educational technology initiatives and research have been featured in University Affairs Magazine, Maclean's Magazine, Yahoo!, MSN.ca, Canada.com, The Toronto Star, The Globe and Mail, and elsewhere.
---
 
Brian Aspinall, Teacher, Lambton Kent District School Board, ON
Brian is an intermediate public school teacher in Chatham who currently resides in Blenheim, Ontario. As a Computer Science graduate from the University of Windsor, he also develops web applications for the educational community in order to further the progression of 21st century teaching. He is a firm believer in progressive education and when not teaching, coaching sports or developing software, you can find him knee deep in a long afternoon of retro gaming or lost in social media collaborating with others.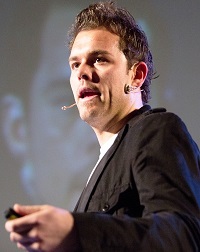 ---
Lane Merrifield, Founder of Club Penguin, Acquired by Disney, Now CEO of FreshGrade, an EdTech Start-up 
Lane Merrifield is co-founder and CEO of FreshGrade, a learning collaboration and portfolio tool focused on the challenges facing teachers, parents, and students in the 21st century classroom. Prior to starting FreshGrade, Lane was co-founder and CEO of Club Penguin and Executive Vice President of Disney Interactive.  Lane worked to help create and launch Club Penguin and joined the Walt Disney Company after they acquired it for $350M.  
Lane has always had a passion for the convergence of art and technology in solving large problems.  He and his team won a BAFTA Award and a Webby Award.  Lane has received an Honorary Fellows Award, several leadership awards, and was listed as one of The Hollywood Reporters Top 35 Executives under 35.  Most recently he has been appointed to the University of British Columbia's Board of Governors.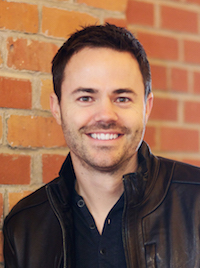 ---
Cross Canada Check-up - moderated by Bill Hogarth & Robert Martellacci 
1. Mistene Clapp, Teacher at Limestone District School Board & MindShare National Video Challenge winner (Central Canada) 
2. Maxim Jean Louis, CEO, Contact North 
3. Dr. Ron Owston, Dean, York University Faculty of Education
4. Student, TBA
5. Dr. Gina Cherkowski, Director of Learning STEM Alberta 
6. Dr. Jordan Tinney, Director, CEO, Surrey District School Board

Round Tables
1. C21 Canada Shifting Minds 3.0: Redefining the Learning Landscape in Canada 
2. I ofT The next digital revolution 
3. Harnessing the power of  BIG Data in Education 
4. EdTech Startups: The Art of starting and thriving
5. K12 E d Tech Trends & Opprtunities: Results of the 4th national leadership survey
6. The 'Unconference' Round Table: Current Issues in EdTech
7. Emerging trends with STEM/STEAM and Maker movement 
8. eLearning/Blended and Open Learning: Exploring Challenges and Opportunities
When & Where

Mars Discovery District
101 College Street
Toronto, ON M5G 1L7
Canada

Tuesday, October 27, 2015 from 8:00 AM to 6:00 PM (EDT)
Add to my calendar
Organizer
MindShare Learning is Canada's leading EdTech Strategy, News and Events organization. We counsel education and industry leaders in understanding the emerging needs of learners to succeed in the 21st Century knowledge-based global economy.