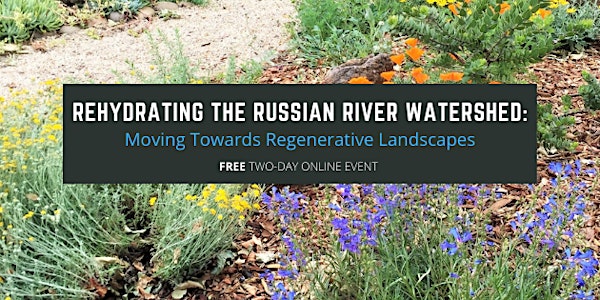 6th Biennial Russian River-Friendly Landscaping Event - Two Day Event!
The Russian River Watershed Association is pleased to present the 6th Biennial Russian River-Friendly Landscaping Event.
About this event
DAY ONE: 6th Biennial Russian River-Friendly Landscaping Event
Details: Tuesday, February 2 from 1:00 PM to 3:30 PM
Come learn how landscape professionals can help to restore community and climate resilience through applying nature's own strategies during this two-day event discussing the emerging science and practice of long-term rehydration of landscapes and regions.
On Day One, join keynote speaker Didi Pershouse, founder of the Land and Leadership Initiative, and author of Understanding Soil Health and Watershed Function; and The Ecology of Care: Medicine, Agriculture, Money, and the Quiet Power of Human and Microbial Communities for a deep dive participatory workshop on whole-systems thinking about landscape function.
Didi will show how California's water cycle has been broken, and key intervention points for restoring it--in particular how a healthy landscape should act like a sponge: soaking up rain and storing water to provide a longer green growth season, while providing resilience for land owners and their communities in the face of wildfire, drought, and flood events.
She will demonstrate why a landscape with a healthy 'soil sponge' provides widespread social, environmental, and economic benefits including:
Water conservation
Reduction of wildfire risk
Resilience to flood and drought
Reduced erosion, dredging, and road repairs
Cleaner air
Cooler temperatures
Prevention of algae blooms and dead zones in streams
Improved health and immunity for plants, trees, humans, and other species
Increased biodiversity
Putting atmospheric carbon to work creating life and living systems
Didi will offer frameworks for decision making, and engage participants in lively discussions during breakout sessions.
DAY TWO: 6th Biennial Russian River-Friendly Landscaping Event
Details: Wednesday, February 3 from 1:00 PM -3:00 PM
On Day Two, Didi Pershouse and renowned Australian microbiologist and climate scientist Walter Jehne will offer examples of successes from around the world in rehydration of landscapes, restoring regional rainfall, and flood, drought, and wildfire prevention.
They will offer practical strategies for managing urban lands, forests, and farmland with limited water resources to provide a water continuum, including the potential for:
Harvesting atmospheric water through vegetation, dew ponds, and built structures
Waking up microbes in the soil to turn on metabolic water cycling
Providing plants with symbionts that can access hidden water in soils.
Reconnecting coastal and inland rain cycles
Reducing wildfire damage through kickstarting fungal processes
For additional information on Russian River-Friendly Landscaping, please visit: www.rrwatershed.org/project/rrflg