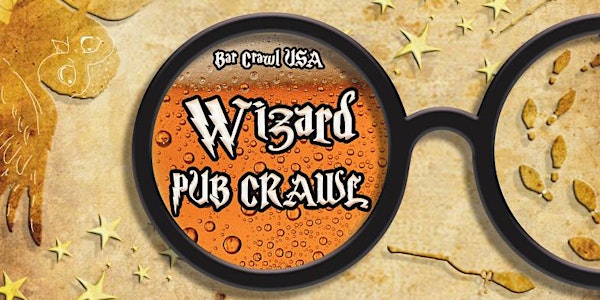 6th Annual Wizard Pub Crawl - Cincinnati
Accio all Wizards, Witches, and Muggles in Cinci! Join us for The 6th Annual Wizard Pub Crawl.
When and where
Location
OTR Check in coming soon! OTR Check in: 2pm-4pm Cincinnati, OH 45202
Refund Policy
Refunds up to 7 days before event
About this event
Accio all Wizards, Witches, and Muggles in Cinci! The Wizard Pub Crawl is here on 10/8 and we want you to join hundreds of others as we celebrate wizardry, drink potions, and party all night long.
Bar Crawl Ticket:
⚡ Wizard Wand & Wand Box Upon Registration
⚡ Discounted themed drink specials
⚡ Live Potter Trivia
⚡ Registration party to kick off the crawl
⚡ House Certificate at After Party
⚡ Best Dressed Contest + Prize
Bar Partners:
⚡On the Rhine Eatery: Registration
-Trivia from 2:30pm - 4:30pm
$5 Patroness: Blanco tequila, fresh lemon and blue curacao shots
$4 BUTTERBEER: Dos Equis Amber splash of butterscotch schnapps
$4 SNAPES'S SANGRIA: Red wine sangria with magical/tropical fruit laced with Kentucky bourbon
$4 TAFT'S FRISCHS PUMPKIN PIE ALE rimmed with golden flow powder
$3 NA BUTTERBEER gingerbeer with vanilla simple syrup
Food Specials.
Grill 1883. Golden Snitch Puppies $5
Decibel . Quiddich Cordogs $5
Dope Wizard Wings $10
⚡Copper & Flame Stop #2
$3 Miller Lite Muggle Pints
$6 Butterbeer: Cream Soda, dark rum, butter schnapps, & whipped cream
⚡Revel OTR: Stop #3
$4 Bogart Shot: vodka, triple sec, lemon juice. Shaken & strained over shot glass.
$4 Pork Key Shot: cranberry juice, vodka, & peach schnapps.
$6 Felix Felicis Cocktail: simple syrup, lemon juice, ginger beer, & champagne.
⚡The Hub: Stop #4
$8 Golden snitch cocktail: Whiskey, apple cider, ginger beer & lemon ($8)
$6 Sorting hat shot: Prickly pear purée, vodka, lime.
$6 Sorcerers stone shot: Orange juice, vodka, peach schnapps
⚡Drinkery: Last stop till 9pm.
-House certificate pickup 7pm-8pm
$4 Butter Beer Shot
$5 Fawkes's Tears
$6 Dementor Drink
*more to come*
FAQ:
⚡ Follow BarCrawlUSA on Facebook to view weekly updates including drink specials.
⚡ Where do I get my giveaways included with my ticket?
We will be giving out all giveaways including wand, wand box, and more all during check in.
⚡ Do I need a ticket?
Yes. Some bars are ticket only entry for crawlers only with our wristband including registration and after party. You also will not be able to get your wand, wand box, photo ops, exclusive themed drink specials, and more.
⚡ Do I need to go to all of the bars? Is it guided?
No, you do not need to go to all bars. We will have times next to each bar when they will be staffed & ready and when you should be there for wristband only awesomeness.
⚡ Do I need to print my ticket? Does it need to match my name?
No, on your phone is preferred. Ticket does not need to match attendee name.
⚡ 21+?
Yes, all attendees must be 21+ and have valid ID.
Attention: This event is in no way affiliated with the Harry Potter franchise, J.K. Rowling, Warner Bros. Entertainment Inc. and/or any of their affiliates.