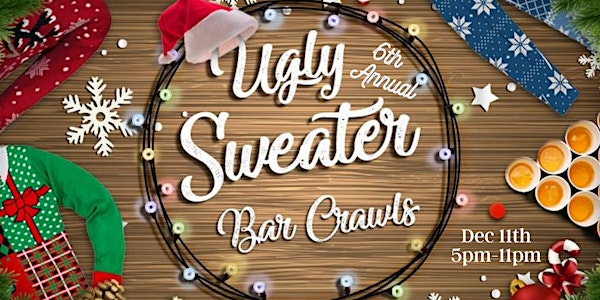 6th Annual Ugly Sweater Crawl: St. Pete
Come get UGLY with us this holiday!
When and where
Location
Thirsty First: Registration 5pm-8pm 119 1st Ave N Check in 5pm-8pm St. Pete, FL 33701
Refund Policy
Refunds up to 7 days before event
Eventbrite's fee is nonrefundable.
About this event
Join us for the 6th Annual Ugly Sweater Crawl! Get that Goodwill sweater, find those tacky holiday pants, and get ready to jingle bell ROCK on Dec. 11th
Regular Ticket Includes:
🎅 Welcome Holiday shot at Thirsty First
🎅 After party comp shot at Macdintons
🎅 Ugly Sweater Koozie
🎅 Bar Crawl USA signature lanyard
🎅 Discounted Drink specials $3-$6
🎅 Photographer on site
🎅 Christmas movie live stream trivia
🎅 Registration & after party.
🎅 DJ's playing holiday music
🎅 Ugly Sweater Digital Crawl Map to help guide you bar to bar
🎅 Ugly Sweater After Party at Macdintons
VIP Ticket Includes:
🎅 Holiday T-shirt (at registration)
🎅 Everything included w/ general ticket.
Bar Partners:
🎅 Thirsty First: Registration 5pm-8pm
$4 Blue Elf (shots)
Blueberry vodka, lemon, blue curaçao and sprite
$5 Green Trees (shots)
Jameson, peach schnapps, sour mix
$5 Jingle Balls (Shots)
Fireball, grenadine splash coke
$5 Rudolph's Punch (Drink)
Coconut and Banana Rum Runner
$5 Onda tequila seltzer's
🎅 One Night Stand
$4 Lankshark
$4 Cinnamon toast crunch shot
$5 Country Christmas Cocktail w/ Stilo
DJ spinning tunes at 6pm
Free Bull rides - Photographer on site!
🎅 Five Bucks Drinkery
$3 domestic tall boys
$3 fireball, skrewball and natty lemonade.
$5 Tito's and grey goose
DJ Spinning at 7pm
🎅 Crafty Squirrel
$3 Bacardi grinch shots
$3 Landsharks 16oz cans
$5 Bacardi Santaberry Mules
DJ Spinning at 9pm
🎅 Pour Judgement
$5 shots:
Christmas CookiesTeddy GrahamsCindy Loo WhoSanta's Milk & Cookies
$6 CocktailsSanta ClausmapolitanOrange Spiced CiderCranberry SaucedNaughty or Spied
🎅 Macdinton: after party 10pm-12am
$3 Grinch Shot - Vodka, Sour Apple, Splash Sour, Splash Sprite
$5 Raspberry Rum Punch - Bacardi Raz, OJ, Pineapple, Grenadine
$5 White Claws
*Hand in red ticket for comp shot*
FAQ:
🎅 Follow Bar Crawl USA to receive weekly updates including drink specials.
🎅 How will you handle Covid-19 limitations / if any?
We will follow any and all guidelines set forth by the city & state in regards to covid-19 safety measures.
🎅 Do I need a ticket?
Yes, you will not be able to get holiday shot(s), holiday shirt (VIP), access to trivia game, koozie, access to some bars, discounted drink specials and other giveaways if applicable.
🎅 How do I get my VIP holiday shirt?
During check in day of event. S-3X sizes available.
🎅 Do I need to go to all of the bars? Is it guided?
You do not need to visit all the bars. We will have times next to each bar when they will be staffed & ready and when you should be there for wristband & crawl awesomeness.
🎅 Do I need to print my ticket? Does it need to match my name?
No, on your phone is preferred. Ticket does not need to match attendee name.
🎅 Can friends check me in?
Yes, we just need your ticket.
🎅 21+?
This is a 21+ event.
🎅 Refunds?
We will give refunds up to 7 days from event. No exception. Within 7 days, we will ONLY do credits to future Bar Crawl USA events.