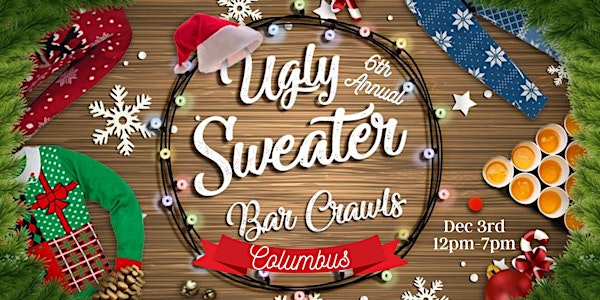 6th Annual Ugly Sweater Bar Crawl: Columbus
Come get ugly with us this holiday season on 12/3 Columbus!
When and where
Location
Registration: Callahans Rooftop (Enclosed Patio) 520 Park St Check in: 12pm-3pm Columbus, OH 43215
Refund Policy
Refunds up to 7 days before event
About this event
Join us for the 6th Annual Ugly Sweater Bar Crawl! Get that Goodwill sweater, find those tacky holiday pants, and get ready to jingle bell ROCK on Dec. 3rd. Make it to the after party and get your Holiday Drawstring Bag! Will you make it?
Ugly Sweater Bar Crawl Ticket:
🎅 Holiday drawstring bag handed out at the after party. Will you make it?
🎅 Ugly Sweater Bar Crawl Koozie at registration.
🎅 Professional photographer to capture you & your crew on the crawl
🎅 Official Bar Crawl USA crawl lanyard
🎅 Discounted Themed Drink specials at participating bars ($3-$7 range)
🎅 After party w/ live dueling piano music.
🎅 Christmas movie live stream trivia during crawl for prizes
🎅 Ugly Sweater Digital Crawl Map to help guide you bar to bar
VIP Ugly Sweater Bar Crawl Ticket:
🎅Ugly Sweater Bar Crawl T-Shirt (Green Shirt)
🎅Everything included with regular ticket
Bar Partners & Drink Specials
🎅 Callahans Rooftop Bar: Registration 12pm-3pm
$4 Christmas Tea Shot
$5 Labatt Draft
$6 Candy Cane Cocktail
$20 Bucket of beers
🎅 Park Street Tavern 1pm-3pm
$3 PBR 16oz Cans
$4 Santa Cherry Bombs
$4 Grandmas Grape Bomb
$5 Christmas Ale Beers
🎅 Park Street Cantina 2pm-4pm
$4 Pumpkin Pie Shot
$6 Christmas Margarita
$20 Bucket of beers (mix & match)
🎅 Gaswerks Bar 3pm-6pm
$1 Mini Jager & Merry Cherry Bombs
$4 White Christmas Tea Shots
$4 Tito's Drinks
$4.50 Bud Light Drafts
$5 Hot Shots
$5 Bud Light Tall Boys
$6 Double Captain & Coke
$7 Long Island Cocktails
🎅 Brothers Bar & Grill 3pm-6pm
$4 Bug light bottle
$5 Green Grinch Tea Shot
$7 Double Wells
🎅 Granero Lounge 4pm-7pm
$4 Magical Gummy Bear Shot
$6 Holiday Rum Runner
$20 Bucket of Beers (mix & match)
🎅 Howl at the Moon - after party - live piano show 6pm-8pm
$3 Miller Lite
$4 Truly
$5 Skrew-Dolph Shots
$6 Jingle Juice drinks
$15 Jingle Juice 32 oz mini buckets"
FAQ:
🎅 Follow Bar Crawl USA to receive weekly updates including drink specials.
🎅 Do I need a ticket?
Yes, you will not be able to get holiday draw string bag, bar crawl koozie, access to trivia game, access to some bars, receive discounted drink specials and other giveaways if applicable.
🎅 How do I get my VIP holiday shirt?
During check in.
🎅 Do I need to go to all of the bars? Is it guided?
You do not need to visit all the bars. We will have times next to each bar when they will be staffed & ready and when you should be there for wristband & crawl awesomeness.
🎅 Do I need to print my ticket? Does it need to match my name?
No, on your phone is preferred. Ticket does not need to match attendee name.
🎅 Can friends check me in?
Yes, we just need your ticket.
🎅 21+?
This is a 21+ event.
🎅 Refunds?
We will give refunds up to 7 days from event. No exception. Within 7 days, we will ONLY do credits to future Bar Crawl USA events.
Want to see all our themes & events? Click here