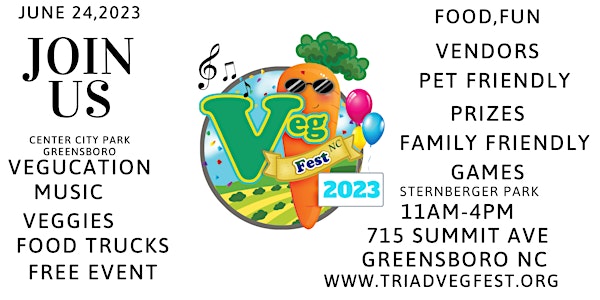 6th Annual Triad Vegfest STERNBERGER PARK
Food Fun Music & Vegucation
By Healing Springs Farmacy
Date and time
Saturday, June 24 · 11am - 4pm EDT
Location
Sternberger Park 715 Summit Ave Greensboro, NC 27405
About this event
June 24,2023
715 Summit Avenue
STERNBERGER PARK
GREENSBORO NC 11AM-PM
This will be a wonderful VegFest with a vast array of plant-based food, gifts, crafts, and Vegucation booths. Entertainment & Tastings.  ALL VENDORS AND SPONSORS WILL BE SET UP ON THE OVAL LAWN.
Youth Activities & GAMES
More updates to come.
See you there!
VISIT WWW.TRIADVEGFEST.ORG TO SEE OUR VENDORS 
YOU DO NOT NEED TO PRINT YOUR TICKET WE CAN SCAN YOU IN VIA E SIGN IN
6th Annual NC Triad Vegfest Saturday , June 24, 2023
11:00am-:4:00 pm
Festival
9am -11 am Volunteers Needed
3:30pm-5pm Break Down & Clean Up VOLUNTEERS NEEDED
Vegucator Registration Levels
We Would Like All Sponsors submitted No Later than May 20, 2023 to Ensure proper timing for booth setup and advertisement.  If you register after May 20nd you may be included as a Program Sponsor.
Thank you for your participation in the
5th Annual Triad Vegfest.
ALL ITEMS MUST BE VEGAN
Sponsor Registration Levels 
Grape Concord
Program Sponsor- $3000
Sponsor Our Programs for KIDZ CAFE with In Kind and Cash Donations.  
We will recognize you at all Triad Vegfest Events for 1 year and on the Triad  Vegfest Website
Sponsorship is $3000.00 and Above To Fund Our Youth Programs That Create
Sustainable Systems For Community, Health, and Education.
 Kale Advertising Sponsor - $50 You're unable to attend, but still want to advertise Logo on goodie bags and/or t-shirts (or whatever promotional material we create)Recognition on Vegfest Website and social media Business card or flyer included in our goodie bags
OUR VIP Guests will enjoy VIP FOOD VENDORS!!!
VIP TICKETS ARE UP NOW!!!!
VIP Package Includes
1.$15 of FOOD &/OR DRINKS From our VIP FOOD VENDORS
2. GOODIES from our sponsors
3. A Complimentary SKIP THE LINE status
4. TEN Raffle Tickets to win gifts and prizes from our raffle items
5. Vegfest T-Shirt
Over $50 value for just $30
Proceeds benefit our Young Urban Farmer's Program with Healing Springs Farmacy
Get your free or VIP ticket now at vegfest2023.eventbrite.com
ONLY 30 VIP TICKETS are available
Cost is $30 per ticket and benefits Volunteer In Your Community Inc. This purchase is also considered tax deductible for the 2023 Tax year. We re a 501c3 non profit. Thank you in advance for supporting us and supporting YOU as a VERY IMPORTANT PERSON at our 6th Annual Triad Vegfest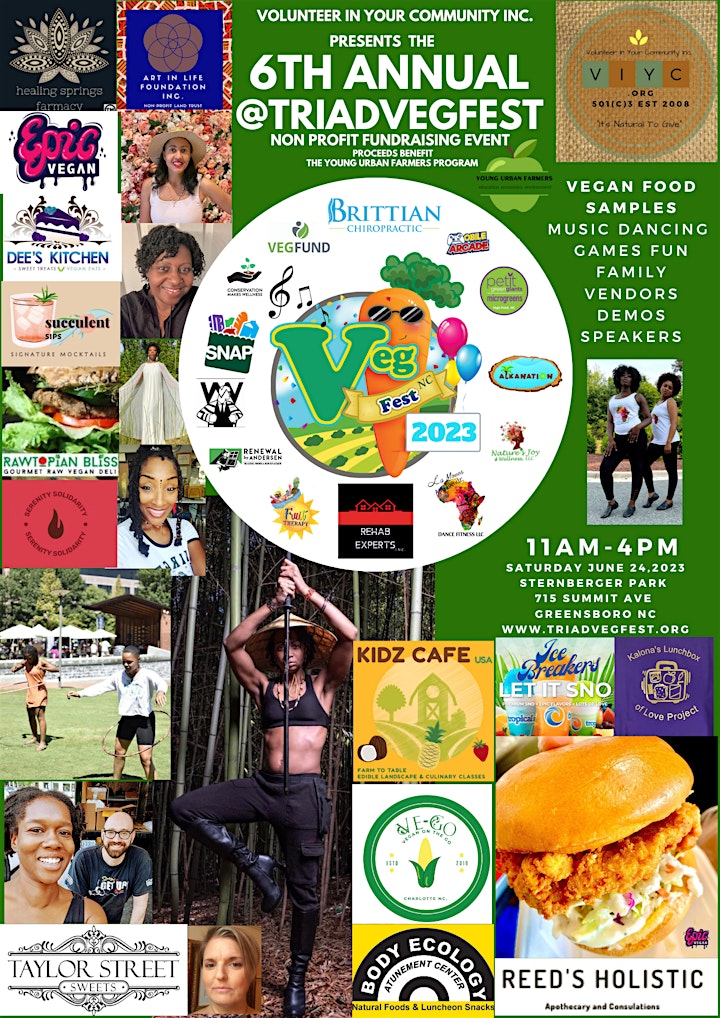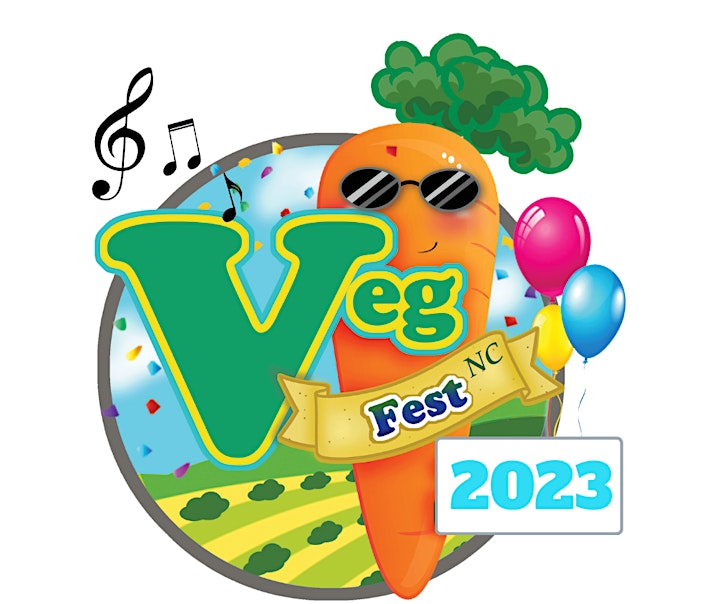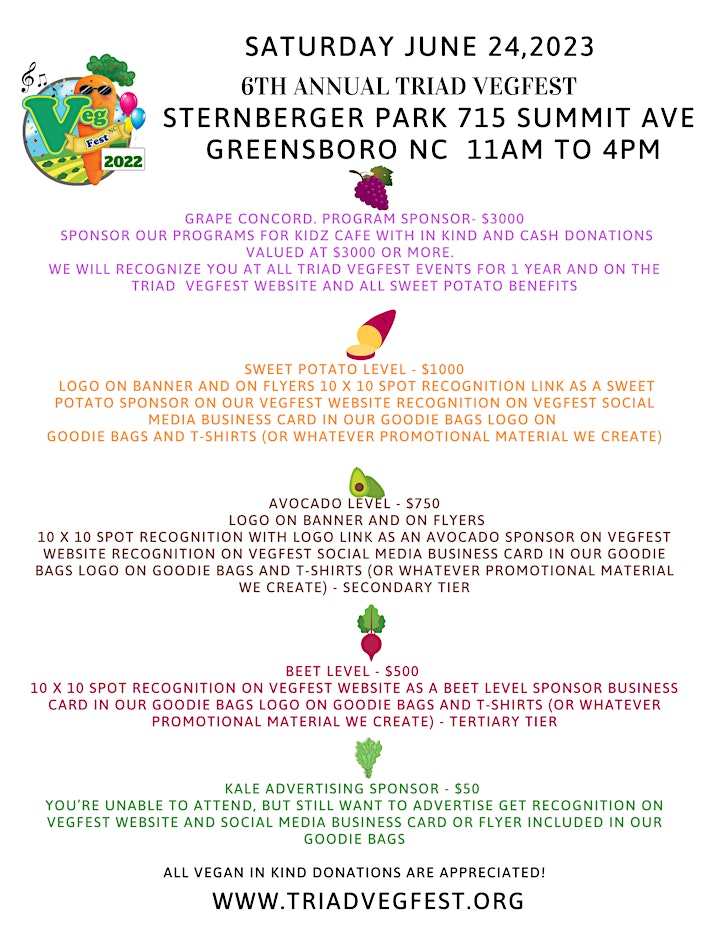 About the organizer

We are a women run non profit focused on empowering and healing collectively and naturally.
Our mission is to create safe spaces and create self sufficient educational training to empower.
We train in self healing and natural living.
​
Our members are from a vast network of professional women in various healing fields.

Our Active Members participate in collaborative efforts to connect women to educational and natural resources that encourage and foster a positive impact on themselves and the world around them.

Our model is based on True Permaculture Principles and Core Values in The Ancient ways of The Matriarchal Kingdoms to Preserve Mother Nature and Protect The Woman. Our SISTARhood is based upon love, honesty, integrity, and truth. 
​Men in our Collective Groups Also Participate in Training and Healing Programs that train in various Natural Healing Modalities for Mind Body and Spirit.

Personal Co-Op Membership is a one time fee of $99 
Business Members Join for $450
Eco Village Member $12,000 per year- Share Space on Our 3 Acre Homestead and Participate In YEAR ROUND WORKSHOPS FREE
When you join you will get 10% of all of our services and handmade products.
Access to member only groups. Invites to special and private events, and a healing quartz stone hand selected and reiki infused from our Founder.
To join paypal healingspringsfaramcy@gmail.com
or Cashapp $healingspringsfarm
You may also request an invoice or pay in person during a visit.